PENINSULA LEAGUE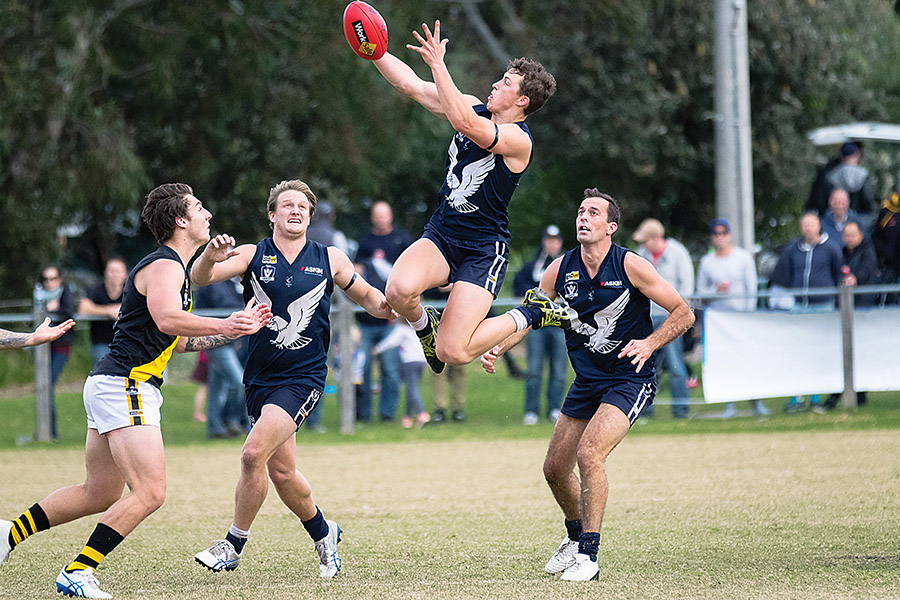 MT ELIZA was able to put a tough week behind it and get back on the winners' list in superb fashion on Saturday, steam rolling Karingal.
It was a rough week for the Redlegs with one of their young stars Brodie Shaw going down in the final quarter last week with a compound fracture of his leg.
However, with a successful surgery and a few days to recover behind them, the Redlegs were able to focus on the job at hand on Saturday and put Karingal to the sword.
Kicking with the wind in the first quarter at Frankston Park, the Redlegs were able to boot six goals to zip and should have been further ahead than 41 points after having 13 scoring shots to two.
In the third quarter with Justin Van Unen (eight goals), Dan Gormley (three goals), Shaun Knott and Jimmy Freeman all dominating in attack, the Redlegs were able to ram on another nine goals with the wind and go on to record a 19.12 (126) to 7.7 (49) win.
Karingal has been a well-structured, competitive team this season and has pushed the best, however, Mt Eliza was at a different level on Saturday.
Pines' Aaron Edwards made it 17 goals in two matches and 31 for the season when he booted eight majors against Chelsea.
The Pythons dominated across four quarters and were able to stop Chelsea's three game winning streak.
Guy Hendry controlled the match across half back and Corey Ash has taken his game to a new level since being given run with roles. He has taken some big scalps, including Joel Miller and Michael Burke.
Pines booted eight goals to zip in the opening quarter and went on to win 21.12 (138) to 10.9 (69).
Seaford set up an exciting RPP Match of the Day top of the table clash against Pines next weekend with another impressive victory on Saturday, this time against Edithvale-Aspendale.
Only four points separated the sides at half time before the Tigers came out after the long break, booting 10 goals to six to win 16.17 (113) to 12.10 (82).
Dean Williamson was superb with four goals, Damien Rayson was dominant once again and Matt McCormack helped himself to four goals also.
Liam Harris and Callan Vandyke were the best of the Eagles.
Mornington's season is officially over after Bonbeach led all day to win 14.7 (91) to 10.5 (65).
The difference between the sides was Bonbeach's ability to take advantage of the wind advantage and then keep pressing when it was game on in the final term.
With just seven points separating the sides at three quarter time, Shane McDonald booted two goals and Darcy James and Lachy Stenning hit the scoreboard too in the last to take the game away from the Dogs.
Beau Bailey was a welcome return from the VFL for the Sharks and Justin Bennett and Dylan Jones were at their best also.
Kieran Bird and Michael Gay were the best of the Dogs.
Frankston YCW bounced back after a disappointing game last week and completed the expected and beat Langwarrin, 13.13 (91) to 6.10 (46).
Josh Butland booted four and Kyle Hutchison dominated for the Stonecats while Matty LaFontaine returned from Collingwood and impressed after kicking a goal with the Pies last week.
Gerard Brown and Kieran Albanese booted three and two goals respectively while Shane Paterson was once again the Kangas' best.