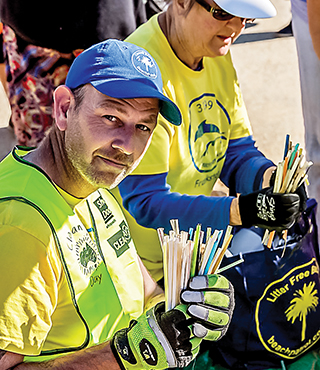 PLASTICS found along Frankston beach last week are the final straw for Beach Patrol volunteers.
The patrollers picked up a staggering 92 plastic straws along just 1.5km of sand in one hour.
The straw poll has prompted Frankston Beach Patrol manager John Billing to call on a ban on "single use" plastics.
"It is a regular occurrence," he said.
"Discarded plastic straws, plastic bottles, coffee cup lids are common sights along the beach."
Mr Billing said takeaway cafes should stock cardboard straws that are biodegradable.
"They last for one drink and that's all they're supposed to do. Obviously, we don't want littering but people evidently do it so let's have them do it with something that breaks down into the earth instead of staying around for years."
Plastic bags are also an environmental hazard and potential killer of sea animals who can choke on the bags.
Clean Up Australia has launched a campaign to have Victoria join other states across Australia in banning plastic bags.
See cleanup.org.au to sign a petition calling on the state government to act.