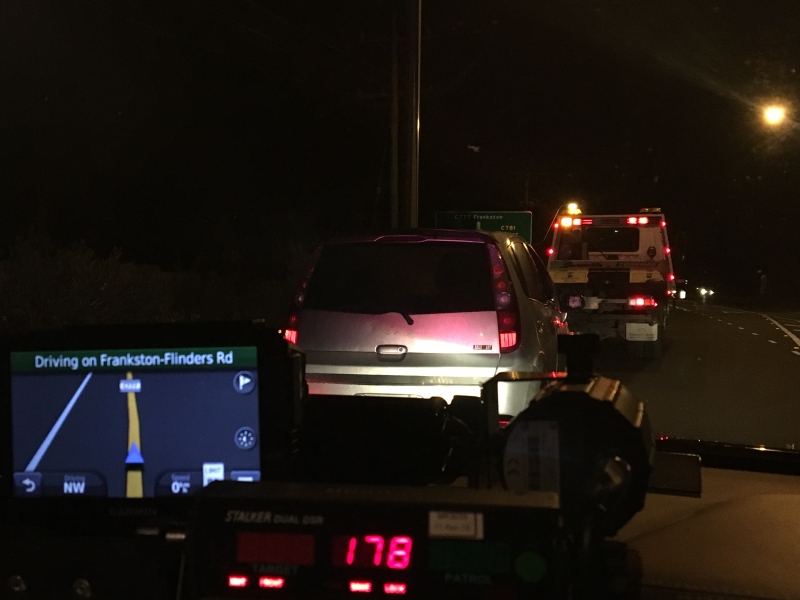 A 31-year-old woman has been charged after her engine blew out during a pursuit in Melbourne's south early this morning.
Somerville Highway Patrol members detected a silver Mitsubishi without number plates allegedly travelling at 125km/h in an 80km/h zone along Frankston-Cranbourne Road in Langwarrin just after midnight.
The vehicle sped up when police attempted to pull it over on Peninsula Link, reaching speeds of up to 180km/h.
It was too much for her hatchback's engine, which conked out on the side of Frankston-Flinders Road in Baxter where the driver and her three passengers were apprehended by police.
A search of the car allegedly located an axe underneath the driver's seat and a knife in her handbag.
The Hampton Park woman was also found to be driving an unregistered car and without a licence.
She has been charged with 17 offences including speeding, dangerous driving whilst pursued by police, conduct endangering life/serious injury, disqualified driving, use unregistered motor vehicle, possess a controlled weapon and refuse to undergo a preliminary oral fluid test.
She was bailed with strict bail conditions to appear at Frankston Magistrates' Court on 21 August.
Her blown out Mitsubishi was also impounded for 30 days at a cost of $960.