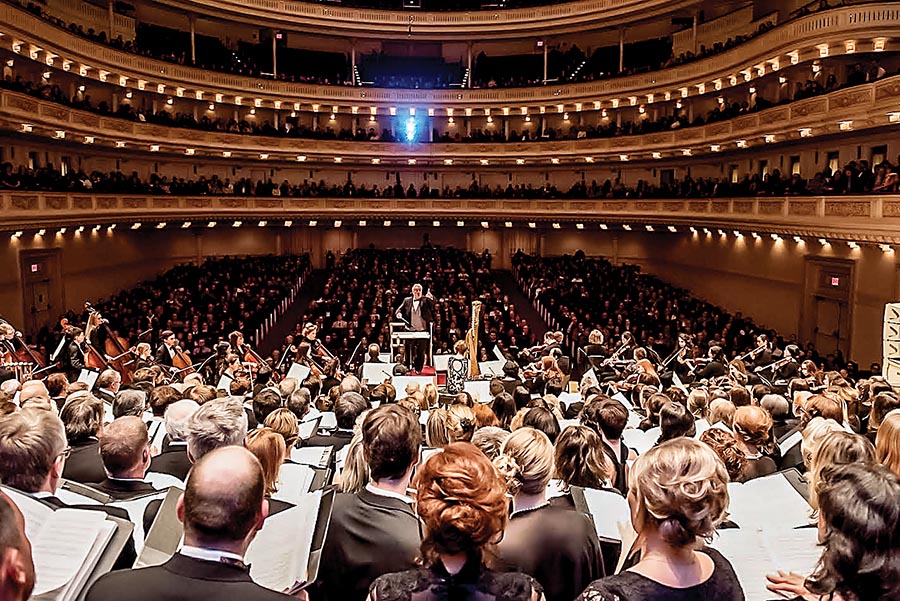 A LONG-AWAITED dream came true for members of Mornington Peninsula Chorale when they sang at New York's Carnegie Hall earlier this year.
About 50 members of the 100-member chorale made the trip to perform in the Sir Karl Jenkins Requiem as part of the Distinguished Concerts International New York (DCINY), in January. Alongside them were combined international choirs from Finland, Spain, Germany, Australia, New Zealand, UK and US.
The invitation to sing came about after the chorale performed Sir Karl's Armed Man at Frankston Arts Centre in 2015 for the Anzac Day centenary celebrations. Senior chorister Judi McKee wrote to Sir Karl who invited them to audition for a performance. They sent an audio-visual tape over – he loved it – and New York became a reality.
The performance was the first in the 2017 series of concerts arranged by concerts international with Sir Karl conducting.
At Carnegie Hall the combined choirs participated in two, three-hour-master classes conducted by artistic director and conductor Jonathan Griffith.
"This was the first opportunity for all 300 participants from around the world to come together and sing," Ms McKee said.
"Sir Karl was present at each rehearsal where he spoke about his work and was then available afterwards for photos and to sign scores."
Hearts were aflutter when the choir took part in a full rehearsal on the morning of the performance: 2.30pm, Sunday 15 January, with the full DCINY orchestra.
"The warm ups in the Green Room, prior to the performance, were particularly memorable for choristers," member Jill Linley said.
"The impromptu joining together of voices as, country by country, choirs led their favourite warm-up, was wonderful.
"And then, to finish, a spontaneous round of Happy Birthday, as choir after choir sang it in their own language [created] a wonderful sense of unity among musicians."
It was goosebumps, tears and excitement for chorister Christine Manktelow: "Concert Day: the buzz of gathering in our finery at the stage door, then being ushered up, up, up, up to our Green Room," she recalled.
"The wonderful Aboa Gospel Choir from Finland was singing: "We are not alone" as their warm up. Then we were lining up and going down, down, down, down and suddenly – we were on stage at Carnegie Hall – such magic memories!"        
Mr Griffiths told Mornington Peninsula Chorale members after the concert: "Dear singers, words cannot adequately express how proud I am of your performance in Sunday's concert in the Stern Auditorium/Perelman Stage at Carnegie Hall.
"The review was wonderful and your high performance level came forth with energy, excitement and polish that resulted in an overwhelmingly positive response from the audience, orchestra members and the critics. Bravi!!
"If you have not had a chance to see/read the review, I am including the link so you may relish in the afterglow of a performance well done."
He said he was especially pleased with the critics' comment: "The chorus is to be congratulated on a very polished performance which suggested a high level of preparation."
First published in the Southern Peninsula News – 6 June 2017