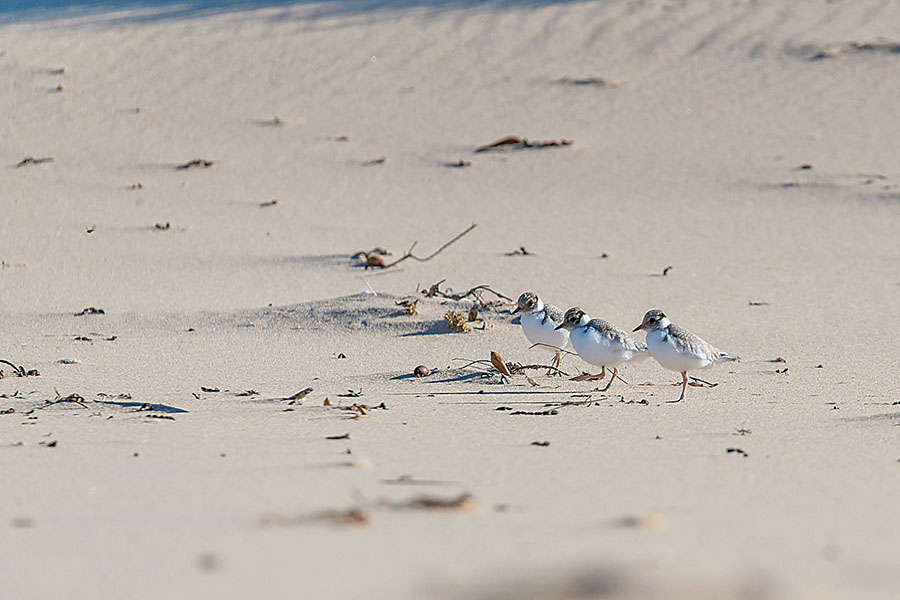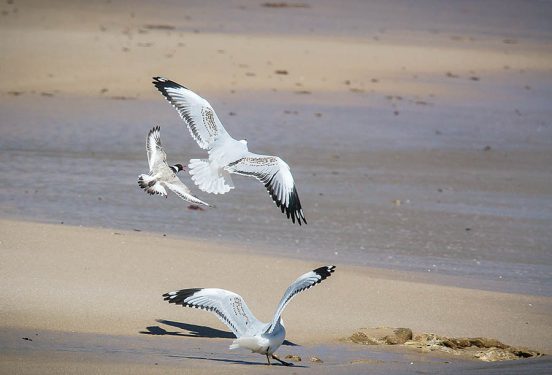 USUALLY the bad news story of the breeding season, hooded plovers on the Mornington Peninsula this year have set a new record with 13 chicks taking to the air.
The successful breeding season coincides with regulations which banned dogs at all times from beaches within Mornington Peninsula National Park, the plovers' main nesting area.
Elsewhere, storms battered beaches, wiping out hundreds of nests in Victoria and South Australia leading to the lowest breeding success for many species over the past 10 years.
At this time last year just two hooded plover chicks had managed to survive.
One nest at Gunnamatta this year saw three chicks survive, "something almost unheard of on the peninsula", according to Friends of the Hooded Plover president Diane Lewis.
"Other areas that have long suffered consistent failure such as Koonya, Montfords and Fowlers beaches also produced stunning successes."
Ms Lewis said the latest successes were a tribute to the "decade long effort and persistence of Parks Victoria rangers, Friends of Hooded Plover volunteers, BirdLife Australia researchers and everyone who visited the beaches during summer. They all helped by doing their little bit, by keeping clear of the signed nesting/chick foraging areas".
This breeding season the plovers in the Mornington Peninsula National Park were monitored by 35 volunteers and Parks Victoria staff, with 3000 observations recorded on the BirdLife online data portal.
Fences and signs protected 81 nests, of which 59 failed. Volunteers reported 36 chicks hatching and 13 chicks surviving to fly.
A plover banded as a fledgling in 1997 at Gunnamatta by Associate Professor Mike Weston of Deakin University and identified as "JZ" and its partner "XU" nested successfully at Kooya.
Ms Lewis said it was "truly amazing" that JZ had survived for 20 years "in such a harsh environment".
"Hoodies' are home bodies: when they find a good home they keep it. JZ has probably never left the peninsula in his 20 years and has called Koonya West beach home for longer than many of us have had our homes," she said.
"In his time JZ has incubated at least several dozen nests and has hatched more chicks than we can count.
Long-time volunteers have watched as he and his partners have tried and tried and tried to raise their chicks but, sadly, at best only a handful of his chicks have survived to flying age.
"In some years he and his partner have laid five nests with none surviving. But he's never given up in 20 years. So many failures have taught JZ to be extremely wary and very, very good at protecting his nests and chicks."
Ms Lewis said JZ and XU fended off silver gulls, moved chicks away from beachgoers and kept their chicks clear of high tides.
"One if his two-week-old flightless chicks survived being chased by a dog for more than a kilometer along the entire Koonya West beach, as well as dealing with huge tides and storms, foxes and who knows what else."
Glenn Ehmke, of BirdLife Australia, said visitors  to the beaches where hooded plovers bred were "generally wonderful this season with much enthusiasm and interest in the little birds' battle against the odds''.
"It serves to show that these seemingly helpless threatened birds are not actually helpless at all," Ms Ehmke said. "They are actually incredibly adept at negotiating a barrage of threats that would make the best of us shudder in terror, while keeping their family safe. All they need is a little help from us in the form of some space, and they have a fighting chance to beat the odds and raise a family."
Details: www.hoodedplover.com or hploversmornpen@gmail.com
First published in the Southern Peninsula News – 6 June 2017