SOCCER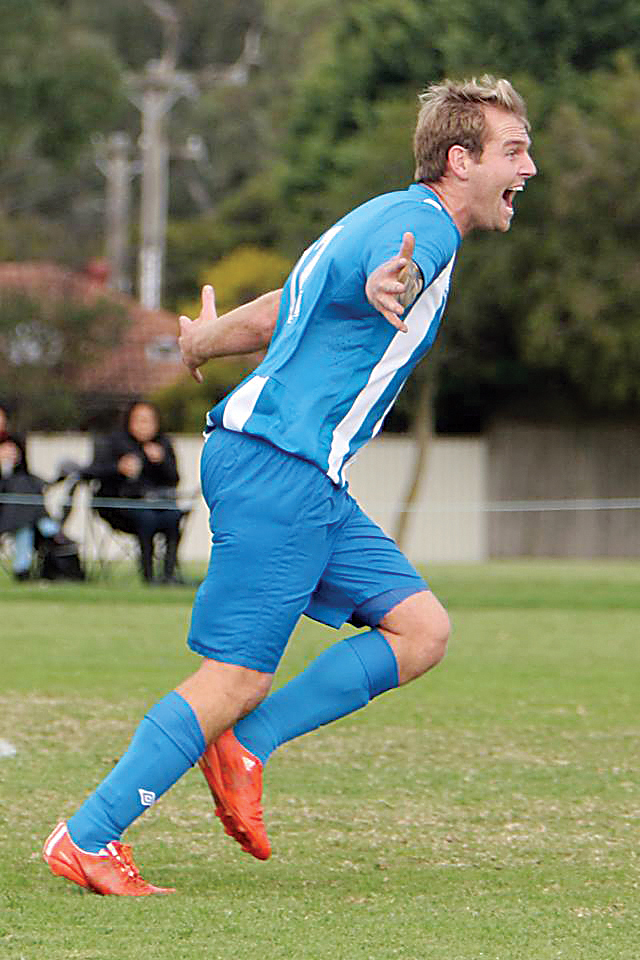 By Craig MacKenzie
BAXTER'S commanding 3-0 home win over Monash Uni on Saturday has catapulted it into the State 4 South promotion race.
Baxter gaffer Roy Kilner made three changes to the team which was unlucky against Harrisfield Hurricanes the previous week with Matthew Owens replacing the suspended Edin Ali, captain Frank Ntim replacing Daniel Sharratt and Alan Lipsett dropped to the bench for Daniel Disseldorp.
It didn't take long for Baxter to strike and in the 11th minute, a superb Travis Ernsdoerfer pass found Liam Kilner whose scintillating finish made it 1-0.
Monash responded but found Baxter's defence impenetrable.
In the 61st minute, Baxter extended its lead when Ernsdoerfer's far post corner was headed home in style by Owen Kilner.
It was a first for the Kilner family with both brothers scoring for the same team in the same match.
And Baxter's jubilation continued courtesy of Mark Pagliarulo who won a penalty in the 70th minute and converted from the spot.
Langwarrin remains the only unbeaten team in State 1 South-East after a 3-2 away win over Clifton Hill last weekend.
Kieron Kenny made his league debut linking with fellow English import George Whiteoak at the heart of the Langy defence with John Guthrie at right back and Andy McIntyre at left back.
Kenny and Whiteoak have played over 100 games together during their time at Macclesfield Town and Congleton Town.
Clifton Hill scored first through Michael Catalano in the 15th minute but big Mat "Yaya" Luak levelled 12 minutes later after a fine build-up by controlling the ball on his chest just inside the box then hammering a fierce shot past Clifton Hill keeper Chris Davis.
Usual suspect Liam Baxter got onto the scoresheet in the 37th minute following an Aaran Currie shot and Langy led 2-1 at the break.
In the second half Alex Metcalfe beat two opponents then slipped the ball to Connor Belger whose shot from 15 metres gave Langy a two-goal cushion.
Clifton Hill captain Daniel Thomas made it 3-2 in the 85th minute but Langy was able to hang on to all three points.
Mornington won 2-1 away to Malvern City on Saturday and could be on the verge of making a number of signings this week.
Among the prospective newcomers are a current NPL player, a Scot currently playing in New Zealand and another UK import.
Mornington head coach Adam Jamieson is adamant that not all is yet lost in the race for the State 1 South-East title despite being nine points behind Langwarrin.
"If we had held onto our leads in previous weeks we'd be one point behind Langwarrin," said Jamieson.
"I think we are the form side of the competition and we just need that bit of luck that you need to win championships.
"We are definitely in the top two and I think it is between us and Langwarrin so it will come down to whether Langwarrin can hold on or whether we can chase them down."
Mornington dominated the first half against Malvern City and should have had more to show at half-time than a Ryan Paczkowski goal after great work by Chris Reid.
With 10 minutes to go Malvern levelled through former Mornington winger Brad Blumenthal but some Craig Smart magic and a fine finish by Simon Mur in the 85th minute settled the issue.
Make no mistake about it, Heatherton United is an ordinary side but on Saturday at Monterey Reserve, it was made to look like championship material against an insipid Frankston Pines who are staring down the barrel of relegation in State 2 South-East.
Heatherton thumped the home team 5-1 after Pines rolled out the welcome mat for strikers Ali Sanad and Meldin Klehic with a shambolic defensive display that bordered on farce.
Michael Miller made his debut for Pines after switching from Westgate but the home side adopted a zonal defensive approach that allowed Sanad and Klehic to run riot.
Jack Wrobel's low, firm strike in the 6th minute was only partially stopped by Yehya Dimassi in the Heatherton goal before crossing the line for the opener but by the time the game clock had ticked over to the 29-minute mark Pines were 3-1 down and all but out.
Sanad was offside in the 19th minute when he broke down the left but the assistant referee thought otherwise allowing the Heatherton striker to draw out Pines keeper Brian Karaga before squaring to Jusuf Kusdian to tap into the gaping goal for the equaliser.
In the 28th minute, Klehic took everyone by surprise with a long-range strike that sailed over Karaga and into the far corner of goal to make it 2-1 and a minute later Sanad's mazy run into the Pines area ended with a clinical finish past the helpless Karaga to make it 3-1.
This signalled a change in approach with Miller marking Sanad but by then the damage had been done.
Pines failed to make any inroads into the Heatherton defence in the second half and lost the midfield battle hands down.
Cedric Permal is a class act but goodness knows what the Mauritian international is thinking when he sees midfielders who won't tackle or track back properly.
To make matters worse Heatherton's fourth goal in the 73rd minute was embarrassing as Karaga passed the ball to the feet of Klehic who dribbled past the last defender then rounded the red-faced keeper and stroked the ball into the empty goal.
Pines' afternoon was summed up in the 83rd minute when Wrobel robbed Dimassi who recovered and blocked Wrobel from just a few metres out.
Mirza Pedic made it 5-1 in the 89th minute and a few minutes later referee Yuhong Li did Pines a favour by blowing his whistle for the final time.
Pines' first team needs strengthening and it needs it now if it is to drag itself clear of the relegation battle.
The same can be said for neighbouring Seaford United which is anchored to the foot of the State 2 South-East table with Pines just three points above it.
Harry McCartney reports that Seaford blew a 2-0 lead in its 4-2 away loss to Berwick City on Saturday.
A Paul McGuire penalty and an opportunist goal from Tom Natoli had Seaford in cruise control after 32 minutes but in the 40th minute a mixup in defence allowed Orlando Meijas to round Seaford keeper Anthony Madaferri and make it 2-1.
Three minutes later Meijas headed over Madaferri for the equaliser.
Josh Tsung denied David Di Iorio with a goalline clearance in the 63rd minute but substitute Ruben Ichim scored in the 77th and 92nd minutes to confirm the home team's second-half dominance.
Peninsula Strikers joined the list of struggling locals when it went down 4-1 away to North Caulfield on Sunday and is now third bottom on the State 2 South-East ladder.
The home side led 3-0 at the interval with goals from Aaron Vaserman (6th minute), Daniel Sacks (26th) and Darby Dexter (47th).
Sacks put the nail in the coffin in the 53rd minute and Trevor Johnston (63rd) provided Strikers' reply.
Skye United turned in its worst display of the season going down 1-0 at home to Collingwood City in their State 3 South-East encounter on Saturday.
Skye's wounds were self-inflicted as Batu Cimen rose unchallenged in the 88th minute to get on the end of a set piece and head the winner.
Skye has signed left-back Sajnesh Sugrim from Strikers. Sugrim is a former Morwell Pegasus player.
Rosebud Heart and Harrisfield Hurricanes had to settle for a scoreless draw in Saturday's State 4 South clash at Truemans Road Recreation Reserve.
It was the first time that Heart had failed to score under Scott Morrison but the home team dominated the first half and should have made more of its chances.
An errant back pass in the 20th minute sent ace scorer Dave Greening on his way but uncharacteristically Greening shot straight at Harrisfield keeper Filip Konikowski.
In the 30th minute, a poor clearance fell to Chris Sibson and he blasted the ball towards the bottom corner but Konikowski got down well to parry.
Greening hammered home the rebound only to be ruled offside.
There were few chances created in the second half until the final 10 minutes.
Greening turned a defender on the left of the box but his shot flew across the face of goal then two great saves from Sean Skelly, one from substitute Ahmet Ogut who was clean through, kept the visitors at bay.
Somerville Eagles drew 2-2 at home to high-flying Rowville Eagles on Saturday in their State 5 South fixture and the next day the home team's fans were still venting their spleen over the display of referee Ersin Kilic.
Liam Morgan pounced on a defensive error by Rowville in the 8th minute and an Alex Colville volley in the 20th minute made it 2-0.
A controversial penalty in the 65th minute was converted by Denny Bejan and brought the visitors back into the contest and Bejan's header back across Somerville keeper Neil Herd in the 80th minute completed the scoreline.
This weekend's games:
SATURDAY 3pm: Langwarrin v Malvern City (Lawton Park), Mornington v Morwell Pegasus (Dallas Brooks Park), Peninsula Strikers v Mazenod Utd (Centenary Park), Seaford Utd v Beaumaris (North Seaford Reserve), Brandon Park v Skye Utd (Freeway Reserve), Endeavour Utd v Baxter (Reema Reserve), Monash Uni v Rosebud Heart (Monash Uni Playing Fields – Pitch 1), Lyndale Utd v Somerville Eagles (Lyndale Secondary College).
SUNDAY 3pm: Frankston Pines v North Caulfield (Monterey Reserve).