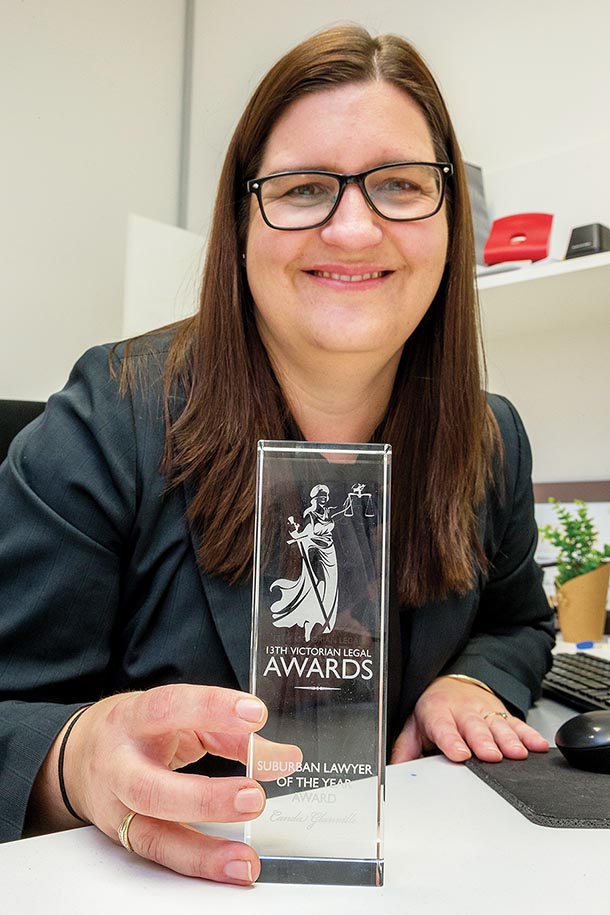 A LAWYER working in Frankston and on the Mornington Peninsula has been recognised as one of the best in the legal business in Victoria.
Canda Glanville, of Maurice Blackburn lawyers, who specialises in helping road trauma victims was named Victoria's Suburban Lawyer of the Year by the Law Institute of Victoria last month.
Ms Glanville, a principal and office manager at the legal firm's Frankston office since its 2010 opening, who sometimes also works at the firm's Rosebud office, said the award is "very exciting and quite a surprise".
The 38-year-old lawyer, a member of the Mornington Peninsula Lawyers Association, said "we've got a lot of great lawyers on the peninsula" so "the award is a win for the people of Frankston and the Peninsula, not just me".
"I'm a big advocate for being an excellent lawyer in the suburbs," she said. "People think you can only get a great lawyer in the city but that's not right."
Ms Glanville notes she and many of her legal profession colleagues often volunteer at the Peninsula Community Legal Centre to also try to offer legal services to those who can least afford it.
Transport Accident Commission and VicRoads figures reveal there were nine fatalities and 185 serious injuries on Frankston and peninsula roads in 2015.
In the past 12 months, there have been 108 incidents involving vehicles that required hospitalisation and three fatalities.
"People are hurt when they come to see me. It impacts on them and their whole family so there's a lot of emotion that goes with that," Ms Glanville said.
"They are heartbreaking. They're just people and their lives are turned upside down by something most of the time that isn't their fault.
"Every day it reminds you it could happen to anybody."
Accidents along Beach Rd are unfortunately a regular occurrence.
"We see a lot of injuries for cyclists and motorcyclists because it's a community that rides a lot."
Ms Glanville has tried to make lawyers "part of the treatment team" for road trauma victims.
"If I help them through a difficult time then I've done my job well."
First published in the Southern Peninsula News – 6 June 2017