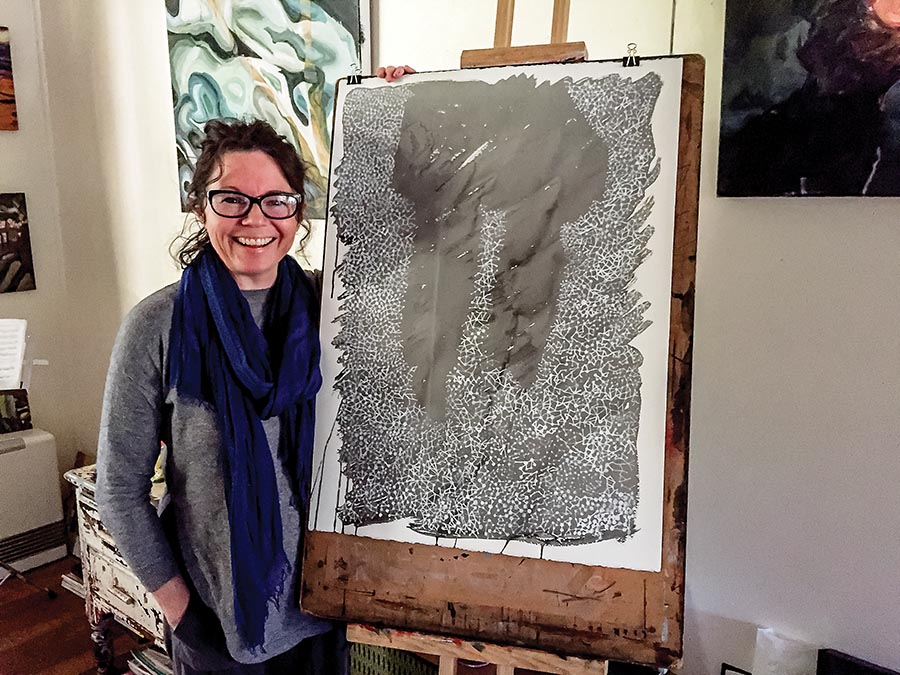 By Teresa Murphy
THE wild, elemental beauty of Point Nepean, on the tip of the Mornington Peninsula is an awe-inspiring experience for any visitor.
For the creatively inclined, it must be particularly intense – especially if they are lucky enough to live within the landscape for a while.
Balnarring Beach artist Amanda Nelson was one so fortunate early last month (May) when she was artist-in-residence at Police Point for two weeks, staying at the historic gatekeeper's cottage.
But before luxuriating in and interpreting the dramatic surrounds, her immediate reaction was rather more prosaic.
"After 18 years of housework, it was just bliss being on my own," said Nelson, who has three daughters with her musician husband, Marty Nelson-Williams. "I could cook whenever I wanted and listen to whatever music I wanted. But after three days I started to get a bit bored with my own company.
"Then I started questioning my purpose in my own space, but in a good way because I worked through the descent to create."
And create she did with inspired passion, producing a series of striking mixed media works collectively titled "In Place", showing at Oak Hill gallery, Mornington, this month (June).
Point Nepean has a rich and multilayered European history but it is the indigenous connection that drew Nelson.
The traditional owners of Point Nepean are the Boon wurrung balug; the beach at Point Nepean was for secret women's business, most likely connected to fertility as dolphins and seals bred close by.
"Part of the story I'm trying to tell of place is of a traditional women's meeting place where the first people's young women would come for their ceremonies," Nelson said.
Once she fell into a creative rhythym, her days were filled with walks, photography, drawing and painting, writing, reading, and listening to stories by a local elder.
Her favourite "place" down there was London Bridge, near Portsea back beach, especially the cave which  she could reach at low tide.
"To feel so connected to nature, to really sit and listen to space, to have those views of sea and sky, I felt so blessed to have had time down there. It is a very special place."
Amanada Nelson's exhibition "In Place" runs until 28 June at Oak Hill Gallery, 100 Mornington-Tyabb Rd, Mornington, oakhillgallery.com.au; amandanelsonart.com
First published in the Southern Peninsula News – 6 June 2017