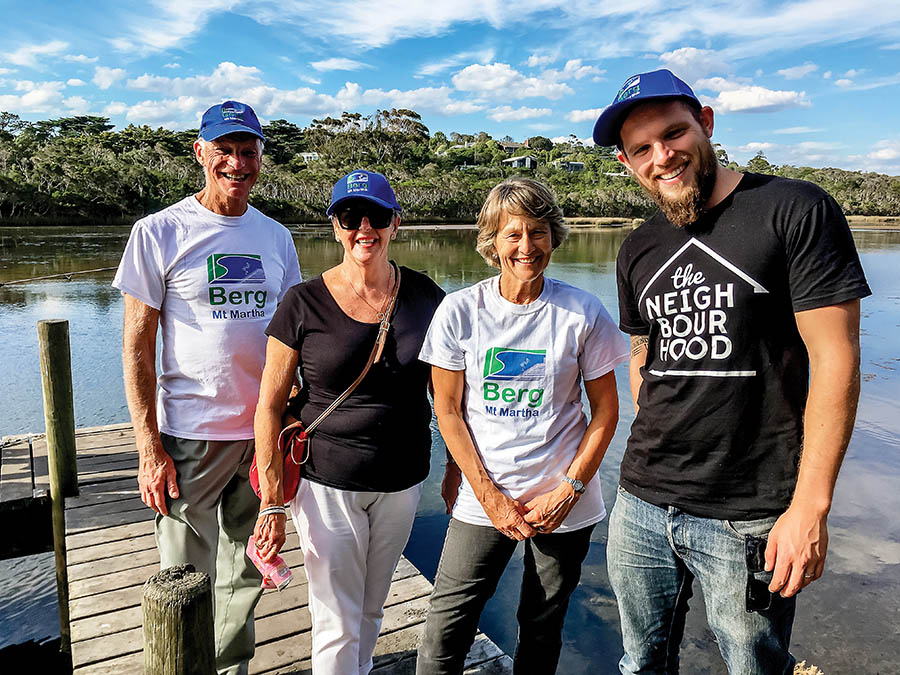 By Barry Morris
GOING up the creek was all part of an inspection tour for Briars ward councillors Rosie Clark and Sam Hearn.
The two Mornington Peninsula Shire councillors elected last October were told about the fragile beauty of Balcombe Creek, its estuary and its adjoining bushland during a tour of the reserves with BERG Mt Martha president Graham Hubbard and field officer Liz Barraclough.
The third Briars ward representative is the mayor Cr Bev Colomb, who has a long acquaintance with the Balcombe Estuary Reserves Group, Mt Martha.
For more than an hour Mr Hubbard and Ms Barraclough briefed Crs Clark and Hearn on the work of the environment group as they strolled along the estuary boardwalk.
Mr Hubbard said the environment group worked closely with the shire and Melbourne Water in maintaining the estuary and reserves which would suffer in the event of a chemical or sewage spill or overdevelopment.
To help safeguard against this BERG regularly monitored the health of Balcombe Creek under its waterwatch program.
Members also had regular working bees to remove weeds growing in the bushland and to plant new native trees in the reserves, he said.
This was all part of a plan to restore the reserves to their original state.
"We told councillors Clark and Hearn that each year our members work more than 4000 hours in volunteer time in on-ground and community awareness to preserve and restore the estuary and reserves," he said.
"We showed them several major projects such as the bird hide, the burn site, the school murals in the campground, the quarry rehabilitation and the jetty seat.
"We also discussed the problems of sedimentation and stormwater damage."
Mr Hubbard said the councillors were impressed with the reserves and with the work BERG Mt Martha had put in over the past 20 years.
It was the first time Cr Clark had visited the estuary, but Cr Hearn said he had spent time there with his family.