SOCCER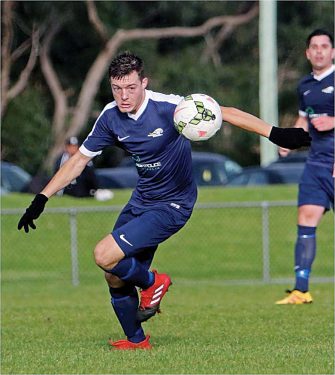 By Craig MacKenzie
IT'S full steam ahead for league leader Langwarrin which is now nine points clear of its nearest rival and has completed the first half of the State 1 South-East season undefeated.
Langy beat Malvern City 3-1 on Saturday at Lawton Park and is expected to maintain its title momentum this weekend against bottom side Mooroolbark.
Liam Baxter put Langy ahead in the 2nd minute breaking onto a long throw and neatly finishing past advancing Malvern City keeper Harry Raworth.
A Daniel Hilder shot squared the ledger in the 41st minute but three minutes into the second half Alex Metcalfe sent Baxter clear and from the right of the area he hammered the ball past Raworth and inside the far post to make it 2-1.
Chris Geils blew a great chance to level in the 60th minute when he shot wide from close range and Langy's nerves were eased when Baxter's 78th minute free-kick from the right was headed home by towering midfielder Mat "Yaya" Luak.
Mornington was active in the transfer market last week but there was no immediate gain as its shock 2-0 loss to relegation candidate Morwell Pegasus on Saturday was its fourth home defeat this season.
The Seagulls signed forward Marinos Panayi from Eastern Lions, attacking midfielder Keegan Ziada from Dandenong City and attacking midfielder Sam Orritt from NZ outfit Coastal Spirit.
Orritt, 24, was a junior at English club Rotherham United, had a short spell at Lincoln United then played college football in the US for Limestone College in South Carolina before signing for Scottish club Cowdenbeath in 2015.
Orritt flew back to NZ after being officially unveiled as a Mornington player last Thursday and will return to Melbourne this week.
He'll join a side licking its wounds after failing to come back against 10-man Pegasus who had Samuel Gatpan red carded in the 54th minute.
John Kuol had played a pivotal role in Morwell's FFA Cup win over Mornington and he returned to the scene of the crime to take advantage of Scott Millar playing in an unfamiliar right-back role.
Kuol's firm low strike in the 34th minute beat Mornington keeper Kris McEvoy for the opener and three minutes later Jack Truelove missed with an attempt to clear Kuol's cross from the left and the incoming Hamied Zamani hammered home a low shot past McEvoy and inside the far post to make it 2-0.
Mornington never recovered in what was its most disappointing display of the season.
Peninsula Strikers finished all over Mazenod United to record a 3-1 home win in their State 2 South-East fixture last weekend.
A Chris McKenna slip of Gerrard-like proportion set up Mazenod's Adam Neou in the 35th minute and he neatly lobbed the ball over the head of stranded Strikers keeper Colin McCormack.
Two minutes from half-time Robert D'Angelo, one of three brothers in Mazenod's starting line-up, shrugged off the attentions of Conor Keeley only for McCormack to spread himself well and smother D'Angelo at close range.
McCormack again had to come to Strikers' aid when Vicente Vasquez broke through in the 53rd minute but the Irish stopper was off his line in a flash to block superbly.
Four minutes later Aziz Bayeh broke onto a long clearance and held off a defender before slotting the ball past helpless Mazenod keeper Nicholas Van Hattum to make it 1-1.
A momentum shift was evident in the second half and Bayeh gave Strikers the lead in the 75th minute.
Tom Hawkins intercepted the ball on the right and played it into the path of Bayeh who turned his man inside out before thumping a close-range shot past Van Hattum and inside the near post.
In the 86th minute central midfielder Sam Scott chipped the ball down the right for Bayeh whose cutback found Scott charging into the area and his low first-time strike settled the issue.
Strikers head coach Craig Lewis was unavailable due to illness so assistant Billy Buchanan and reserves coach Graham Watson stepped into the breach.
The win was celebrated with gusto and the players dedicated their success to club legend Clayton Lee whose 70th birthday party was held on Saturday night.
Frankston Pines defeated North Caulfield 3-1 at Monterey Reserve on Sunday thanks to a Jack Wrobel hat-trick aided by some woeful goalkeeping and comical defending.
Wrobel opened his account in the 8th minute with a low shot that squirmed underneath North Caulfield keeper Sam Quinn at his near post and three minutes into the second half Wrobel's toe poke eluded Quinn again at his near post.
North Caulfield's Daniel Sacks had a tap-in in the 60th minute but a dreadful blunder by a North Caulfield defender with Quinn stranded enabled Wrobel to restore the home team's two-goal cushion in the 65th minute.
Wrobel and substitute Ioasa Saemo missed chances to further embarrass North Caulfield's defence but the win was welcomed by the home side in its bid to move away from the developing relegation dogfight in State 2 South-East.
Kevin "Squizzy" Taylor has been appointed assistant coach at Pines and Sunday was his first matchday in that role.
Harry McCartney reports that Seaford United remains anchored to the foot of the State 2 South-East ladder after going down 2-0 at home to Beaumaris last weekend.
Declan Byrne opened the scoring in the 7th minute when he charged into the penalty area from the left and calmly slotted the ball past Seaford keeper Anthony Madaferri.
In the 25th minute Deni Kulas was given time and space to shoot from just outside the area and Madaferri was beaten for the second time.
Beaumaris always looked the better side and although it drew a blank in the second half it maintained control of the contest.
Seaford lost key midfielder Paul McGuire to a 50/50 tackle in the second period and he could be sidelined for a few weeks with a knee injury.
That will hurt the club's already depleted midfield stocks with Matty Morris-Thomas struggling to overcome a hamstring injury sustained at training last Thursday night.
Skye United ended a poor run of results with an important 2-1 away win against Brandon Park in their State 3 South-East clash on Saturday.
Brandon Park went close in the 15th minute when Adrian Chilla's strike hit the underside of the bar but failed to cross the line.
It took until the 26th minute for the first clear-cut chance for Skye as Jacob Scotte-Hatherly sent in an inviting cross from the left and Wumjock Jock slid in at the back post to convert and put the visitors ahead.
Skye had barely finished celebrating when Maxim Avram's back post header drew the hosts level.
In the 34th minute a long throw by Johnny Andrinopolous was only partially cleared and Skye captain Mark O'Connor's left foot volley found the top corner to make it 2-1.
The second half was a scrappy affair on a deteriorating pitch and Skye had to grind out the final 10 minutes after O'Connor received a second caution and was sent off.
Prior to kick-off Skye announced that Billy Rae had been appointed as assistant coach to Billy Armour.
Baxter and Rosebud Heart both lost as they head towards next weekend's State 4 South derby shootout at Truemans Road.
Baxter went down by the odd goal in nine away to Endeavour United and Heart was humbled 4-0 away to Monash Uni.
Baxter was reeling after 30 minutes as goals by Michael Rovinson, Sebastian Goyenechea and Nathan Credlin had the home team well in command.
Jake Kidder made it 3-1 in the 37th minute and Mark Pagliarulo scored three minutes into the second half to give Baxter a sniff but a double to Ifelowoa Ogidan in the 62nd and 73rd minutes restored Endeavour's three-goal cushion.
Baxter substitute Matt Owens made it 5-3 in the 77th minute and a Liam Kilner goal in the 83rd minute ensured a frenetic finish but the 5-4 scoreline remained as Baxter suffered its third loss of the league campaign.
Heart found itself 1-0 down after six minutes when Seb Barriere broke through and slotted the ball past Heart keeper Sean Skelly.
In the 19th minute Miles Rodriguez cut in from the right and hit a well-timed shot that was going wide until Matthew Pearce deflected it into the corner of goal to make it 2-0.
Mikey Turner missed a one-on-one with Uni keeper Max Heep in the 30th minute and a Skelly blunder in the 54th minute allowed Alex Certoma to stroll into an open net.
A nice sidefoot finish by Luke Cardamone in the 67th minute completed the rout.
In State 5 South Somerville Eagles went down 5-2 away to Lyndale United on Saturday.
Jarryd Lymer opened the scoring for the Eagles in the 23rd minute but Anthony Rosa levelled in the 35th minute and two penalties in the final four minutes of the half converted by Anthony Fekatz and Greg Nicolopoulos gave the home team a 3-1 lead at the break.
Fekatz completed his hat-trick in the second period and Damien Finnegan scored in the 83rd minute for the Eagles.
This weekend's games:
SATURDAY 3pm: Mornington v Casey Comets (Dallas Brooks Park), Langwarrin v Mooroolbark (Lawton Park), Frankston Pines v Mazenod Utd (Centenary Park), Seaford Utd v Doncaster Rovers (North Seaford Reserve), Eltham Redbacks v Peninsula Strikers (Eltham North Reserve), Sandringham v Skye Utd (R.J. Sillitoe Reserve), Rosebud Heart v Baxter (Truemans Road Recreation Reserve), Old Mentonians v Somerville Eagles (Mentone Grammar Senior School).