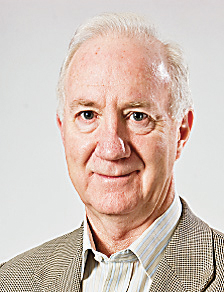 PLANNING expert Michael Buxton will be at Hastings next week to outline changes to the state's planning laws that allow three-storey houses to be built across the Mornington Peninsula and fast track developments previously subject to public comment and objection.
"We are wanting a large attendance at this meeting because, in memory, there hasn't been a greater threat to the peninsula's unique identity," organiser Peter Avery, of the Peninsula Speaks community group, said.
Dr Buxton, professor environment and planning with the School of Global Urban and Social Studies at RMIT University, has held senior positions in four Victorian planning and environmental agencies and has contributed extensively to national and state environmental and planning policy.
He has held many government positions and formerly headed the Premier's Green Wedge Working Party which developed the proposal for a legislated urban growth boundary and new green wedge zones. He has published extensively on urban form, peri-urban development and outer urban development.
Although the government's has already gazetted new planning rules to apply across the state, Mornington Peninsula Shire has only in the past few weeks voiced its displeasure.
The mayor Cr Bev Colomb issued a news release stating the council had "expressed concern" at the changes and wanted to meet with Planning Minister Richard Wynne.
Her statement came days after Red Hill ward councillor David Gill told The News the new planning rules "may lead to further degrading" of towns across the peninsula.
Previously protected by restrictive planning overlays, the shire's own planning policy is now likely to be overruled by state laws.
Council officers – without reference to council – will be able to issue permits for developments worth up to $250,000 in green wedge zones, $500,000 in commercial areas and $1 million in industrial areas.
"Council first heard about the government's proposed changes the day it was released by the Minister for Planning to the public for the first time – 27 March 2017," the shire's planning services executive manager David Bergin last week told The News.
"The state government has gazetted planning changes that threaten the Mornington Peninsula with shire wide three storey houses as of right, green wedge controls being watered down, our rural zones under pressure from housing  and broadened  'Vicsmart' planning permits granted with no community notice and no right of appeal," Cr Gill said last week.
"All concerned residents should come along to the rally with Michael Buxton to voice our opposition to these planning changes that have been made without consultation."
The rally organised by Peninsula Speaks starts 7pm on Thursday 22 June at Hastings Community Hub, 1973 Frankston-Flinders Rd.
First published in the Southern Peninsula News – 13 June 2017