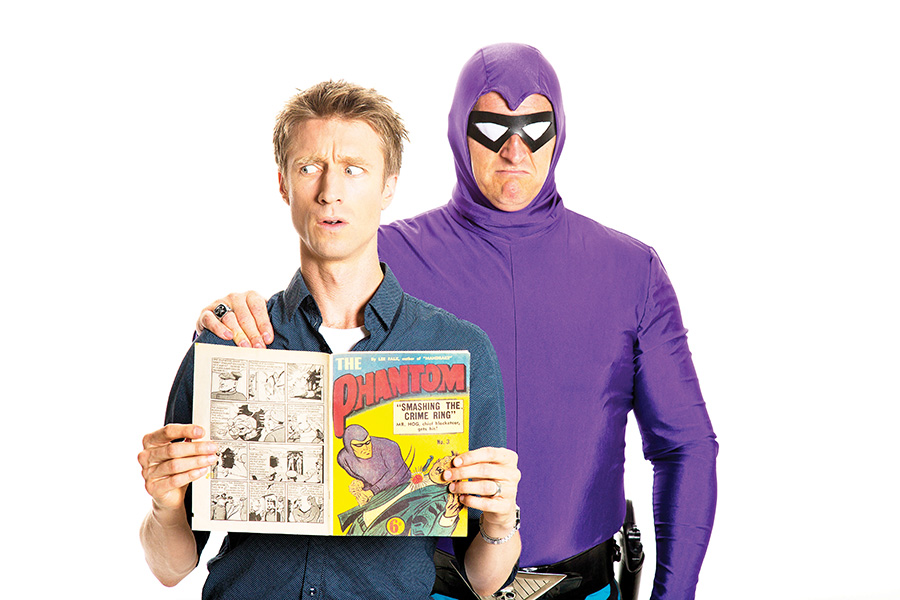 A GARDENER at Mt Eliza's Peninsula School unwittingly set comedian Sammy J off a planned legal career garden path and into a world of adventure and justice dispensed by The Phantom comic book character.
A path leading to an escape from a legal career after ditching law degree studies at university for full-time comedy capers.
A path that would ultimately see Sammy J "commit a crime in Canberra" and break the law he previously swore to study.
A path that would lead the comedian to become obsessed with "one of the least popular superheroes in the world".
The ghost who walks. The man who cannot die. The Phantom.
It's a tale Sammy J is bringing back "home" to the Frankston Arts Centre this month in a second performance, following a quick sellout of the first slated show, of his nationally toured Hero Complex show.
A T-shirt depicting superhero The Phantom worn by the school gardener when Sammy J was a ten-year-old student at Mt Eliza's Peninsula School triggered a series of life-changing incidents for the comedian, satirist and writer including meeting his wife, having a daughter and Canberra strife and crime.
It was, he says, "my 'Batman Begins' moment even though it's the wrong superhero", and his life would never be the same again.
"If he hadn't been wearing that T-shirt and I hadn't liked The Phantom then all of those things wouldn't have happened as a result," Sammy J told The News.
The T-shirt sparked an interest in the purple-clad hero that saw the young Peninsula School schoolboy seeking out comics to read about the exploits of his new hero, the first costumed hero in 1936 who endures to this day against the odds.
"He's objectively one of the least popular superheroes in the world but for some reason, The Phantom spoke to me," he said.
"I couldn't play sports so had to find another way of fitting in and that became telling jokes and then in my high school years writing songs about my teachers."
Unfortunately, The Phantom wasn't much help on the winning friends and influencing people front upon first discovery.
"Looking back now, maybe The Phantom appealed to me because it was 'my own'. But on the downside I had no-one to share The Phantom with. I just double-downed and retreated into this world of buying comics and merchandise and really becoming quite obsessed."
The colour purple would burst into Sammy J's life again after he left a life of law. This time in the form of puppet character and comedy double act partner Randy Feltface.
"Maybe it made me think there was something in that," he said.
In 2014, Sammy J shared a stage with another colourful character at The Wheeler Centre — former Frankston MP Geoff Shaw.
Shaw was booked months in advance for Sammy J's Democratic Party, "a way to have some fun with politicians" that has now developed into an ABC TV series, and turned up for the show the very week he became the first MP in a century to be suspended from Victoria's parliament.
"Suddenly he was all over the news and was threatening to bring down the government," Sammy J said last week.
"To his great credit, he kept his commitment … and appeared in a room packed full of journalists."
The comedian likened Mr Shaw to another controversial politician — US President Donald Trump.
"You could almost argue he was a bit of pre-Trump flavour."
Unlike President Trump, Sammy J says Geoff Shaw "took criticism to his face" during the interview at The Wheeler Centre.
"It was a lovely exercise in free speech."
Sammy J is looking forward to bringing Hero Complex to Frankston.
"It's a fun story. You don't have to like The Phantom at all. It's for anyone who has ever been obsessed by something.
"I've been telling the story all over Australia and it features a lot of local references and photos.
"It's going to be quite strange standing at 'the scene of the crime' and telling it."
Phantom fans have emerged from the shadows along the way though.
"Being a Phantom fan is a lonely experience so it's been great to see a few people in Phantom T-shirts and skull rings on their hands in the audience."
Tickets for Sammy J's Hero Complex show on Friday 23 June, 9.30pm, at Frankston Arts Centre are available at thefac.com.au or by calling 9784 1060.