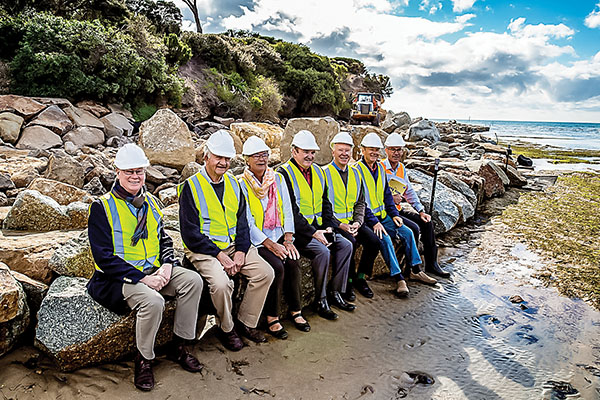 THE $1.56 million Eastern Sister rock seawall and pathway project at Sorrento will connect Sullivan Bay with Camerons Bight. Almost one third of the cost – $500,000 – is being provided by the developer of a five-lot subdivision at 3080 Point Nepean Rd.
The Eastern Sister Headland is at the northern end of Camerons Bight and the southern end of Sullivan Bay. At the top of the cliff is the Collins settlement historic site, which was Victoria's first official settlement in 1803. It includes graves, asphalt pathways, monuments and lookouts.
"The toe of the Eastern Sister limestone cliffs has continued to gradually erode over many decades from the forces of wave action and human disturbance," the shire's chief operating officer Alison Leighton said.
"Some erosion mitigation works, including rock armouring, have already been built, and these measures need to be extended."
The mayor Cr Bev Colomb said the shire had 192 kilometres of coastline along Port Phillip and Western Port bays which "continues to hold a strong importance for local residents and visitors alike".
"The project will support our strategy to guide and protect our foreshore's future management, use and development. This is a great outcome achieved through working with the community. It will be an iconic walk and experience for those visiting Sorrento."
Cr Bryan Payne said the project would enable public pedestrian access around the historic Eastern Sister Headland and provide protection for the coast.
Cr Hugh Fraser said the shire was committed to being a leader in coastal planning. "Projects such as this will contribute to our goal of caring for our foreshore and will be of benefit to our future generations."
Works are expected to be completed by the end of September.
First published in the Southern Peninsula News – 13 June 2017