NEPEAN LEAGUE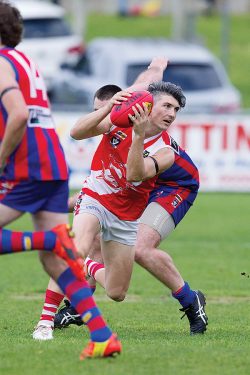 SORRENTO is one of the best teams that has taken to the footy field in a number of years, according to Rye coach Josh Moore.
Moore and his Demon charges were handed their second 100-plus point hiding at the hands of the Sharks on Saturday, prompting Moore to make the call.
He said while he rated Frankston Bombers "highly", he thought that his old team was the side to beat.
"We've played all of the sides in the top five and Sorrento is the one to beat with Frankston the only team we've played that I think can challenge them right now," Moore said.
"We've made some steady improvement over the past month since we last played Sorrento but they were again able to beat us convincingly.
"If they did have one weakness, it would be in the ruck, however, they excel everywhere else.
"With most teams when they are going as well as Sorrento, you can challenge the defensive side of their game, however, they are so well structured all over the ground," Moore said.
Sorrento booted 26.18 (174) to 9.7 (61), which included eight goals in the third quarter and nine majors in the last.
Chris Dawes booted 10 goals in a masterclass performance.
Moore said Dawes was "exceptional".
"Dawes is just a wonderful athlete. It didn't matter who we played on him, he just monstered them. He's a specimen – he's quick, strong, athletic – he's got it all. There's no one in the competition who will be able to stop him," Moore said.
Rye went into the game with 13 players under the age of 21, including six Under 19s and an Under 17.
"There's no doubt we went in a little too inexperienced for Sorrento but that's where we are at as a footy club right now," Moore said.
"It's these kids who have helped us win games of footy in the past month.
"Playing sides like Sorrento is a wonderful experience for them. Take 17-year-old Joel Wills for instance, he's played on the likes of Colin McVeigh and Keegan Downie. On Saturday he played on Nick Corp. Corp said to me after the game, 'you've got a beauty there' and I replied, he's 17, which astounded him.
"It's an exciting time for our club."
Sorrento play Frankston and Hastings in successive weeks after playing Devon Meadows this week. It's only then will we get a real read on the Sharks.
On Sunday, Dromana made it four wins on the trot with an emphatic 61 point win over Red Hill.
The Tigers' win moved them into the top five for the first time, pushing out its opponent Red Hill.
The Hillmen have now lost four of its past six games and are as low as they have been in years.
Red Hill's only wins in the past six weeks have been against Tyabb and Pearcedale. It has now lost to Somerville and Dromana, teams it is competing against for a spot in the top five.