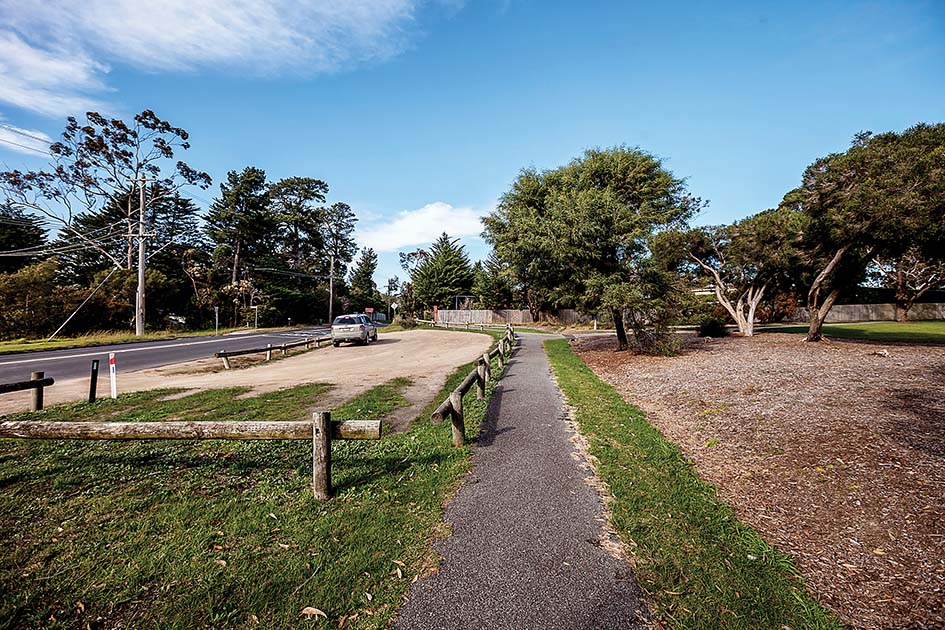 THE proposed $280,000 car park to ease Mt Eliza Primary School drop-offs has upset nearby residents.
They say their main concerns over the Canadian Bay Rd-Nepean Highway site are safety, increases in traffic when a nursing home is built opposite, and the "destruction of a beautiful park area which is characteristic of Mt Eliza".
Traffic is often chaotic in the area during morning and afternoon peaks, with parents parking on roadsides while dropping off and picking up pupils.
The residents say they met with the mayor, councillors and shire staff at the proposed site recently to discuss potential issues and compromises – including establishing a new car park in Wooralla Drive.
Residents Steve Traine – whose property backs onto the site – and Neil Ashby say they also speak for other Mt Eliza residents opposed to the car park.
"While we respect and understand the complexities and challenges of car parking at Mt Eliza Primary School, we don't believe a car park 250 metres away from the school on another road is the correct solution," Mr Traine said.
"It's a terrible corner. Traffic in the morning is not as bad as in the afternoon with cars banking up Canadian Bay Rd.
"Once you have a formalised car park it attracts even more traffic. If it was built a block further back it might be OK."
He said the many different views expressed on social media proved the issue was "quite controversial".
Other concerns are that landowner VicRoads could charge taxpayers $22,000 a year to lease the 2500 square metre block.
Mt Eliza Primary School principal Brett Bell said members of the school community had suggested the site as a viable car park to the shire and to VicRoads.
He said the school had been kept informed of the progress of the planning application and had been working with shire officers to discuss a variety of "traffic management options".
"It would be a good site for a car park as it has a back gate into the school," he said. It would require minimal vegetation removal and the school was happy to have planting days to replace any trees lost, he said.
"There is currently a small gravel car park on the site; if we can get 45 cars in there that would be good."
Dunkley MP Chris Crewther said the federal government would pay for the development of the car park which would "benefit a number of local schools, particularly in terms of child safety".
"This was a key election commitment of mine during the 2016 election campaign," he said.
The $280,000 will go to the shire to build the car park.
Mr Crewther said VicRoads had earlier indicated it would charge only a penny-rent for use of the land. "However, more recently they have indicated to council they wish to charge $22,000 a year, which is now holding council back from commencing the project," he said.
"We believe this amount should not be charged, given the project has no commercial component, but is being done for community, particularly child, safety."
Mornington MP David Morris has urged Roads Minister Luke Donnellan to push VicRoads to allow the penny-rent for the land.
VicRoads metro south east director of operations Michael Barker said he was working with the shire to "reach a mutually beneficial arrangement".
Under the Victorian Government Land Transaction Policy VicRoads will estimate the value of the site and the shire will provide evidence of the value of comparable sites "for negotiation purposes".