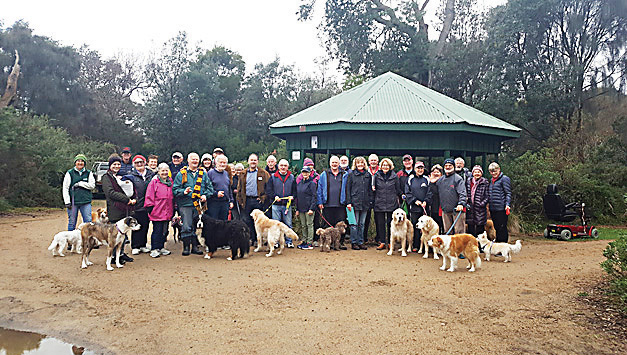 DOG walkers at McCrae proved the social aspects of their regular beach outings by getting together on 10 June to pressure Mornington Peninsula into loosening the laws on keeping their pets on a leash.
Bill Chalkley said unique winter restrictions at McCrae were the "bones of the issue".
"Since it was established in November 2008 the McCrae beach off-leash dog exercise area has had winter time restrictions – no off-leash exercise is permitted outside the daylight saving period after 9am or before 5pm daily," he said.
"An identical off-leash dog exercise area east of the Rosebud jetty has no such restrictions."
Mr Chalkley said Mornington Peninsula Shire "confirms there is no data to support why the unique McCrae beach winter time restrictions exist".
He said walking dogs off-leash met council's objective of encouraging responsible dog owners to have fun with their dogs at designated areas around the peninsula.
However, weather and reduced hours of daylight during winter denied dog walkers this opportunity on the McCrae beach without contravening existing restrictions.
"There have been several instances lately where infringement notices attracting significant penalties have been served by shire rangers on unsuspecting dog walkers," Mr Chalkley said.
"Members of the McCrae beach dog walking community are responsible dog owners who enjoy both the social and health benefits of being able to walk their dogs off-leash.
"They also provide a valuable community service by removing rubbish such as plastic bags, broken glass, fishing line and hooks and other items that are dangerous to marine and birds."
The dog walkers are writing to councillors and collecting signatures on a petition to have the winter off-leash restrictions lifted.
Details: call Bill Chalkley, 0418 324 756.
First published in the Southern Peninsula News – 27 June 2017