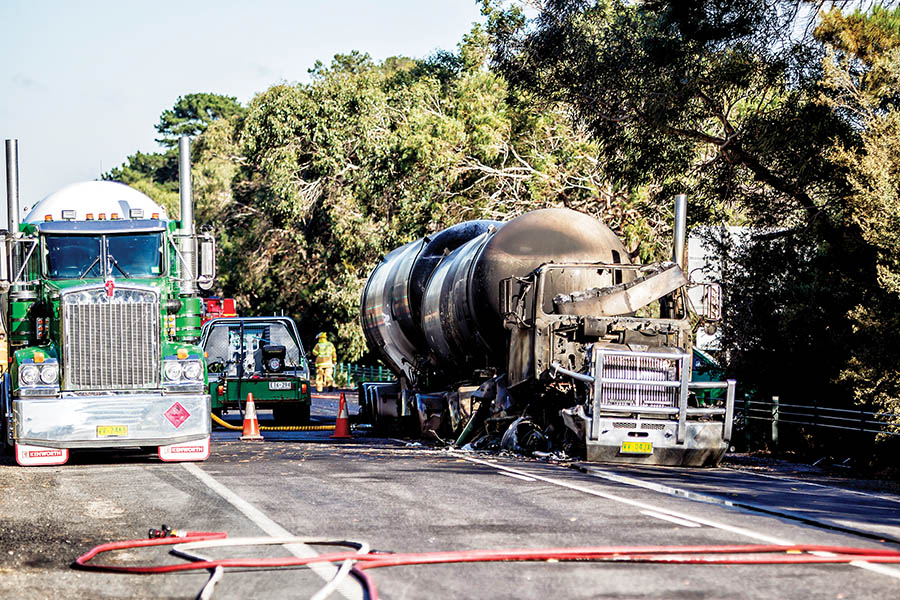 CFA crews worked desperately to prevent a B-double truck's huge liquefied petroleum gas tanks exploding after a fatal collision in Tyabb on Thursday night.
Police are investigating why a black Mercedes sedan travelling south on Dandenong-Hastings Rd at 8.15pm crossed onto the wrong side of the road and ran head-on into the tanker. Both vehicles caught fire, but luckily it did not extend to the 20 tonnes of LPG on board the tanker.
The driver of the Mercedes, a 49-year-old Hastings man, died at the scene while the driver of the tanker escaped with minor injuries.
CFA District 8 operations officer Don Wilkie said more than 100 firefighters worked to gain control of the fire just before midnight. "The first responding crews did a fantastic job calling for the most appropriate equipment and had to make some quick decisions," he said. "The fact is this could have been much worse if there was an explosion. This great work by all agencies contributed to lowering the risk of this happening."
Tyabb CFA Captain Steve Birkinshaw said when CFA crews arrived on scene they were confronted with "a fireball". "They weren't sure if the large tanks were involved or not, but, fortunately, they were not," he said.
Firefighters stayed at the scene throughout the night and remained onsite until the decanting was completed, Friday afternoon.
Western Port Highway was closed between Bungower Rd, Somerville and Frankston-Flinders Rd, Tyabb.
Senior Constable Adam West, of police media, said anyone who saw the collision or has any information should contact Crime Stoppers 1800 333 000 or crimestoppersvic.com.au
First published in the Southern Peninsula News – 27 June 2017