SOCCER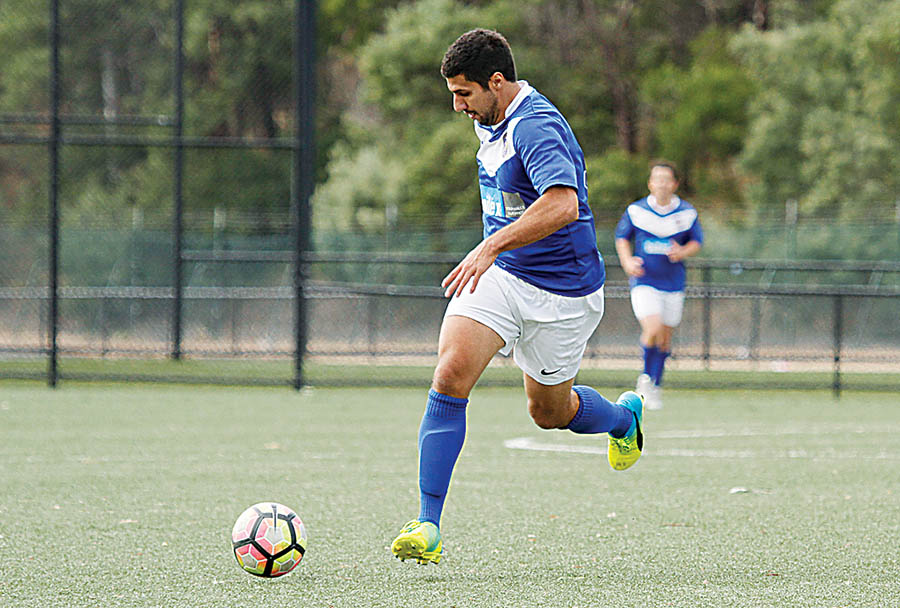 By Craig MacKenzie
NICK Theodore has an impeccable sense of timing.
With Skye United's promotion push under serious threat from bottom side Dingley Stars, Theodore came off the bench in the 78th minute and scored twice in the final six minutes of normal time to snatch victory from the jaws of defeat.
Skye's 4-3 come-from-behind win at home on Saturday gives it hope that it can beat Brandon Park in the race for second spot in State 3 South-East but it will have to perform at a far higher standard to achieve its aim.
Skye dominated in the air against Dingley but looked susceptible on the ground when the visitors counter-attacked quickly.
Skye's aerial threat was ever present from set pieces and was powered by Daniel Attard, Marcus Collier and defenders Johnny Andrinopoulos and Billy Painting all keen to get on the end of free-kicks or corners taken by either Irish captain Mark O'Connor or English import Jacob Scotte-Hatherly.
But when Dingley broke forward Sergen Aycicek and Hakan Yildiz were a constant handful.
The number 13 is unlucky for some and so it was when Dingley took the lead in the 13th minute thanks to a Painting blunder.
The big man didn't put enough weight on his attempt to head the ball back to the advancing Jonathan Crook and Aycicek nipped in to poke the ball over the stranded keeper and into the unguarded goal.
But Crook made a crucial save in the 19th minute to thwart a lightning-quick Dingley counter-attack.
Aycicek squared the ball to Erman Sepetci on the right and his stinging strike was superbly parried by Crook.
Five minutes later a neat turn and volley by Yildiz saw the ball flash just wide of the far post as Dingley continued to look the better side.
The lifeline Skye needed arrived in the 28th minute courtesy of an inch-perfect long ball from the left by David Cori which Jason Nowakowski headed over Dingley keeper Nicholas Abougelis for the equaliser.
Five minutes later Skye was in front following a corner headed home by Andrinopoulos at the back post.
Attard should have extended Skye's lead in the 37th minute when Nowakowski lobbed the ball across goal from the right to the unmarked Skye striker who headed wide.
A minute later it was 2-2 and Skye had again been exposed on the break.
Crook was off his line to block a close range shot and the rebound fell to Aycicek whose strike found the back of the net via Painting's last-ditch effort to slide down and clear.
Collier should have hit the target in the 43rd minute with a header but sent the ball over the bar and that was the last significant chance of the half.
One minute into the second half Attard sent Nowakowski through but he shot wide.
In the 60th minute Skye gave Dingley some of its own medicine with a quick break that saw Wumjock Jock send Attard through but the lanky forward didn't connect with his shot cleanly and Abougelis saved easily.
Few onlookers could have anticipated three goals in the final 10 minutes of normal time and a grandstand finish that brought Skye fans to their feet.
Theodore had replaced Sajnesh Sugrim as Skye coach Billy Armour rolled the dice and pushed an extra man forward but that move looked to have backfired in spectacular fashion after Sugrim's opponent Sepetci broke on the right and struck a firm shot across Crook and inside the far post in the 80th minute to make it 3-2.
Someone needed to grab the bull by the horns and that man was Theodore.
In the 84th minute a clever O'Connor free kick sent the ball in behind the Dingley defence and Theodore stuck out a foot and directed its past Abougelis from close range for the leveller.
In the 90th minute the spotlight again fell on the supersub as Jock motored down the left with Dingley desperately hanging on for a point.
Jock's cross was put on a plate for Theodore who headed the ball inside the near post to break Dingley's heart and give Skye all three points.
While Dingley deserved to get something out of a contest to which it contributed so much Skye deserves credit for never giving up and forcing its way back into the match.
A better insight into Skye's 2017 prospects will be gained shortly when it comes up against Brighton twice in five days.
The sides meet at Dendy Park on Saturday then their abandoned fixture from earlier in the season is replayed at Skye Recreation Reserve on Wednesday 5 July at 7.30pm.
The original fixture was called off due to a storm with Brighton good value for its 2-0 lead so Skye knows that it faces a serious challenge.
Normal service was resumed in State 1 South-East when league leader Langwarrin and two-time champion Mornington both won on Saturday.
Langy travelled to Gippsland to take on Morwell Pegasus and went 4-0 up early in the second half with goals to Caleb Nicholes (21st and 55th minutes), Connor Belger (31st) and Paul Speed (44th) but a flurry of late goals by the home side and some controversial refereeing had Langy looking to the heavens when the final whistle blew.
The man who almost turned this contest around was big Paul Kuol who notched a hat-trick with goals in the 77th, 80th and 90th minutes, the last two from the penalty spot.
Mornington beat St Kilda 3-0 at Elwood Park with goals from Wayne Gordon (12th) and recent recruit Sam Orritt (35th, 74th).
Stalwart defender Simon Webster had announced his retirement the previous week due to ongoing injury problems and the only downside to emerge from the St Kilda win was a hamstring injury to English midfielder Matthew Wade.
There was no good news to emerge from State 2 South-East last weekend with Peninsula Strikers, Frankston Pines and Seaford United all losing.
Strikers hit the front away to Berwick City with a Raphael Stulz goal but four minutes later Orlando Mejias equalised and Bryce Ziada nabbed the winner for Berwick in the 78th minute.
Pines went down 1-0 away to league leader Eltham Redbacks due to a Mili Muratbegovic goal in the 71st minute while Seaford lost 1-0 to Heatherton United thanks to Meldin Klehic who toe-poked the ball home in the 65th minute.
An own goal in the 35th minute of Baxter's away clash with Noble Park gave Roy Kilner's men a 2-1 win that entrenches them in the logjam at the top of State 4 South.
On 13 minutes Baxter had the goal its early dominance deserved, Mark Pagliarulo bringing down a high ball before having his close range shot saved by the home team keeper but Liam Kilner was on hand to tuck in the rebound.
Baxter increased its lead after a quick free kick from Kilner set up Dan Disseldorp who unleashed a low drive which was deflected into the net.
Pagliarulo missed a gilt-edged chance to make it 3-0 early in the second half and Noble Park looked the more likely side to score going close with a shot that rattled the crossbar.
The home side eventually broke through with a stunning 25-metre strike from Timothy Van Den Heuvel in the 76th minute that gave Baxter keeper Francis Beck no chance.
Baxter is now equal top on 26 points along with Springvale City, Monash Uni, Dandenong South and Bayside Argonauts with Harrisfield Hurricanes in sixth spot just four points off the pace.
Rival State 4 South outfit Rosebud Heart was beaten 4-1 at home by Endeavour United on Saturday.
Heart never recovered from a slow start that saw goals from Dario Maia in the 5th and 20 minutes having Heart on the ropes before Blake Hicks make it 2-1 in the 26th minute.
Ahmad Tabbara restored Endeavour's two-goal cushion just before half-time and substitute Michael Rodriguez rounded off the scoreline in the 82nd minute.
Somerville Eagles made it back-to-back league wins for the first time in its short history by downing Drouin Dragons 1-0 in their State 5 South fixture at Barber Reserve on Saturday.
Irish recruit Ciaran McConville was the main man with a successful free kick in the 35th minute.
Somerville celebrated another milestone as the reserves and seniors both won on the same day for the first time.
This weekend's games:
SATURDAY 3pm: Langwarrin v South Springvale (Lawton Park), Manningham Utd Blues v Mornington (Park Avenue Reserve), Peninsula Strikers v Doncaster Rovers (Centenary Park), Frankston Pines v Berwick City (Monterey Reserve), Seaford Utd v Doveton (North Seaford Reserve), Brighton v Skye Utd (Dendy Park), Baxter v Bayside Argonauts (Baxter Park), Rosebud Heart v Noble Park (Truemans Road Recreation Reserve), Somerville Eagles v Casey Panthers (Barber Reserve).