SOCCER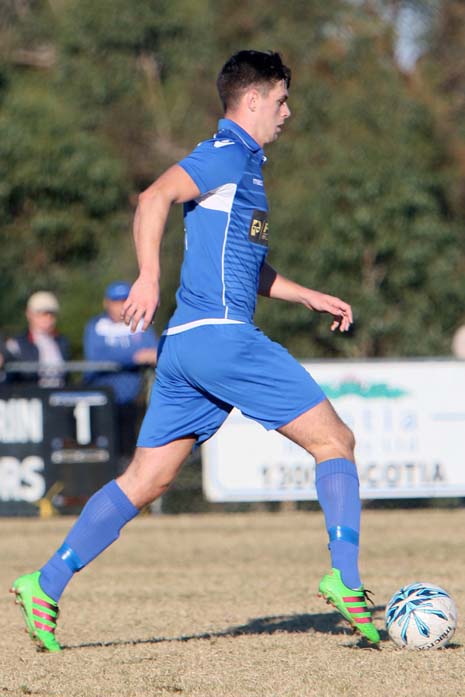 By Craig MacKenzie
WHILE Langwarrin was cementing its title claims Seaford United was down and all but out after last weekend's round 14 fixtures.
Langwarrin defeated South Springvale 3-1 at Lawton Park in a State 1 South-East contest that was settled in the first half.
With just two minutes gone Alex Metcalfe let fly with a low strike from outside the area that beat South Springvale keeper Alex Connell for the opener.
South Springvale hit back from a corner in the 14th minute as Michael Kariuki made no mistake with a free header on the edge of the six-yard box.
Langy central defender Kieron Kenny went forward in the 28th minute and lobbed the ball to the back post where towering midfielder Mat Luak cleverly chested down and was about to shoot when tripped by Connell.
Caleb Nicholes took the resultant penalty and sent Connell the wrong way to make it 2-1.
Connor Belger broke onto a long kick downfield from Langy keeper Robbie Acs in the 41st minute but hammered his close-range shot well wide.
But Belger made amends two minutes later with a smart turn inside his opponent before neatly stroking the ball past advancing Connell to complete the scoreline.
Langy was without ace scorer Liam Baxter who has a quad injury but the club is hopeful that he will be fit to face Casey Comets on Friday 14 July.
Mornington maintained its excellent away record with a resounding 4-0 win over Manningham United Blues on Saturday.
Big Scotty Millar opened the scoring in the 43rd minute after Manningham failed to deal with a long throw and Millar struck the ball home from close range.
Three minutes into the second half Sammy Orritt gave Mornington a two-goal cushion and star striker Ryan Paczkowski's double rounded off the scoreline.
Paczkowski was at the back post in the 73rd minute to finish off a fine interpassing move and in the 79th minute struck a right-foot shot under Manningham keeper Matthew Banovic following a lay-off by Keegan Ziada.
Mornington went into the clash without central defenders Steve Elliott (knee) and Josh Valadon (ankle) and central midfielder Matthew Wade (hamstring).
Elliott's recovery is being monitored this week, Valadon is expected to resume full training but Wade may be out for a few more weeks.
Harry McCartney reports that Seaford United was thrashed 8-3 by Doveton at North Seaford Reserve on Saturday.
As the Doves soared to top spot in State 2 South-East the home team remained anchored to the foot of the table, seven points adrift from safety with an added encumbrance of a negative goal difference of 23.
Doveton's Ronir Muriqi had a day out with four goals (18th minute, 35th, penalty 55th, penalty 83rd) and Doveton's other scorers were Shane Tagliaferro (23rd), Gethin Jones (56th), substitute Senahid Tokalic (73rd) and Zara Yosoph (77th).
Seaford striker Mitch Lander notched a double (20th and 69th minutes) and teammate Alex Roberts converted from the penalty spot in the 28th minute.
Peninsula Strikers were the victims of a smash and grab raid at Centenary Park on Saturday going down 1-0 to Doncaster Rovers.
Joel Richmond came off the bench in the 87th minute and scored the winner in the 89th minute.
Strikers were under the guidance of interim senior coach Billy Buchanan and assistant Graham "Winker" Watson after Craig Lewis resigned as head coach last week.
Lewis cited constant harassment from referees as the trigger for his shock move and will front a tribunal hearing on 19 July following his third dismissal of the season in Strikers' 2-1 defeat away to Berwick City in round 13.
Frankston Pines had to settle for a point after Saturday's 0-0 stalemate against Berwick City at Monterey Reserve.
Doncaster's win drags both Pines and Strikers into the State 2 South-East relegation mix and emphasises the importance of the clash between Doncaster and Pines on Friday 14 July with Strikers travelling to Waratah Reserve the following day to face title-chasing Doveton.
Strikers will be without central midfielder Sam Scott who will serve an automatic suspension after accumulating five yellow cards.
Skye United earned a hard-fought point in its State 3 South-East 2-2 away draw with Brighton on Saturday having to play the second half with just 10 men after central defender Daniel Utting's red card just before the interval.
Skye took the lead in the 11th minute when Daniel Attard intercepted a headed back pass to Brighton custodian Adrian Drury.
Attard chipped the ball over Drury's head and finished it off with a diving header which snuck in off the post.
However, a long ball in the 19th minute caught the Skye defence napping and Duncan Fulton's smart finish made it 1-1.
Just before half-time another long ball caught out Utting who pulled down his opponent and referee James Morgan had no hesitation in brandishing a red card.
The second half was an uphill battle for the visitors but captain Mark O'Connor put Skye back into the lead with a left-footed strike that was too much for Drury despite the keeper getting a hand to the ball.
Ciaran Brady drew the hosts level in the 62nd minute when he finished a cut back which beat Skye keeper Jonathon Crook to ensure a tight finish to the contest.
Skye can thank Crook for its point as the last chance of the game saw him spectacularly parry a strike destined for the top corner.
Baxter's State 4 South top-of-the-table clash with Bayside Argonauts ended up a no-contest as the visitors to Baxter Park dominated much of the game and deservedly ran out 3-1 victors.
The go-to man for the Argonauts was attacking midfielder Stephen Patterson and he proved a handful all day.
His turn and low strike in the 22nd minute forced Baxter keeper Francis Beck to parry at his near post and in the 42nd minute, Fraser McGregor's long throw from the left was met with a back-header from Patterson that flashed wide of the far upright.
The deadlock was broken in the 51st minute with a low shot from just inside the area by Argonauts midfielder Neal Byrne.
Baxter striker Mark Pagliarulo latched onto a bad clearance in the 65th minute but scuffed his shot and Baxter teenager Travis Ernsdoerfer skinned an opponent in the 69th minute inside the area but skied his shot.
Baxter was punished for failing to clear in the 74th minute when a low strike by Adrian Lotca rebounded off the post to Ron Harmeston whose clever turn and cheeky finish made it 2-0.
Pagliarulo gave Baxter a lifeline in the 83rd minute when he went down inside the area and converted the resultant penalty with aplomb.
The nail in Baxter's coffin was driven home in the 91st minute with a goal that would have received rave reviews anywhere in the world.
Dionysis Liosatos unleashed a sizzling strike from 25 metres that was still on the rise as it flew past Beck and nestled in the top far corner of the Baxter goal.
Rosebud Heart staged a remarkable come-from-behind win with 10 men to trounce Noble Park 4-1 at Truemans Road Reserve on Saturday.
When Noble Park's Nick Talidis opened the scoring in the 5th minute after a contentious penalty decision things looked grim for Heart and when Matthew Pearce was controversially dismissed in the 40th minute Scott Morrison's men were staring down the barrel.
Pearce was booked following a 50/50 tackle and his response to the referee was "you're having a laugh", which earned him a second yellow and his first ever red card.
Prior to the send-off gun Heart striker Dave Greening had missed two one-on-ones and struck the post and the home side maintained its impetus despite going a man down.
Right on half-time, Greening equalised following a poor clearance and Heart hit the front in the 53rd minute following an excellent interchange between Greening and Cory Osorio with the latter chipping Noble Park keeper Younis Tufan.
In the 61st minute Greening turned his opponent inside out before slotting in off the near post and in the 77th minute, the rout was complete when a great run by Beau Sharpe saw him swing in a superb cross which Noble Park defender Phillip Antonopolous could only slice into his own goal.
Somerville drew 1-1 with Casey Panthers at Barber Reserve on Saturday in their State 5 South fixture.
Daniel Nelson put the visitors ahead in the 28th minute with a back-post header following a free kick and Joel Wade equalised for Somerville five minutes later with a left-foot volley.
This weekend is a catch-up round and the only game in the local area next Saturday is the Casey Comets v Morwell Pegasus clash at Comets Stadium at 3pm.
On Wednesday this week (5 July) Skye United takes on Brighton at Skye Recreational Reserve after the original fixture was abandoned due to a storm. Wednesday's game starts at 7.30pm and is a must-win for the home side if it is to maintain pressure on Brandon Park in the race for second spot in State 3 South-East.