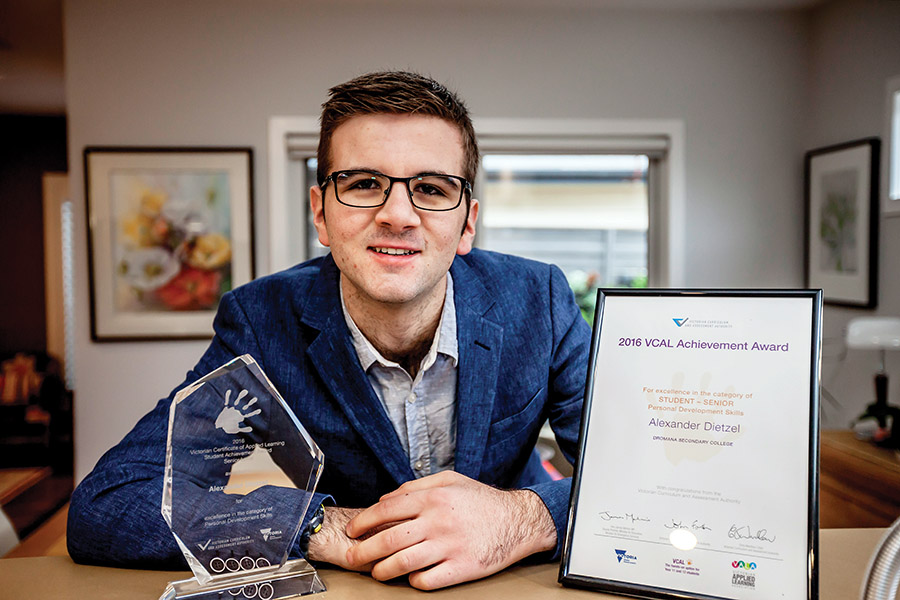 DROMANA Secondary College student Alex Dietzel has received a senior VCAL student achievement award for his personal development skills. He is the first student from the college to receive the award.
His success came from his efforts in raising awareness and understanding of people on the autism spectrum. The judges said he showed "great independence and drive" in leading three other students, also passionate about the issue, to plan, organise and run a community awareness campaign on autism.
Alex – who was school captain last year – presented detailed plans to principal Alan Marr to obtain permission to run events to raise awareness. He planned and organised a student-led sports day with the Peninsula Specialist College and arranged for fruit to be donated by a local fruit shop as part of the event. He also organised a guest speaker from the I Can Network to talk to the VCAL students about autism. He and his team also organised a school free-dress day to raise awareness for autism.
Alex led the team in writing a proposal to the school council to gain permission, prepared promotional posters around the school and made ribbon pins for teachers and years 11 and 12 students to show their support. On the day, Alex's group raised $984 for the I Can Network, the highest amount raised by the school for a free-dress day.
The judges agreed Alex had shown "great ambition, work ethic and drive for his project to raise understanding and awareness of autism".
As school captain, he also helped organise and promote other projects, including the 26 kilometre Two Bays hike from the Cape Schanck Lighthouse through to Dromana, in which he also participated.
Although he has now left the college, Alex still fundraises for the I Can Network and hopes to complete the Two Bays hike for a second time.
"From my experience in raising awareness for autism, everyone can give it ago," he said.
The college's acting principal Simon Jones said Alex had been an "exemplary student" during his six years at Dromana College. "He thoroughly deserves the recognition of his state VCAL achievement award," he said.
"Our college community is very proud of Alex's achievements in raising awareness of autism and we offer him our congratulations."
First published in the Southern Peninsula News – 4 July 2017