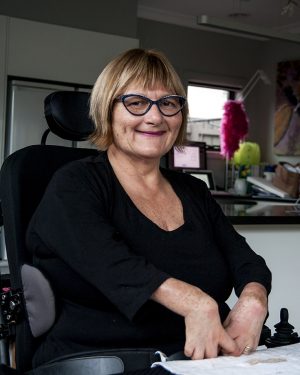 JENNY Angliss-Goodall is the new president of the Disabled Surfers Association Mornington Peninsula branch.
Ms Angliss-Goodall has been involved in the DSAMP since its inception in late 2011, often putting up her hand to try out any new equipment, whether for use in the surf or a wheelchair for the beach.
Earlier this year she was one of the first wheelchairs to use specialised plastic matting laid across the beach to the water's edge near Mt Martha Lifesaving Club.
Ms Angliss-Goodall, of Mornington, was born with arthrogryposis multiplex congenital (AMC), a condition that sees two or more joints become permanently fixed (bent or straight) before birth, leading to underdeveloped muscles and curved hands.
She says her vision for the DSAMP remains the same as that of the national organisation's wish to "keep putting smiles on dials".
"We want to take people surfing and have a safe and happy day out at the beach with their family and friends, just like the rest of society. Many of these people are doing something they've never done before in their lives. It's all about access."
Angliss-Goodall sees a boardwalk planned at Point Leo to allow people in wheelchairs to reach the beach as "the icing on the cake".
"No matter what situation you are in or who you are, you should have complete access to what I call the good things in life."
Also elected the DSAMP's executive committee for the next year at the annual general meeting were vice-president Matt Drysdale, treasurer Bec Lipsett, secretary Bill Hallett and committee president Angus Rendall.
"The DSAMP committee, to my knowledge, is one of the biggest and most diverse committees in the country," outgoing president Ashley Gardner said. "This is our greatest strength – different views, ages, and skill sets lends itself to healthy debate but also a well balanced and functioning committee. Again, the one thing in common is it's all about the surfers experience and looking after our volunteers." 
First published in the Southern Peninsula News – 4 July 2017