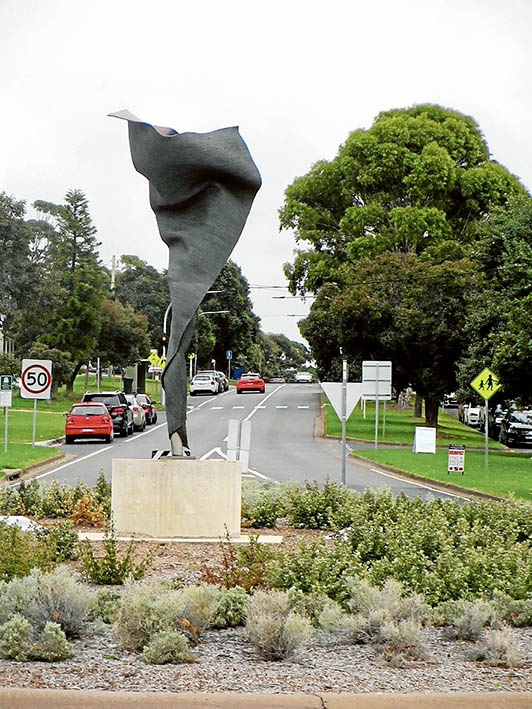 THE once-controversial sculpture "I am" is to stay at the roundabout on the main intersection in Flinders.
A survey by Mornington Peninsula Shire has shown enough support to justify the sculpture remaining at the Cook and Wood streets roundabout.
There were 564 responses to the survey, 337 from Flinders residents.
Just under 60 per cent said they wanted the Andrew Rogers sculpture to stay, with 39 per cent against.
More than half of those against the statue remaining on the roundabout said they would not object to it being relocated within the town.
The survey followed assurances by the shire in August 2014 that it would ask the public about the sculpture's future two years after it was erected.
The council last week agreed to keep the $100,000 sculpture on the roundabout, which will cost ratepayers about $1000 a year to maintain. The money for the sculpture was donated as a present to mark the town's 150th anniversary.
"We are determined to enhance, celebrate and promote Mornington Peninsula's cultural vitality through public art," the mayor Cr Bev Colomb said in a news release announcing the decision.
"Across the peninsula we are lucky to have a range of public art on display promoting the diversity of our townships and we look forward to seeing more sculptures be considered at other prominent locations around the peninsula."
The shire's media officer Emily Lees said on Thursday that "there are currently no locations or sculptures under consideration at present".
Jane Alexander, the shire's arts and culture coordinator, said the sculpture would continue to oxidise "creating a rich patina characteristic of this type of sculpture, and will require only periodic cleaning approximately every six months with clean water".