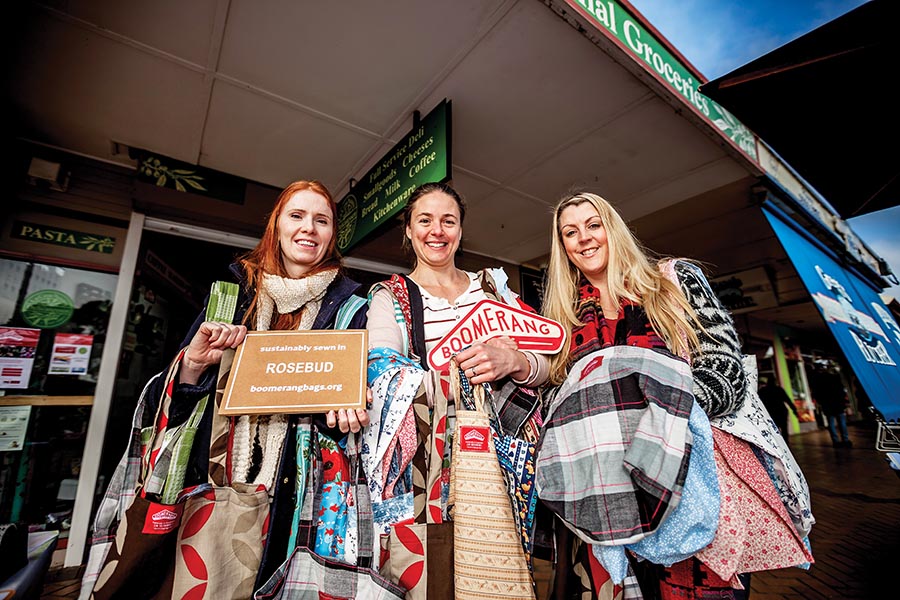 JOINING the Red Hill-based Plastic Bag Free Peninsula group in May was the catalyst for Gwen Giudici's journey towards wanting to reduce waste in general.
"At the meeting I was introduced to Boomerang Bags by Shelle Hepburn," she said.
"She had been sewing the bags in Sorrento with volunteers and school kids. At the meeting I suggested I could set up a group in Rosebud.
"I live in Tootgarook but I knew a centrally located deli whose owners are very active in the war on waste."
La Casa Nostra Deli owners Susan and Phil Tomasello are opposed to paper bags and paper straws and encourage customers to bring in containers for deli products, while cutting 50 cents off a cup of coffee if they bring their own cup.
"There is a world full of problems needing to be addressed but reducing waste is something I personally feel is where I can make a difference," Ms Giudici said.
"What hits me the most is the harm we inflict on animals with our waste. They are powerless against our carelessness. Many of us are not even aware of the damage we are doing and that's where I want to make the change – create awareness and the change will follow."
Boomerang Bags are the ideal vehicle to create change: they replace plastic bags, start a conversation on waste, and help bring the community together.
Ms Giudici said her group "couldn't sew Boomerang Bags fast enough" to adequately supply supermarkets.
"We are approaching businesses to stop supplying plastic bags as well as sharing ideas on how to reduce waste," she said.
"I can do only do so much; my main goal is to keep up supply to Sue at La Casa Nostra. She is happy to explain the Boomerang Bags initiative."
The group aims to hold a community sew at Rye Community House, Thursdays 12.30-3pm, after the school holidays. It also hopes to start sewing bees at retirement homes, libraries and schools.
"By starting the group in Rosebud I've seen just how keen people are to make a change and Boomerang Bags has provided the perfect platform. Hopefully, our work will inspire more individuals to make a difference, whether they can sew or not," Ms Giudici said.
First published in the Southern Peninsula News – 11 July 2017