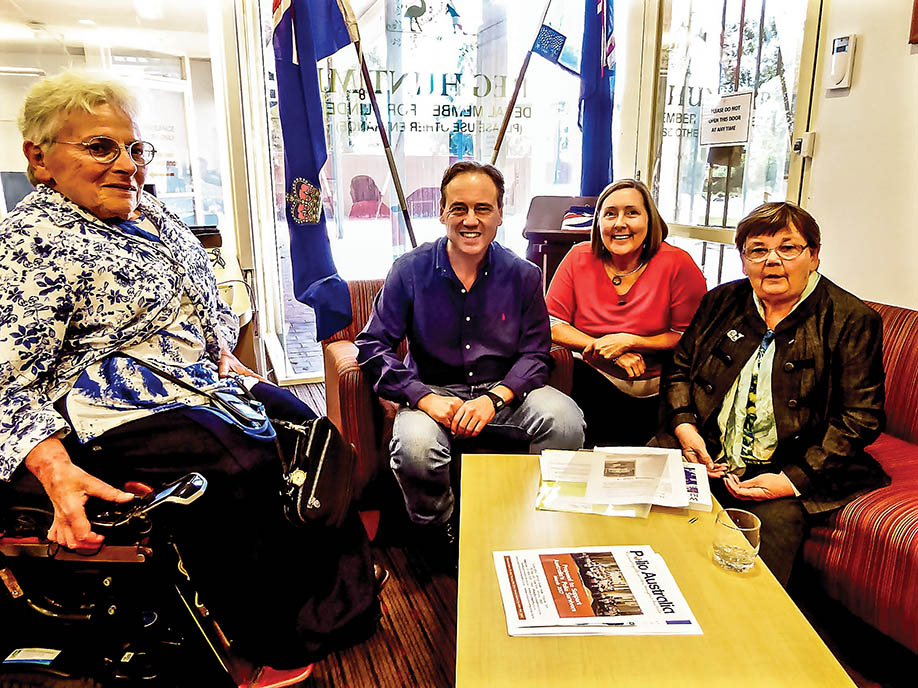 POLIO support lobbyist Fran Henke of Hastings is the first to admit she has been "gently nagging" her local federal MP Greg Hunt for many years about the unmet needs of Australia's polio survivors.
When Mr Hunt was appointed federal Minister of Health in January (replacing Sussan Ley who resigned over a travel expenses scandal), Mrs Henke requested a meeting, and no doubt Mr Hunt knew what was coming.
Last week he announced that a request to support Polio Australia's Late Effects of Polio (LEoP) clinical practice workshop program had been successful.
The federal government will fund the program for three years at $150,000 a year.
"I have nagged Mr Hunt for 16 years about the needs of Australia's polio survivors," Mrs Henke said. "He always listened and became a Parliamentary Friend of Polio Survivors but was never in the position to actually help us."
"We were delighted when his Hastings office said in March that Mr Hunt could meet representatives from Polio Australia, Post Polio Victoria, Polio Network Victoria, and Mornington Peninsula Post Polio Support Group.
"He again listened to our concerns and then asked for a proposal for that amount of money to be on his desk the following Monday. I was staggered and asked why this had taken so long. 'Wrong health minister,' he quipped."
She said many survivors were now experiencing late effects of polio, known as post-polio syndrome. "The majority of polios, as we call ourselves, are too old to benefit from the NDIS, which cuts out at 65," she said.
Mr Hunt said the $450,000 grant to Polio Australia would enable it to "run clinical practice workshops for health professionals to improve their awareness of post-polio syndrome".
"We are fortunate today in Australia that many young people have had limited or no first-hand experience with polio and its crippling effects, thanks to vaccination programs that have largely eradicated the virus from our shores," he said.
"But the earlier epidemics in the late 1930s, early 1940s and 1950s affected up to four million Australians to varying degrees, with up to 40,000 people infected with the severe paralytic polio virus and many more infected with the non-severe paralytic polio who are still living with the condition today.
"The funding will particularly benefit polio survivors who experience late effects of the illness, which can occur up to 40 years after their initial infection."
The symptoms of fatigue, muscle weakness, joint pain, and sleeping, breathing or swallowing difficulties were often confused with other medical conditions, meaning some patients may not receive the right treatment and support.
Polio Australia's clinical practice workshops would provide up to 1200 primary and allied health professionals with an opportunity to learn more about the effects of the illness.
"The workshops will be held in various locations around Australia and will be open to GPs, nurses, occupational therapists, physiotherapists, podiatrists and orthotists," he said.
Mrs Henke, who contracted polio in 1946, said it was pleasing that the government was finally recognising the post-polio syndrome community.
"The biggest battle for polio survivors is not having access to health professionals who understand polio," she said.
"It is essential that all medical professionals are educated so that people with post-polio syndrome can receive the appropriate care, treatment and support they need," she said.
"We are grateful to the federal government for this support and hope it will lead to further advances and assistance for people with post-polio syndrome."