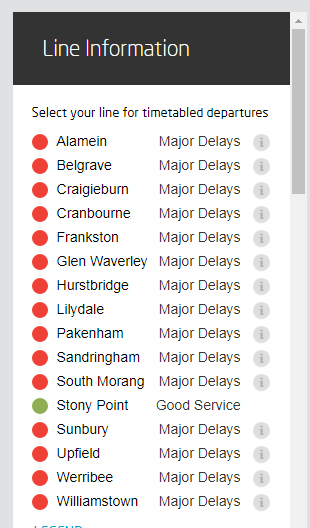 The entire Melbourne rail network is currently down to to "a computer fault".
All train lines, except for the diesel Stony Point line are currently halted. Trains that were travelling at the time of the network collapse are stuck between stations.
Metro Trains have put out an urgent warning "Passengers on board trains stopped between stations, DO NOT attempt to force doors open & alight from the train. Listen for announcements."
4.58PM, Metro Trains tweeted out "No metropolitan trains are currently operating. Please seek alternative transport where possible. Please listen for announcements."
5.12PM, Metro Trains tweeted out" Some services are resuming. Listen for announcements, allow extra travel time and defer travel where possible as we restore the timetable."
There are reports that city train stations are awash with people leaving work for the trip home, with no trains to move them away.
5.16PM, Metro Trains tweeted out "Major delays are expected as we restore the timetable, please listen for announcements or defer travel where possible."
5.37PM, Metro Trains tweeted out "Services have resumed across the network. Please allow extra travel time as we restore the timetable or defer travel where possible."