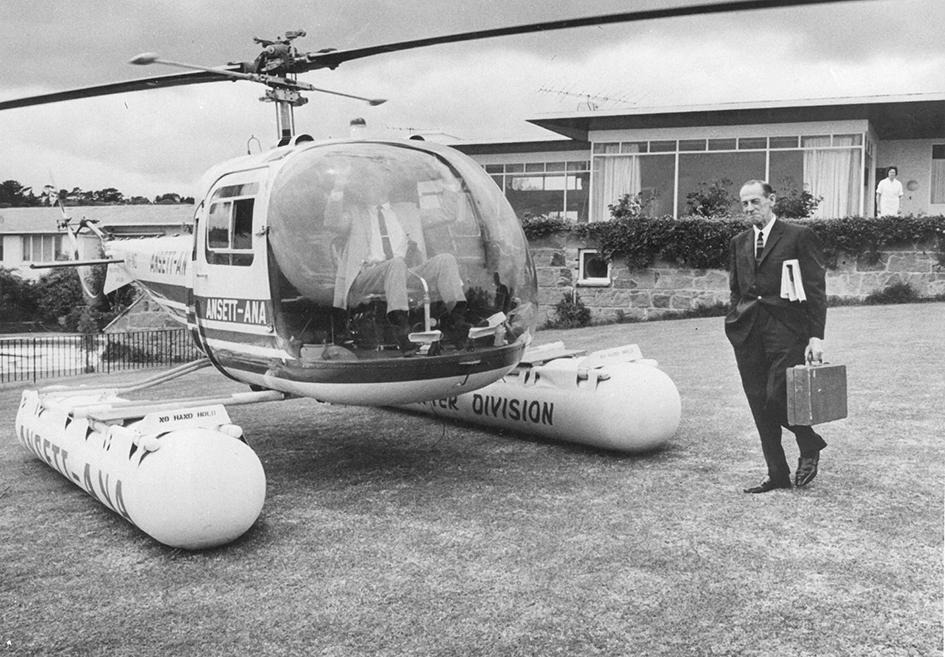 Howard Bull tells us about Mt Eliza's own Reginald Ansett and how Channel Ten was born…
NETWORK Ten is again creating its own news after announcing a big loss and its billionaire shareholders Lachlan Murdoch, Bruce Gordon and James Packer withdrawing support for a $250 million guaranteed loan.
Ten Network Holdings went into voluntary administration mid-June, which would have dismayed its creator, the Mt Eliza resident and leading businessman Sir Reginald Ansett of Ansett Airlines fame.
Previous financial difficulties included going into receivership in 1989, which ended when Westpac bought the station and later sold it to a consortium headed by Canadian group CanWest.
The station's genesis occurred in the early 1960s when the Australian government announced it would grant more commercial TV licences in a number of capital cities, including Melbourne.
Reginald Myles Ansett, yet to be knighted, was renowned for phoning senior Ansett Transport Industries executives at their homes after he had enjoyed a fine dinner and his favourite whisky at his home overlooking Port Phillip, one of the largest waterfront properties on the peninsula with its beach house, stables, gardens and a lake designed by Edna Walling.
An executive director was surprised when he answered his phone one night and was told by his boss that ATI would apply for the Melbourne licence and he should establish a task force to create a proposal. Ansett believed ATI should diversify and not be too reliant on its airline operations for cash flow.
This policy was pursued vigorously. During his reign as managing director, the ATI empire operated, in addition to Ansett Airlines, five intrastate airlines, 26 hotels, Hayman Island resort, Pioneer Tours with 284 luxury coaches, National Instrument Company, Wridgways Removals, Avis car rental, Ansair coach builders, and Ansett Road Freight. ATI was a major shareholder of Diners Club and an insurance company. When ATI closed in 2002 it comprised 47 related companies.
Ansett had good reason to diversify – in the 1960s ATI was under constant pressure in the air and from the Labor Party. A Labor government had created its own airline, Trans Australia Airlines, to fight the free enterprise Ansett Airlines.
Labor supporters described Ansett as the chief advocate of free enterprise, the living justification of capitalism, and categorised him as ruthless, a scheming go-getter, the epitome of a big businessman. They wanted him brought down, despite ATI having many small shareholders and thousands of staff.
He was renowned in Mt Eliza for travelling between home and his office in one of the airline's helicopter. The chopper would stay at his property overnight and its pilot, Captain Max Holyman, who was Australia's first licensed helicopter pilot, lived nearby.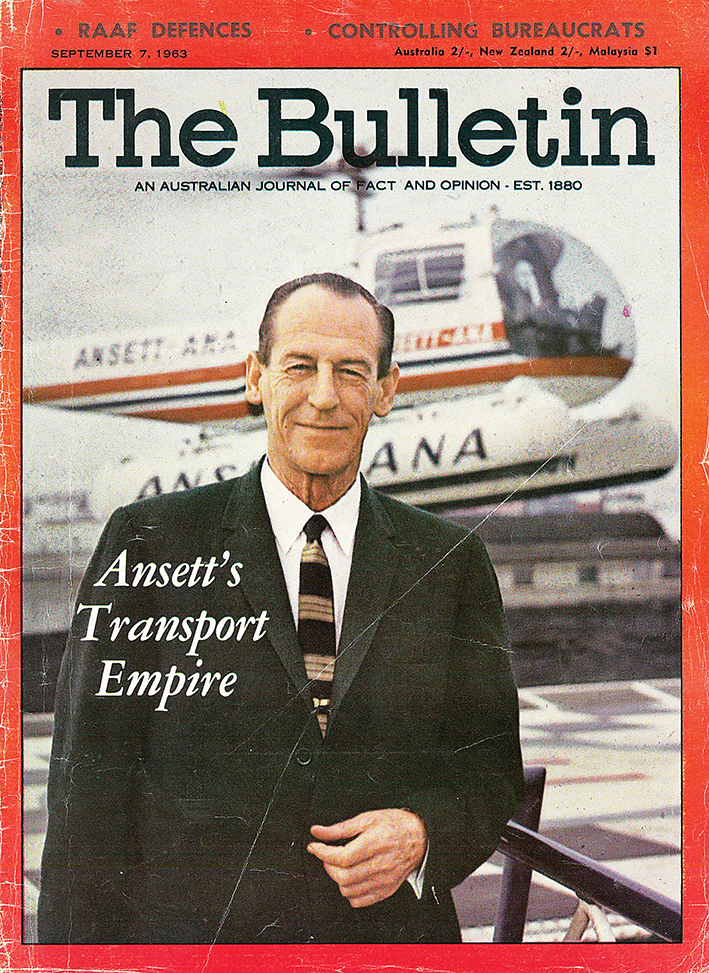 In 1963 ATI was awarded the additional Melbourne licence and Channel O was born ("oh" not zero). The day the announcement was made a media conference was held in the ATI boardroom, which was packed with media intrigued by ATI's good fortune.
The victory was based on a written submission that would not have succeeded nowadays. Many TV viewers believed there was excessive violence on TV, including many westerns such as Bonanza, Wyatt Earp, and Gunsmoke. The submission said Channel O would screen religious programs as well as a plethora of shows for women and children.
A journalist asked Ansett to name his favourite TV program. His one-word reply was: "Westerns." There was a deathly silence, but fortunately the media generally had a high regard for Ansett and did not pursue an obvious opportunity.
A television station was built at Nunawading. Initially it transmitted test patterns and it was reported that Ansett would have long stints sitting in front of his TV at home, watching the test pattern.
The first public transmission was in August 1964. Each Monday morning he would arrive at the studio in his helicopter and voice his opinions to an attentive general manager. (In January 1980, the station changed to Channel 10.)
In 1969 Ansett was knighted and became Sir Reginald.
A decade later ATI came under pressure from corporate raiders after the company announced it had lost $9.4 million on its investment in Associated Securities Limited. It was the only major business mistake made by Sir Reginald and it created repercussions. Some business people decided it would be timely to take over ATI. Two colourful Perth identities, Robert Holmes a Court and Alan Bond, separately nibbled at this corporate meal.
In 1979 Rupert Murdoch's News Corporation and transport magnate Sir Peter Abeles, who operated TNT, each bought 50 per cent of ATI. Murdoch operated Channel 10 and Abeles was responsible for the rest, particularly freight operations.
Sir Reginald remained as chairman only. He was described as one of Australia's finest businessmen. Later generations applying for positions are told a tertiary degree is required. Sir Reginald obtained his Intermediate Certificate at night school and started work as a timber cutter before buying a car to carry people and parcels.
Sir Reginald had developed a strong corporate culture at ATI. His executives knew him as RM and his army of staff was very loyal to him. This all changed when Sir Reginald lost control of the company in 1979.
The airline was placed into administration in 2001 after suffering financial collapse due to two decades of doubtful business decisions. It was a sad end to a great Australian company built by a man who started business in 1931 with a secondhand car carrying passengers and small items of freight between Ballarat and Maryborough.
It could be said that Sir Reginald still "resides" on the Mornington Peninsula – his ashes were dropped from a helicopter over his Mt Eliza property after he died in December 1981 at age 72.
* Howard Bull was a public relations consultant to Ansett for 20 years from the late 1960s to late 1980s. On the peninsula he is best known as the former owner of the Armoured Military Vehicle Collection at Boneo, and former CEO of Mt Martha Community Learning Centre at Mt Martha House.