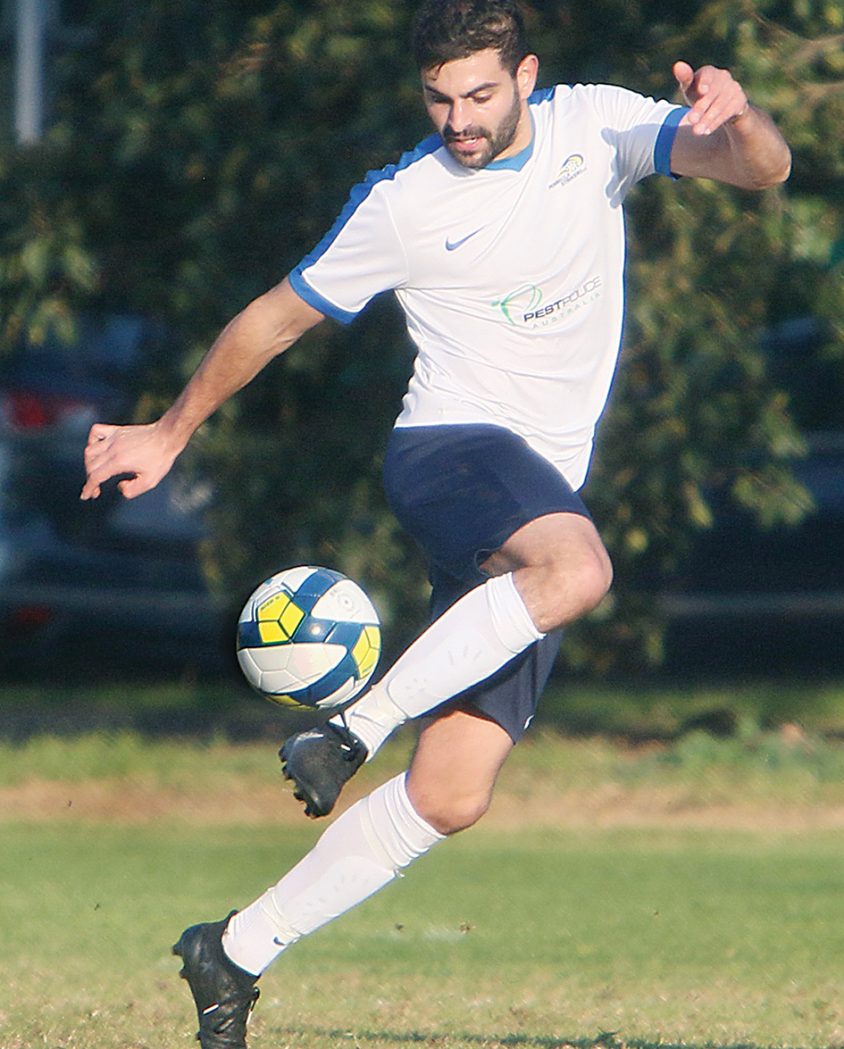 SOCCER
By Craig MacKenzie
Despite being undermanned and facing off-field disruption leading into the match Peninsula Strikers battled to a gallant 2-2 draw against title contender Doveton at Waratah Reserve on Saturday.
Former Strikers player and ex-English pro Willie Raynes was appointed senior coach last Tuesday, a move that shocked interim senior coach Billy Buchanan and assistant Graham Watson who thought that they had been appointed to the end of the season.
No doubt Raynes turned up to Waratah Reserve expecting a baptism of fire against the State 2 South-East leader given that he'd lost Swiss import Raphael Stulz and young defender Conor Keely to injuries sustained on the training track last week.
He had no inkling of what was unfolding off the pitch for not long before the 3pm kick-off there was no sign of the Strikers' teamsheet in the referees' room.
Referee Senko Rastocic gave the visitors until 3.15pm to produce the teamsheet before calling off the contest and fortunately the issue was resolved within the time limit allowing the game to start at 3.10pm.
Four minutes in and Deniz Sabanovski gave Doveton the lead after his first shot was blocked and his second deflected high into the top corner past the despairing grasp of Strikers' keeper Colin McCormack.
When Scott Webster scored a rare headed goal from a corner in the 18th minute most observers expected the floodgates to open but former Doveton ace Aziz Bayeh and his teammates had other ideas.
Three minutes before the interval Doveton paid dearly for a defensive mixup as both Gethin Jones and Jozef Ferencz thought the other was going to attack a high ball into the Doves' defensive third.
Bayeh wasn't similarly befuddled as he ran onto the bouncing ball and slammed an unstoppable volley past Doveton keeper Stuart Webster.
In the 59th minute Michael Freeman blew a great chance to put the game out of Strikers' reach when he mistimed his shot following a superb interchange with Shane Tagliaferro down the left.
In the 69th minute Bayeh, whose dribbling ability troubled opponents throughout the contest, sent Grant Davies through on the left of the area but Jones slid in and blocked superbly.
The goal of the game came in the 72nd minute when Bayeh spun just outside the area and unleashed a ferocious dipping volley that rocketed into the top far corner for the equaliser.
Jones had one last shot at redemption when given a free header at the back post in the 91st minute following a Ronir Muriqi free kick but he blew it by heading wide.
It was a precious point for Strikers who are in a relegation battle with Doncaster Rovers and local rivals Frankston Pines and Seaford United.
Strikers' coaching staff will meet this week and the club is hopeful that any outstanding issues can be resolved.
Pines drew 0-0 with Doncaster at Anderson Park on Friday night despite key defender Ben Caffrey being forced off after 10 minutes with a calf injury.
Seaford may be at the foot of the ladder but it's not finished yet as shown by Sunday's 3-1 away win over North Caulfield.
A stunning half volley from Matt Morris-Thomas in the 10th minute opened Seaford's account, an Oran Harel header in the 44th minute levelled the scores but Seaford took a 2-1 lead into the interval after North Caulfield keeper Famara Djiba saved Alex Roberts' penalty attempt and Josh Tsung hammered home the rebound.
Djiba was sent off after receiving a second yellow in the second half and Seaford substitute Mitch Lander sealed the issue with his side's third goal.
Strikers, Pines and Seaford all play each other over the next three season-defining rounds and with so much at stake these local derbies have a harder, sharper edge to them and are certain to be fiercely contested.
Langwarrin remains seven points clear on top of the State 1 South-East table after drawing 1-1 with Casey Comets at Comets Stadium last Friday night.
Comets struck the first blow in the 19th minute when Canadian import Allando Matheson sent livewire winger Andy Stubley clear down the left and Stubley expertly slotted the ball past advancing Langy keeper Robbie Acs.
Langy squared things up in the 40th minute when Paul Speed's free kick was met with a glancing header by Mat Luak which gave Comets keeper Faraz Zenoozi no chance down low and inside the far post.
Big George Whiteoak headed home from a Belger corner in the 69th minute but referee Yuhong Li ruled that Luak had infringed inside the area and gave a free-kick to Comets which drew a chorus of complaint from the Langy dugout.
Comets substitute Liam Ryan sent Stubley clear on the right with 10 minutes left and his low drive into the goalmouth saw Matheson lunging to make contact only to be blocked by a defender and the ball scrambled clear.
Many Langy supporters were disappointed at the end of the match pointing to a controversial offside decision against Belger in the first half and Whiteoak's disallowed goal in the second period while Comets fans were pleased with their side's hard-earned point.
Star striker Ryan Paczkowski scored a cracking goal but was later sent off in Mornington's 2-0 away win over Clifton Hill on Saturday.
Paczkowski brought Mornington fans to their feet just before half-time with a right-foot (yes, right foot) volley from just inside the area that flew past Clifton Hill keeper Chris Davis.
An excellent finish on the angle by Sammy Orritt after a fine build-up in the 57th minute gave Mornington a two-goal buffer that it never relinquished.
Paczkowski had been booked in the first half for kicking the ball away and when referee Danielle Anderson judged that a Paczkowski tackle in the 80th minute was worthy of a second caution the striker headed for the dressing room.
"It was a massive three points for us given what happened before the game," said Mornington assistant Dale White.
That was a reference to the clash of heads at training that ruled out both Keegan Ziada and Nathan Yole.
Big Scotty Millar was sick before the match and did well to get through the contest while Josh Valadon could only last an hour so Mornington's depth was severely tested.
Skye remains in the State 3 South-East promotion hunt after Saturday's 2-1 away win over Middle Park.
Skye hit the front in the 53rd minute after Jason Nowakowski was felled inside the area and captain Mark O'Connor stepped up to the plate and made no mistake.
In the 78th minute substitute Lawrence Komba broke free and was unceremoniously brought down on his way to goal.
O'Connor's free kick found the top corner to make it 2-0 and from there few chances were fashioned.
Middle Park's consolation goal came in the 93rd minute after Skye defender Daniel Utting was adjudged to have handled the ball inside the area.
David McCoy made no mistake from the spot but the final whistle blew seconds later.
Rosebud Heart was sucker-punched on Saturday losing its State 4 South away fixture 4-0 to title contender Bayside Argonauts.
Despite going into this clash without Matt Pearce who was suspended and Carlo Cardoso and Chris Sibson who were both interstate Heart created enough chances in the first half to take what should have been a comfortable lead into the break.
It paid for its profligacy when Bayside scored three goals in six minutes the opener coming from substitute Lewis Broderick in the 62nd minute after Beau Sharpe failed to clear and Broderick went past stranded Heart keeper Sean Skelly and slotted the ball home from the right of the area.
Former Skye striker Nick Theodore was making his debut for Bayside and his header made it 2-0 in the 65th minute.
Three minutes later Rob Harmeston curled the ball past Skelly to make it 3-0 and Theodore's second in the 79th minute completed the scoreline when he was gifted possession from a long throw-in and finished from close range.
Baxter's promotion hopes received a setback when it went down 2-1 away to Dandenong South on Saturday.
Goals in the 44th and 69th minutes by Lindurim Tairi kept the home side in the title race.
Mark Pagliarulo opened the scoring for Baxter from the penalty spot in the third minute but Dandy South dominated the contest and Baxter's best was Daniel D'Alfonso, back in goal in place of Francis Beck who was attending a family funeral.
Somerville Eagles went down 3-0 at home to Chelsea on Saturday.
Chelsea's goals came from Dale Schmidt (26th minute), Chris Neumann (52nd) and Dhruv Rodrigues Chico (85th).
Somerville's Damien Finnegan received a second caution in the 75th minute and was sent off.
The match raised over $2000 for Beyond Blue and the family of the late Jace Gillies.
This weekend's games:
SATURDAY 3pm: Langwarrin v Warragul Utd (Lawton Park), Mornington v Mooroolbark (Dallas Brooks Park), Peninsula Strikers v Seaford Utd (Centenary Park), Frankston Pines v Doveton (Monterey Reserve), Skye Utd v Riversdale (Skye Recreation Reserve), Baxter v Keysborough (Baxter Park), Rosebud Heart v Dandenong South (Truemans Road Recreation Reserve), Somerville Eagles v Pakenham Utd (Barber Reserve).