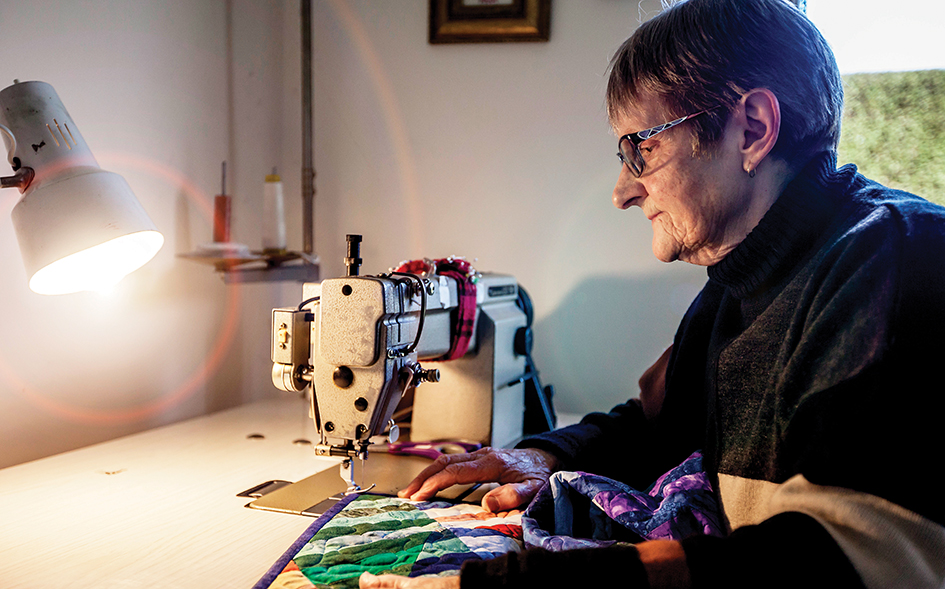 THE gift of a quilt crafted by Bev Young, of Mornington Peninsula Patchworkers, has made a returned serviceman pleased and proud.
The garment, known as a Quilt of Valour, was presented to ex-serviceman Tom Jones, 95, by Chelsea RSL president Michael Weissefeld and Wyn Roper, president of Quilters of Valour Australia.
The organisation started in 2010 to "honour those affected by their service to Australia".
So far, more than 1000 quilts have been presented to ex-service personnel, each unique item taking many hours to craft by quilters.
The message is that the quilts "wrap the wounded in love, care and healing".
Ms Young, who makes the quilts at her home at Capel Sound, is one of up to 100 quilters using their skills to craft the colourful garments out of cotton and wool/polyester. They meet monthly at the hall in Wilsons Rd, Mornington, to pick up donated fabric and receive orders for quilts.
The former dressmaker uses an industrial machine and takes three or four days to craft her quilts, using "colours that men like" such as greens, browns and yellows.
She draws inspiration for the work from her late husband, Harry, who served in the CMF but died two and half years ago. "I'm sure he would love me making them," she said. "As long as I can keep making them I will."
Ms Roper said many returned soldiers – especially those who served in Vietnam and the Middle East – suffered trauma and despair as a result of their treatment or tortuous memories.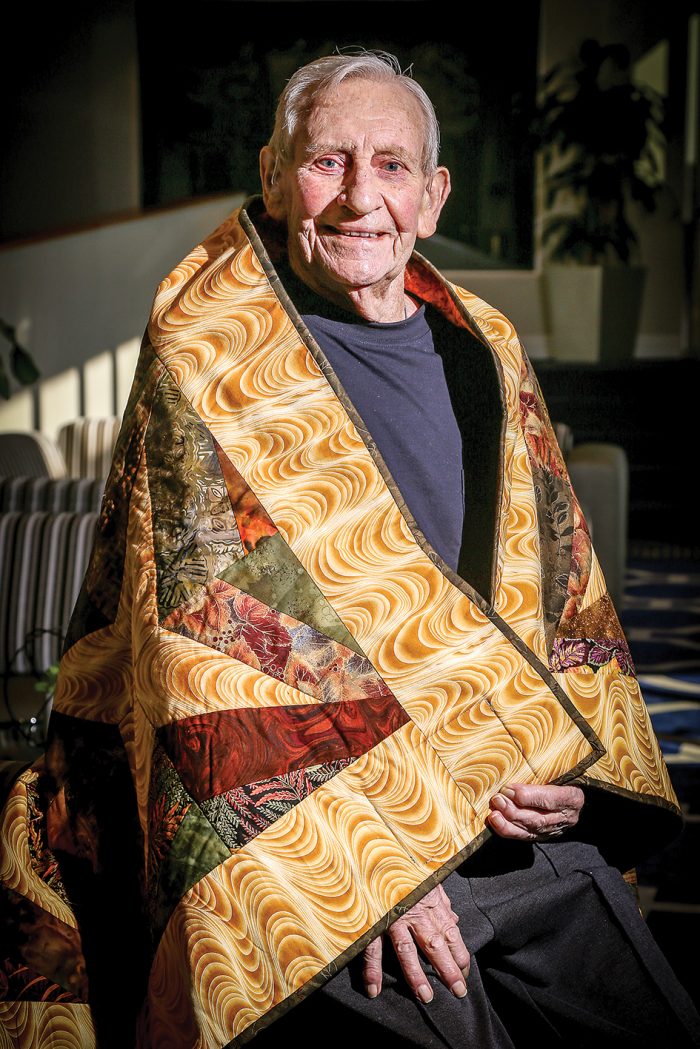 These people especially value the comfort and solace of the quilts. Mr Jones – a Carrum and Chelsea resident for 47 years – is one. The former British Army soldier was captured by the Japanese in Java in 1940 and spent four years as a prisoner-of-war in Japan.
Like so many veterans he made a new life for himself: he settled in Australia, married and raised a family, and "got on with it" despite varying degrees of unease and disquiet over his past service.
A chance meeting with Quilters of Valour member Dorothy Meadows at the Chelsea shops helped him turn a corner when she realised he needed support while caring for daughter Linda and granddaughter Tracey Lee.
Just knowing that people appreciate and respect his former life is comforting. "I've had a few kicks in the bum – nothing like this," he said.
"It really means a lot to me."
Tracey Lee told the gathering at the quilt presentation: "I can't thank you all enough. Tom is my grandad and he is very honoured and thrilled: you all made his day."