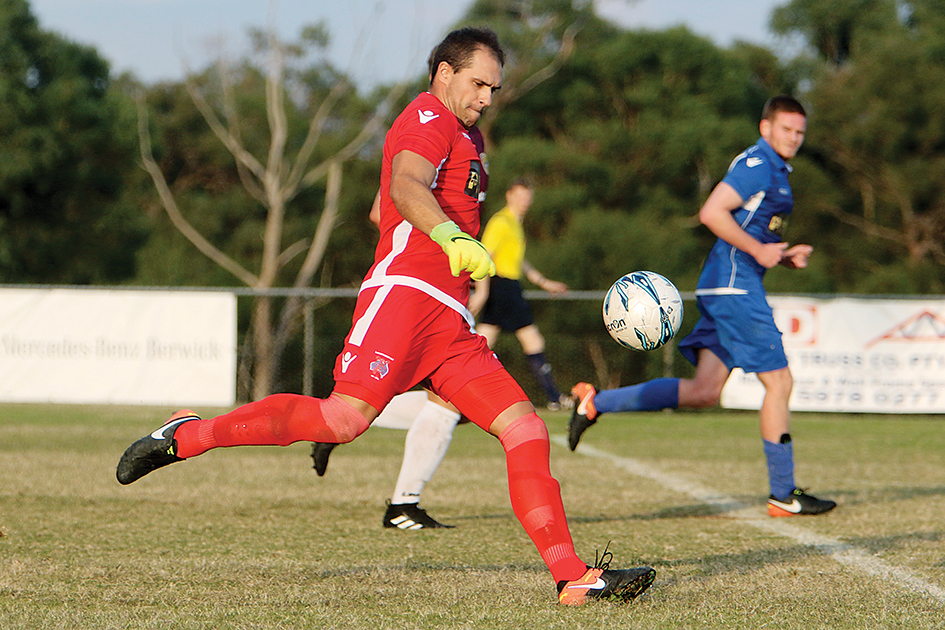 A RARE mistake from goalkeeper Robbie Acs led to State 1 South-East leader Langwarrin losing its second match of the season at Lawton Park last weekend.
A corner from Warragul United's Stephen Maselli in the 43rd minute was misjudged by the veteran keeper who tried to punch clear but the ball ended up in the back of the Langy net for the visitors' third goal in four minutes during a frenetic finish to the first half.
Langy had taken a 13th minute lead after gun striker Liam Baxter was felled inside the area and converted from the spot.
Former Langy star and Warragul captain Thomas Ahmadzai levelled with a volley in the 39th minute and Rory Wagner's looping header a minute later following a long free-kick from Robbie Stephen put the visitors 2-1 up.
Acs' howler gave Warragul a two-goal cushion at the break but minutes after the restart Langy central defender Kieron Kenny's header from Connor Belger's corner made it 3-2.
However that was the only breakthrough the home side could fashion in the second stanza which reached flashpoint in the 61st minute resulting in a melee which saw Wagner and Langy defender George Whiteoak sent off for violent conduct.
The result cuts Langy's lead to four points and although Gus Macleod's men face a challenging away clash against St Kilda next weekend fourth-placed Warragul host Caulfield United Cobras, Langy's closest challenger.
Mornington easily accounted for bottom team Mooroolbark 4-0 at Dallas Brooks Park on Saturday to record its fourth straight win.
Scott Millar gave the home side a 1-0 half-time lead with a header from a Sammy Orritt cross and a minute into the second half Orritt's shot came off the post and struck Marinos Panayi and went in.
With Ryan Paczkowski suspended former Bentleigh Greens and Eastern Lions striker Panayi was making his first start for Mornington and added a second in the 62nd minute via a back post header.
Orritt has been in scintillating form since joining the club from New Zealand last month and completed the scoreline in the 64th minute by dinking the ball over a defender then lobbing it neatly over Mooroolbark keeper Matt King.
Peninsula Strikers and Seaford United had to settle for a share of the spoils as they battled to a 2-2 draw in their State 2 South-East derby at Centenary Park on Saturday.
Strikers could have opened the scoring in the 16th minute had young Grant Davies showed more composure as he ran onto Trevor Johnston's attempted chip only to shoot across the face of the Seaford goal.
Three minutes later Seaford hit the front from a Matty Morris-Thomas free kick which presented Daniel Mota with a free header and he made no mistake.
What was to become an injury ravaged affair started in the 30th minute when Strikers' veteran left back Troy Williams hobbled off to be replaced by beanpole forward Callum Mitchell who had played in the reserves.
Two minutes later Seaford star Dylan Waugh was forced off with a hamstring injury and replaced by quicksilver striker Mitch Lander.
Teenager Mitchell had only been on the pitch for three minutes before making his mark.
He made Seaford pay dearly for not clearing a free kick to the far post with a close range left-footed volley that gave Seaford keeper Harrison Burgess no chance.
Seaford could have regained the lead in the 40th minute had Lander been able to get a touch to a long through ball with Strikers keeper Colin McCormack well off his line.
Strikers ace Aziz Bayeh had to be replaced in the 47th minute and two minutes later Seaford was back in front.
Strikers' defender Conor Keely did well to slide and block a Lander shot but Strikers failed to clear from the resultant corner and Lander spun around and finished from point blank range to make it 2-1.
But Strikers hit back a second time when a superb cross from Tom Hawkins on the right set up Mitchell at the back post in the 57th minute and his firm header gave Burgess no chance.
Veteran defender Chris McKenna was forced off with a groin strain and Lander burst through in the 58th minute but McCormack made an excellent save with his feet.
Hawkins combined well with workhorse Raphael Stulz in the 73rd minute but his cross from the right flashed across the face of the Seaford goal.
The final act came in the 94th minute when Morris-Thomas struck a well-timed half-volley only to see McCormack parry wide.
Strikers will welcome back central midfield duo Sam Scott and Danny Brooks from suspension for Saturday's crunch fixture against Frankston Pines.
A Ronir Muriqi hat-trick at Monterey Reserve on Saturday maintained Doveton's State 2 South-East title tilt and kept Pines in the midst of the relegation battle.
Muriqi's opening goal came via a 43rd minute free-kick, his second from the penalty spot a minute into the second half and his third in the 64th minute was a tap in at the back post.
Skye United played host to cellar dweller Riversdale in Saturday's State 3 South-East encounter and moved to second on the ladder following a 2-0 victory.
Striker Daniel Attard kicked off proceedings less than 10 minutes in when he got on the end of a Jason Nowakowski through ball.
Riversdale keeper Nicholas May was caught in no man's land as Attard looped his header over him and into the unguarded goal.
It took until the 60th minute for Skye to find the scoresheet again when Marcus Collier's cut back found Lawrence Komba and the striker finished well.
Baxter emerged victorious after a nine-goal thriller at Baxter Park on Saturday in a State 4 South clash with Keysborough.
The visitors led 2-0 at half-time thanks to Jose Roa's solid side-foot finish from close range in the 13th minute and Ali Husen's 44th minute strike.
Alan Lipsett replaced Edin Aljija at the break and Grady Vickers replaced Dan Disseldorp in the 56th minutes and both proved to be inspired moves from Baxter gaffer Roy Kilner.
Lipsett struck a shot that went in off the post in the 57th minute and two minutes later scores were level after a superb move involving Vickers and Lipsett which led to Mark Pagliarulo's shot rebounding off a post and being converted by teenager Travis Ernsdoerfer.
A stunning strike from teenager Jack Gallagher in the 68th minute made it 3-2 and Lipsett made it 4-2 in the 72nd minute.
Deni Tintor converted from the penalty spot in the 83rd minute to make it 4-3 but Baxter's two-goal cushion was restored two minutes later thanks to a superb solo effort by Pagliarulo.
Keysborough's Husen got his second in the 90th minute but Baxter's comeback was complete.
Rosebud Heart was beaten 3-0 at home by title contender Dandenong South last Saturday.
Heart had a severely depleted matchday squad with Liam Christodoulou and Dino Vosjan, both 17-year-olds, and Aaron Young and Ash Scoles all promoted from the reserves.
Three goals in seven minutes from Tommy Bekiri settled the issue in the first half.
Bekiri stole the ball from Scholes in the 24th minute and slotted it past Heart keeper Sean Skelly.
Five minutes later Bekiri was sent through and made it 2-0 after a poor pass by Will O'Brien turned over possession in midfield and Bekiri's free header from a free-kick in the 31st minute completed the damage.
Heart hopes to sign former Langy and Baxter midfielder Tony Orr this week.
Saturday's State 5 South fixture featuring home team Somerville Eagles and Pakenham United was called off as the pitch at Barber Reserve was ruled unplayable.
It could pose an ongoing problem for the fledgling club which shares the venue with the local footy club.
"We have only trained there once in the last fortnight and we knew it was getting soft so we only trained off the pitch that night," said Eagles president Felix Arena.
"But the footy club train all over the pitch two nights a week and that's what's killed it off."
Southern United's trip to Wembley Park to take on Box Hill United last Saturday was successful as the local women's NPL side came away with two wins and two draws.
The senior side won 1-0 thanks to a 48th minute goal from captain Candela Ferreyra Bas and remains in fifth spot in the elite league.
The under-13s maintained their four-point lead at the top of the table with a 4-1 win with goals from Rhys McKenna (17th minute), Alessandra Davis (42nd) and Sage Kirby (34th, 44th).
The under-15s drew 0-0 and the under-18s drew 1-1 with Kallista Tzelios scoring for Southern.
This weekend's games:
SATURDAY 3pm: Southern Utd v Calder Utd (Monterey Reserve, U13s 10am, U15s 11.30am, U18s 1pm), St Kilda v Langwarrin (Elwood Park), South Springvale v Mornington (Warner Reserve), Peninsula Strikers v Frankston Pines (Centenary Park), Mazenod Utd v Seaford Utd (Mazenod College), South Yarra v Skye Utd (Fawkner Park), Endeavour Hills Fire v Baxter (Power Reserve), Keysborough v Rosebud Heart (Coomoora Reserve), Somerville Eagles v Dandenong Warriors (Barber Reserve).