SOCCER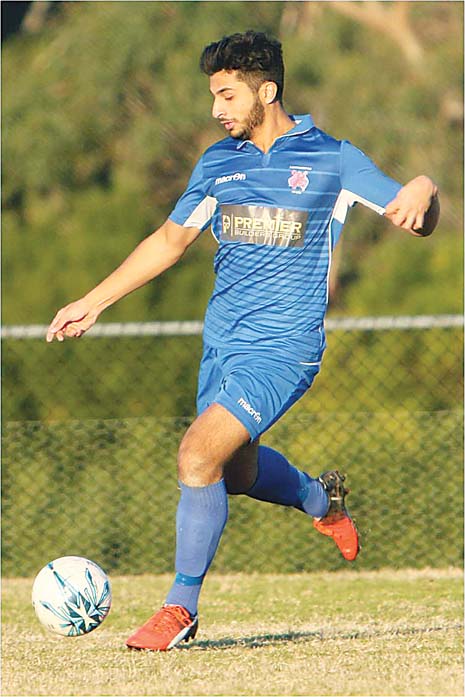 By Craig MacKenzie
THE depth of Langwarrin's squad proved crucial in Saturday's come-from-behind 3-1 win over Caulfield United at Lawton Park.
Star striker Liam Baxter had to be stretchered off in the 53rd minute with a hamstring injury and classy central defender Kieron Kenny had to be helped off 11 minutes later with a knee injury.
Baxter is expected to miss up to three weeks while the extent of Kenny's injury will be assessed this week.
Baxter and Kenny are among a group of visa players who have powered Langy to a seven-point lead on top of State 1 South-East and with four games remaining Gus Macleod's men are red-hot favourites to clinch the title.
That would trigger the club being offered promotion to Victoria's elite National Premier League set-up which currently allows just two visa players per club.
While no announcement has been made the word is that Langy may give those spots to Connor Belger and Paul Speed.
They were signed late last year from English club AFC Liverpool on the recommendation of ex-Langy marquee player and former England youth international Kevin Townson.
Belger's display on Saturday was the driving force behind Langy's eventual success.
He played up front in the first half then dropped into a central midfield role in the second period and his ability to wrong-foot and glide past opponents at will, initiate attacks with penetrating passes into Langy's attacking third while also being a serious goal threat via his lethal left foot stamped him as the match's most valuable player.
Gangly Caulfield striker Cort Kibler-Melby's looping header sailed over the head of Langy keeper Robbie Acs and into the net to open the scoring in the 16th minute but Kenny's powerful header from Baxter's free-kick in the 26th minute made it 1-1.
Four minutes into the second half a Kibler-Melby header was headed off the line by John Guthrie then Macleod was forced to bring on Nabil Mozaffaruddin and Navin Velupillay for Baxter and Kenny while also replacing towering central midfielder Mat Luak with Sergio Yanez.
The deadlock was broken in the 81st minute when a superb Yanez cross from the right was headed home by Mozaffaruddin and the large Langy crowd erupted.
In the 91st minute a stunning Yanez volley was acrobatically tipped over by Caulfield keeper Dennys Martin but in the 99th minute Belger sent Aaran Currie through and although Martin got a hand to Currie's clever chip he was helpless to stop the ball from nestling in the back of the Caulfield net.
During the pre-season doubts were raised over Currie's workrate but the teenager has been able to turn his game around and now is a potent attacking force brimful of confidence.
Mornington too is a confident outfit as shown by its commanding 4-0 win over fourth-placed Warragul United at Dallas Brooks Park on Saturday.
Adam Jamieson's outfit hit the mark in the 20th minute with a header from livewire forward Wayne Gordon and regular scorer Sammy Orritt made it 2-0 in the 26th minute with a first-time strike from Ryan Paczkowski's cutback from the right.
When Paczkowski headed home at the near post from a Gordon corner in the 36th minute the contest was over.
Paczkowski added a second late in the second half to complete the rout.
Mornington travels to Lawton Park to take on the league leader on Saturday 19 August in the most anticipated clash on the peninsula in recent times.
Harry McCartney reports that Frankston Pines all but assured itself of safety in State 2 South-East with Saturday's 1-0 away win over bottom side Seaford United.
An 87th minute winner from Graham Hill was all that separated the local rivals.
The result leaves Seaford staring into the abyss as Pines skip six points clear of relegation.
Peninsula Strikers gained what may prove to be an important point when it drew 0-0 away to Old Scotch in their State 2 South-East clash on Saturday.
Referee Yoav Fisher sent off Tom Hawkins for serious foul play in the 32nd minute forcing Strikers to battle with 10 men for the remainder of the contest.
The result maintains Strikers' two-point lead over second-bottom Doncaster Rovers which drew 2-2 with Heatherton United last weekend.
State 3 South-East promotion candidate Skye United hosted a strong Monbulk Rangers outfit on Saturday and eventually went down 1-0.
Steve McCrae's header midway through the first half was enough to settle the issue in a dour affair.
However Skye remained in second spot after Brandon Park slipped up against ninth-placed Middle Park with a shock 2-1 loss.
Baxter's State 4 South promotion hopes are slim after Saturday's 1-0 loss to title contender Springvale City.
But departing coach Roy Kilner was proud of his side's determined display.
"We were awesome and I couldn't have asked for more," said Kilner.
The decisive moment came in the 72nd minute when Adem Alicevic broke into a one-on-one with Baxter keeper Francis Beck and slotted home the winner.
The first half had been a tight affair with Springvale rattling the bar, Beck making two good saves and striker Mark Pagliarulo blasting a left-foot effort over from a good position.
Alan Lipsett and Jake Kidder were forced into goal-line clearances in the second half and Baxter's claims for a penalty in the 86th minute were waved away by referee Pat Couty.
The result leaves Springvale on top of the table on goal difference from Bayside Argonauts with Monash Uni and Dandenong South two points behind them.
Rosebud Heart hammered visitor Endeavour Hills Fire 6-0 in their State 4 South fixture on Saturday.
Heart midfielder Will O'Brien opened the scoring in the fourth minute when he skinned two defenders and hit a well-placed low drive past Endeavour keeper Stuart Tolmie.
Blake Hicks made it 2-0 in the 18th minute with a curling left-foot shot into the top far corner and two minutes later a Mikey Turner corner was headed against the bar by Daniel Hodge and Dave Greening headed home the rebound.
Greening broke through and made it 4-0 in the 31st minute and in the 61st minute Hodge buried his header from Turner's corner to make it 5-0.
A superb ball by Hicks in the 68th minute picked out Greening who flicked the ball over a defender's head then unleashed a left-foot volley that nearly took the net off to seal his hat-trick.
Greening has now officially scored 26 league goals this season and five goals in cup matches.
Endeavour's dismal day was complete in the 80th minute when Gilbert Palmire's penalty attempt was saved at full stretch by Heart custodian Sean Skelly.
State 5 South outfit Somerville Eagles went down 5-0 to title contender Sandown Lions on Saturday.
A hat-trick to Dak Kong and goals from Math Thowat and substitute Duol Kuei kept Sandown on top of the league ladder.
If WNPL side Southern United needed confirmation of onfield improvement this season it came on Saturday at Centenary Park when it went down 2-1 to league leader South Melbourne.
Two contentious penalties, a controversially disallowed Courtney Heuston goal in the first half and a second half largely controlled by Southern were hallmarks of its gritty display.
South Melbourne was 2-0 up after 11 minutes thanks to a double from Melina Ayres, her first coming from the penalty spot.
The persistence of Southern youngster Savanna Anastopoulos paid off in the 52nd minute when she reduced the arrears and although South Melbourne was awarded a second penalty Southern keeper Christine Fonau made a superb save.
Southern's under-18s lost 5-0 while the under-15s lost 4-2 with Giulia Mazzeo scoring four goals while Anastassia Pusca and former Traralgon City star Monique Lapenta replied for Southern.
The under-13s continued their march towards the title with a dominant 7-0 victory over fourth-placed South Melbourne.
Southern's goals came from Candy Kilderry (2), Danica Vukcevic, Rhys McKenna, Taylah Hennekam, Charli Phillips and an own goal from South's Erica Arenius.
This weekend's games:
FRIDAY 8.30pm: Springvale City v Rosebud Heart (Ross Reserve).
SATURDAY 3pm: Manningham Utd Blues v Langwarrin (Park Avenue Reserve), Caulfield Utd Cobras v Mornington (Victory Park), Frankston Pines v Old Scotch (Monterey Reserve), Peninsula Strikers v Beaumaris (Centenary Park), Eltham Redbacks v Seaford Utd (Eltham North Reserve), Noble Park Utd v Skye Utd (Parkmore Soccer Club), Hampton Park Utd v Baxter (K.M. Reedy Reserve), Bunyip District v Somerville Eagles (Bunyip Recreation Reserve).
SUNDAY 12pm: Bulleen v Southern Utd U13s (U15s 1.30pm).
MONDAY 8.30pm: Bulleen v Southern Utd (Veneto Club, U18s 6.30pm).