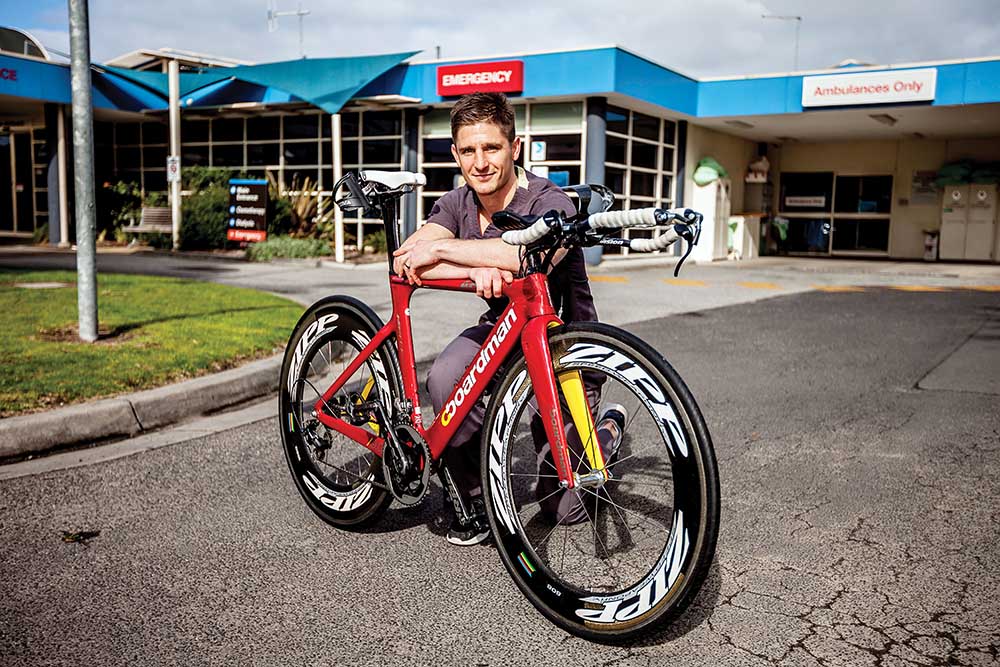 By Jessica Mills*
FROM running ironman triathlons to running the radiology department at Rosebud Hospital – Damien Barbour is a man on a mission to help improve health outcomes for people on the southern Mornington Peninsula.
"Radiology has undergone some major changes since 2014 when we had one x-ray machine," said Mr Barbour, who started his career at Peninsula Health 13 years ago.
"At Rosebud radiology we now have an ultrasound machine and CT scanner. We have an outpatient service as well as providing services to in-patients from the wards and emergency department patients."
Last year the radiology team, including Mr Barbour who is a medical imaging technologist and sonographer, did more than 17,000 examinations.
The former John Paul College student has lived on the peninsula for most of his life – currently in Mornington – and says he understands the value of people being able to access the best of care, close to home.
"I'm really happy that we're growing the radiology service at Rosebud – the local community care about this hospital, as do I," he said.
"Diagnostic imaging is an extremely valuable tool in modern medicine. For us to be able to provide a more comprehensive level of imaging makes me feel really good because I think then the patient is getting a better outcome. It also means patients don't need to be transferred to Frankston Hospital."
The father of two says it is important to have work/life balance and fit in time to exercise around his work and his family.
He has competed in five Ironman Triathlons around the world: in Japan, Hawaii, and three in Melbourne over the full course: 3.8 kilometre swim, 180 kilometre cycle ride and 42.2 kilometre run. In 2015 he was number four on the All World rankings in the 30-34 age group and first in Australia. He is in training November's Ironman Malaysia.
Mr Barbour trains at the Peninsula Aquatic Centre, Rosebud, PARC Frankston, and Mornington Secondary College, as well as Port Phillip swims. He says there are plenty of great runs on the peninsula, such as along the Two Bays trail, around Devil Bend reservoir, and to Mt Martha and back.
"Being fit and active is really important for public health workers – yeah we preach good health and try to help people, but I think it's important to be a good role model for patients as well," he said.
"I always chat to patients about being active; it's good for you physically and mentally – anxiety and depression is really aided by physical activity."
Outpatient radiology services are available at Rosebud Hospital, 9am-5pm, Monday to Friday. Call 5986 0631 to make a booking.
*Jessica Mills is content and social media specialist at Peninsula Health