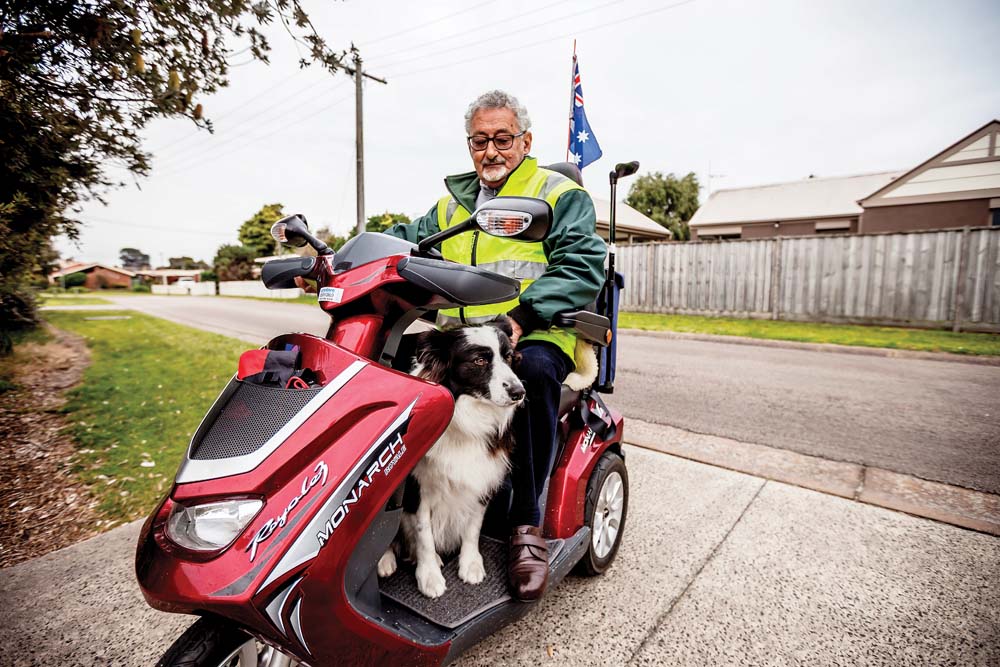 TWO men who robbed a pensioner while he was riding his mobility scooter and walking his dog along Rosebud foreshore last week have been described as "despicable" and "callous".
Barry Morris-Shaoul, 69, of Rosebud, was walking his dog Uke near the back of the bowling club when he was confronted by the pair wearing dark-coloured hoodies and jeans, 6.30am, Wednesday 2 August.
"They came up to me and asked for a light," the Vietnam veteran said.
"That's not unusual around here as some people are struggling, so I went to give him one and that's when they started abusing me. They seemed to be very angry about something, calling me every name under the sun. They threatened me with a plastic pipe and even ripped the little Australian flag off my scooter and threw it away."
Mr Morris-Shaoul said the men – one aged in his mid-20s and the other about 17 – demanded his wallet. When he told them he was not carrying one, they pulled him from the scooter and removed his jacket, watch and wedding ring. Inside the jacket were his phone and credit and pension cards.
They also stole the keys to his mobility scooter and house keys and told him to walk towards the water. They then ran off.
Mr Morris-Shaoul managed to walk without his stick to the Point Nepean Rd shops where he flagged down a council worker. "I called out that I needed help and he stopped and called police."
Detective Senior Constable Paul Smith, of Mornington Peninsula CIU, said said he was shocked by the thieves' behaviour.
"They were despicable and callous, the lowest-of-the-low."
The pensioner was still getting over his ordeal late last week.
Anyone with any information is urged to contact Crime Stoppers 1800 333 000 or submit a confidential crime report at crimestoppersvic.com.au
First published in the Southern Peninsula News – 8 August 2017