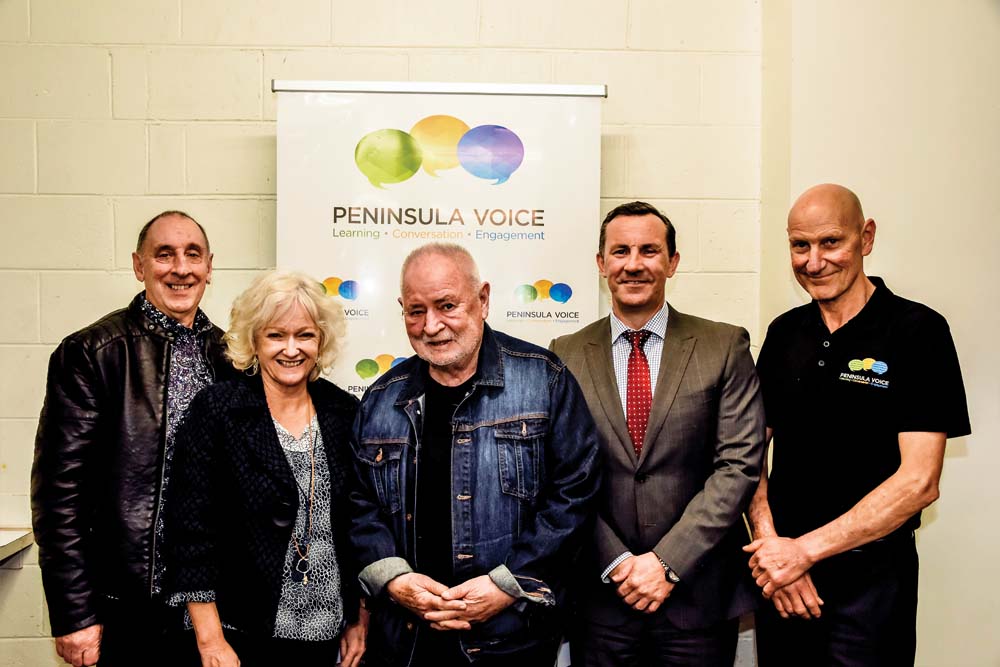 By Bob Simpson*
I SAT at last Wednesday's Peninsula Voice event, hearing Les Twentyman's experiences. This man "loves" disengaged young people with whom he engages. Could I genuinely "love" five homeless kids, causing trouble by sleeping in a council tip?
That idea of a village raising a child constantly surfaced. MC Roberta Orton raised the ante – this is about disengaged children gaining an enduring sense of identity, meaning and purpose, connection, and belonging in our common world.
My highlight was the "thanks" given by Cr Sam Hearn. He applauded Les Twentyman's well-earned reputation; but thanked him for not coming to the peninsula as a hero to be applauded. Twentyman came as an example: to us all.
I see now it takes more than words to make a difference. We must exemplify Twentyman's style of "love" to troublesome kids. We can do this. Some already are.
Before and after the event (held to launch Twentyman's  book, The Mouth that Roared), I listened to representatives of service organisations. An older woman asked a young woman from Mornington Peninsula Shire's youth services department whether they encouraged older people to engage with their clients. Interesting conversation. The young woman lit up as she mentioned Kids Hope to the older woman. Apparently, older people mentor disengaged children in primary schools.
A woman commissioner of the Scouts told me they had a 10 per cent increase in recruits on the peninsula, over the past year. I wonder how many more parents became involved? And, I wonder how they gain from their experience?
Twentyman talks about people who are compassionate entrepreneurs. Some support him, hugely. They saw his impact; they checked him out; their support flowed when he earned trust; quietly and unobtrusively. Entrepreneurs who have compassion for people; we need them.
In The Mouth that Roared, Twentyman writes, "human beings have an inbuilt appetite for passionate commitment". Therefore, if we need people to exemplify what's ultimately important, we need to encourage more and more villagers to let their passion flow.
This conversation raised a big question. When those five homeless kids find themselves fully engaged in our village, who ultimately gains? It must be the whole village. You, me and engaged young people being together.
* Bob Simpson is a member of Peninsula Voice, the not-for-profit group of volunteers which organised the event.