SOCCER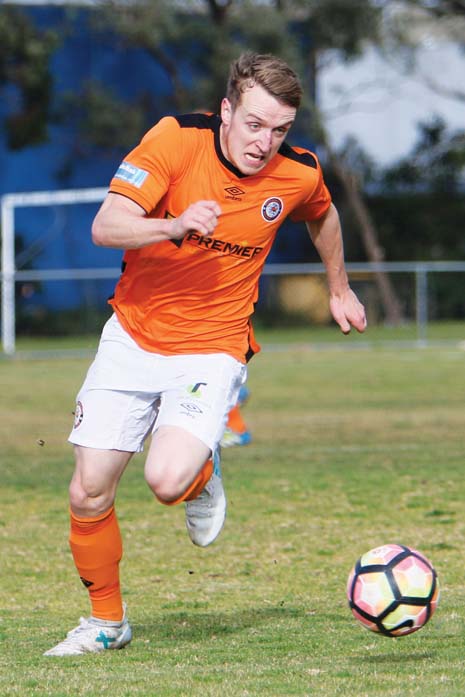 By Craig MacKenzie
LANGWARRIN and Mornington go head-to-head on Saturday at Lawton Park in the most anticipated contest on the peninsula for years.
At stake is a place in next season's National Premier League second division and the honour of becoming the first local outfit to gain entry to Victoria's elite club competition.
Langy's lead in the race for the State 1 South-East title was cut to five points over Mornington last weekend.
While Gus Macleod's side had to settle for a point in a controversial 0-0 draw away to Manningham United, Adam Jamieson's men were engineering a stunning 3-2 come-from-behind away win over Caulfield United Cobras.
Caulfield's Mario Hofmann had Mornington on the back foot when he opened the scoring after just four minutes and two excellent defensive plays inside the area by youngster Charlie Parker stopped the home side from increasing its lead.
On both occasions, Parker didn't dive in but used his body well to first outmanoeuvre beanpole striker Cort Kibler-Melby in the 24th minute then Hofmann in the 36th minute.
Then the man that can't stop scoring, Sammy Orritt, levelled in the 38th minute from close range.
A minute later Wayne Gordon made it 2-1 when he came steaming in at the back post to hammer home Ryan Paczkowski's cutback from the left of the area.
A minute into the second period Gordon headed wide from point-blank range following Keegan Ziada's cross from the left and Caulfield keeper Dennys Martin did well to parry a Paczkowski shot in the 66th minute following a fine pass from Scott Millar.
Four minutes later Caulfield midfielder Joe Summerbell curled his shot onto the bar after a great run by Chris Smack but Caulfield captain Danny Topping's back post header in the 75th minute made it 2-2.
Jamieson rolled the dice by bringing on central defensive stalwart Stevie Elliott and playing him up front and it was a gamble that would pay enormous dividends.
With Mornington's title tilt in the balance and the clock ticking over into the second minute of time added Orritt gained possession wide on the right.
He jinked this way and that creating enough room for a cross and when he delivered he put the ball on a plate for Elliott who came thundering in to power his header home for the decider.
The celebrations which followed showed how much this meant to Mornington's players, bench and supporters.
Meanwhile up at Park Avenue Reserve the travelling Langy fans were bemoaning referee Manny Haractsis' decision to ignore penalty appeals in the 89th minute.
Substitute Navin Vellupilay played a one-two with Alex Metcalfe then was felled inside the area but play was waved on.
A few minutes earlier gun Langy import Connor Belger had broken through into a one-on-one with Manningham keeper Mathew Banovic but shot wide with the goal at his mercy.
Despite Belger's miss, he remains the man who holds the key to Langy's fortunes this weekend while the club will test the fitness of defender Kieron Kenny and striker Liam Baxter.
There's little doubt that one of the men Langy must curtail is 24-year-old Englishman Orritt.
His signing in June has been a masterstroke and he has become Mornington's talisman.
The former Rotherham United junior has taken State 1 by storm with nine goals in seven games and is a class act.
While the title race is yet to be decided no such doubt exists in the State 1 South-East reserves competition with Ronnie Whitton's Langwarrin defeating Manningham 1-0 to clinch the championship.
Substitute Mitch Blake scored the winner in the 80th minute.
Langy's closest rival was Clifton Hill but it went down 4-2 to St Kilda while Mornington took over second spot with a 4-0 win in curious circumstances.
Both Caulfield and Mornington reserves squads arrived at Victory Park to find that the ground hadn't been marked out but referee Dragoslav Mirkovic was in a benevolent mood and allowed the game to start 24 minutes after the appointed kick-off time of 1pm and consist of 35-minute halves.
What had started in bizarre fashion descended into farce in the second half when the referee indicated to the Mornington bench that if they didn't substitute Irishman Mick Richardson then he was going to send him off.
No prizes for guessing Richardson's reaction as he headed for an early shower.
Mirkovic had far less impact on proceedings as an assistant referee in the senior match.
Southern United's under-13s have both hands firmly on the NPLW championship but can't hold the trophy aloft just yet.
Their 2-1 win away to Bulleen on Sunday gives them a seven-point lead over Calder United plus a vastly superior goal difference with just three games left.
Southern's goalscorer was Brianna Watson, her first came two minutes before the break and the second seven minutes into the second half.
The seniors (8.30pm) and under-18s (6.30pm) play at Bulleen's Veneto Club tonight (Monday).
Peninsula Strikers are staring down the barrel after going down 6-3 to visitors Beaumaris on Saturday.
Declan Byrne opened the scoring for Beaumaris in the 11th minute but his contribution ended in the 84th minute when he was sent off.
Other Beaumaris scorers were Kieron Kennedy (28th, 61st), Adam Hester (37th, 44th) and Toby Nowell (85th).
Raphael Stulz (5th, 92nd) and Chris McKenna (70th) scored for Strikers.
Doncaster Rovers leapfrogged Strikers with a 3-1 win home win over North Caulfield on Saturday night pushing the Centenary Park club into second last spot in State 2 South-East.
Another local State 2 club, Seaford United, continued its miserable season with a 7-0 drubbing away to title contender Eltham Redbacks on Saturday all but condemning Paulo Pinheiro's side to a last-placed finish while Frankston Pines' 0-0 home draw with Old Scotch pushes Pines five points clear of the relegation zone.
Skye United clings on to a one-point lead over third-placed Brandon Park in State 3 South-East and faces a crucial fixture on Saturday against State 3 South-East champion elect Knox City at Skye Recreation Reserve.
Skye won 2-0 away from home against Noble Park on Saturday while Brandon Park thumped bottom side Sandringham City 7-2 and now has the same goal difference as Skye and has scored more goals.
Both clubs meet in round 22 in what looms as a season-defining contest.
Although Skye dominated most of the possession in the early exchanges on Saturday Noble Park was denied by the crossbar on three occasions.
However midway through the half Marcus Collier found space in the box and lashed home a strike to give the visitors the lead.
The second half was much of the same as chances went begging for the visitors but after some nervous moments in defence Skye substitute Lawrence Komba won a penalty in the 90th minute and skipper Mark O'Connor calmly finished it off.
The match ended on a sour note for Skye with Johnny Andrinopolous being sent off after receiving a second yellow card deep into injury time.
Baxter's hopes of promotion from State 4 South came to a full stop on Saturday with a shock 4-1 loss to second-bottom side Hampton Park United.
Hampton Park led 2-0 at half time with goals from Daniel Milne (8th minute) and Mitchell Hawkins (25th) while a second-half double from Adrian Mirauta completed the rout.
Baxter's sole response came from leading scorer Mark Pagliarulo.
Springvale City remained on top of the State 4 South table with a 3-0 win over Rosebud Heart at Ross Reserve on Friday night.
Springvale's scorers were Adem Alicevic (7th minute), Minas Leminded (31st) and substitute Dzenan Mujcic (87th).
This weekend's games:
SATURDAY 3pm: Langwarrin v Mornington (Lawton Park), Frankston Pines v Beaumaris (Monterey Reserve), Seaford Utd v Old Scotch (North Seaford Reserve), Skye Utd v Knox (Skye Recreation Reserve), Baxter v Harrisfield Hurricanes (Baxter Park), Rosebud Heart v Hampton Park Utd (Truemans Road Reserve), Somerville Eagles v White Star Dandenong (Barber Reserve).
SATURDAY 7pm: Heatherton Utd v Peninsula Strikers (Bosnia and Herzegovina Centre).
SUNDAY 3pm: Southern Utd v NTC (Monterey Reserve, U13s bye, U15s 11.30am, U18s 1pm).