NEPEAN LEAGUE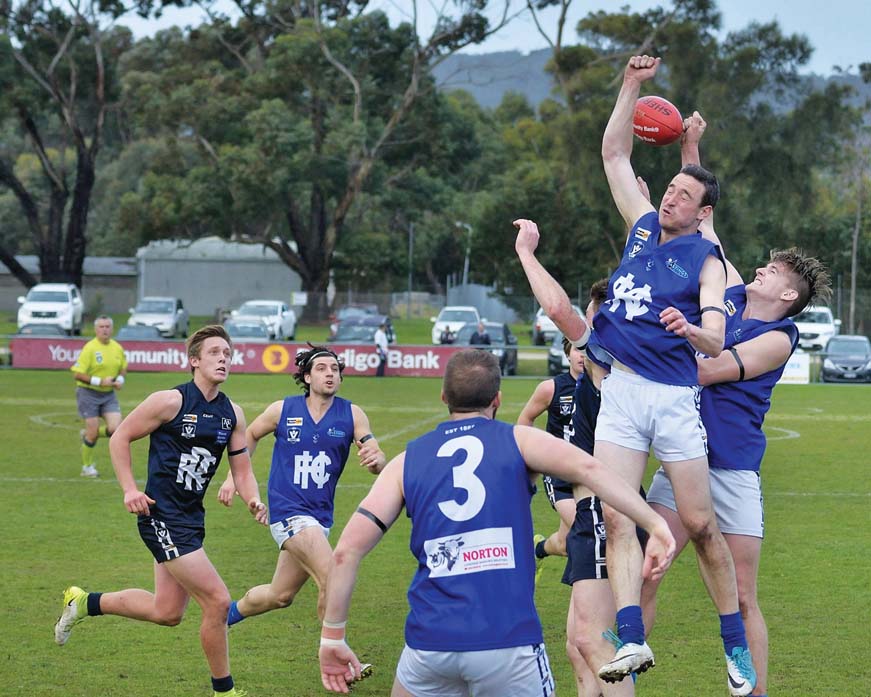 THE battle for a place in the top five will come down to the final game of the season this Saturday in MPNFL Nepean Division football.
Red Hill and Dromana are separated in fifth and sixth position by just 1.64 percent going into the final round.
Red Hill faces Tyabb and Dromana plays Rye in the last game.
The Hillmen went into Saturday's round holding a .6 per cent lead over Dromana, however, with a convincing 78-point victory over Crib Point, were able to extend their margin (121.76 per cent v 120.12 per cent).
Dromana too faced a tough contest against Pearcedale at Pearcedale but walked away with a 77-point victory.
Meanwhile, Rosebud booted the last three goals of the game in the final 12 minutes in the last quarter to force a drawn game with Hastings.
The Blues' form had been strong coming into the clash with narrow losses against the competition's powerhouses Sorrento and Frankston Bombers.
At the 14-minute mark of the last quarter, Hastings' star Paul Rogasch booted his sixth goal of the match and extended the margin to what appeared to be a match-winning 17 points.
However, a snap from Aaron Rose and a conversion to Brenton Payne in the dying minutes dragged the scores to 10.12 (72) apiece.
Anthony Pegg and Sean Downie were superb for the Buds while Rogasch, Stevey Robb and Matt Clifford on Keegan Downie were fantastic for the Blues.
It was Rosebud's first match against a top side in the past two months. However, it would need to improve considerably on that performance on Saturday to be considered a genuine threat for the title.
Chris Irving booted seven goals and was dominant for Red Hill against Crib Point, helping his side to a 19.22 (136) to 9.4 (58) win. Brad Davidson booted four second-half goals and Luke Herrington played arguably his best game of the season.
Matt Hammond and Rikki Johnston booted four goals each in Dromana's 20.13 (133) to 8.8 (56) win against Pearcedale.
In what appeared to be a danger game for the Tigers, they were able to boot 11 goals to four after half time. Shaun Clarke was again outstanding, this time pushing forward and booting three goals.
Andrejs Everitt made it nine goals in two weeks after booting four majors in Somerville's 14.20 (104) to 4.7 (31) victory over Tyabb.
Timmy McGenniss and Benny Sedgewick were outstanding in the win.
In the final game, Sam Fox booted six goals and Jason Kingsbury four in Frankston's strong 18.18 (126) to 8.5 (53) win against Devon Meadows.