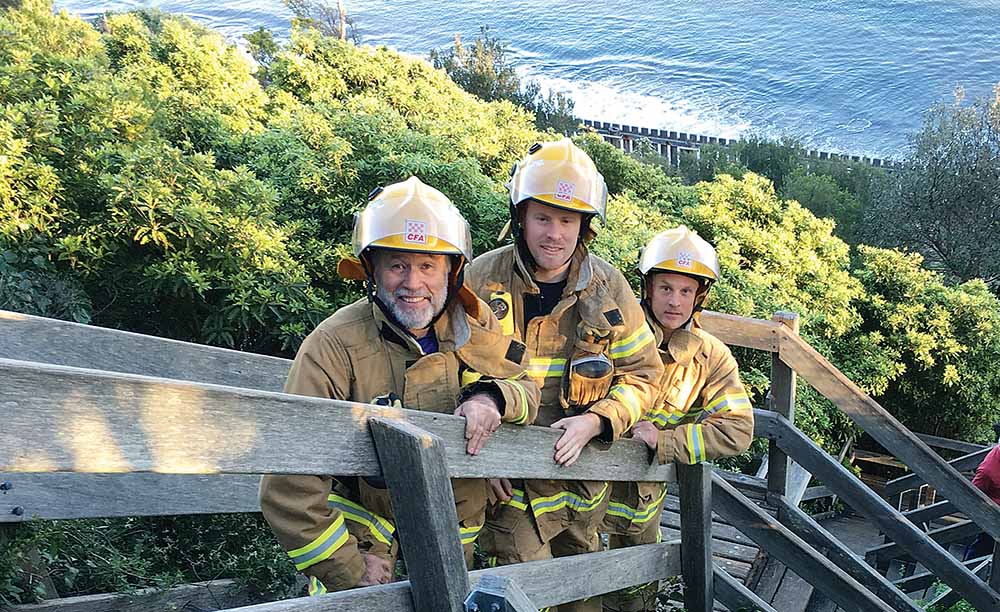 THREE volunteers from Bittern Fire Brigade will compete against colleagues from Australia and overseas in the 2017 Melbourne Firefighters' Stair Challenge at Crown Plaza, South Bank, Saturday 2 September.
The race to the top will see Robin Adair, Dan Beattie and Matt Zerbe climb the building's 28 storeys in a simulated rescue – wearing up to 20kg of protective gear and breathing apparatus.
"We are training hard every day," said Dr Adair, who is also director at the company Australis Biological.
"Our team, nicknamed the Bittern Stair Slayers, is in shape and ready to go for their first stair challenge."
Money raised will go to the Melbourne Fighters Charity Fund to support post-traumatic stress disorders (PTSD), mental illness, and reduce suicide in the emergency services and defence forces. The Black Dog Institute provides front-line assistance to those in need.
"All of us have been touched by suicide and depression and wanted to help," Dr Adair said.
"We run up the 123 steps at Somers 10 times a session making 1230 steps."
He expects the stair challenge to take up to 10 minutes, with about 20 minutes of air contained in the breathing apparatus. When training on a stair machine at the gym, Dr Adair sets the gauge to 28 floors while lugging 16kg of gear. "That's really hard and I am dripping with sweat and puffing very hard at the end," he said.
Tax deductible donations for the event can be made at firefighterclimb.org.au Details: Matt Zerbe, Bittern Fire Brigade, 0417 556 529.