NEPEAN LEAGUE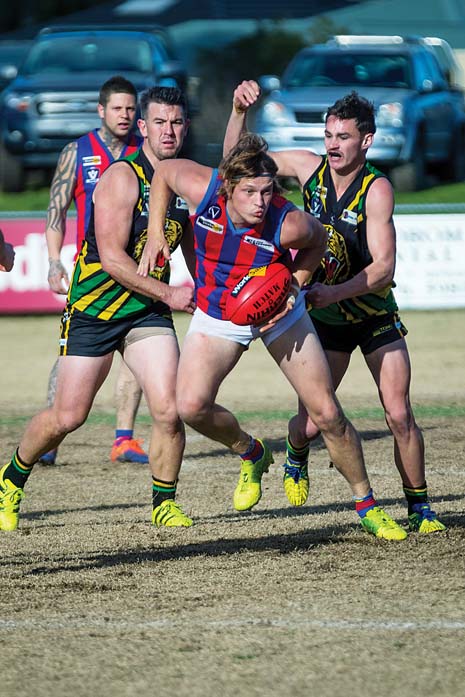 A WEEK is a long time in football.
A little over seven days ago Rosebud drew with Hastings and came out of that game looking highly unlikely of winning the 2017 Nepean Division premiership.
Wind the clock forward a week and the premiership race is well and truly alive after Rosebud inflicted Sorrento's first loss of the season.
The Buds jumped out of the blocks and booted seven goals in one of the best quarters we have witnessed for the season.
Not only did the Buds hit the scoreboard (6.2.38), Sorrento also made the most of its opportunities and trailed by just 13 points (4.1.25) at the first change.
When Sorrento booted five goals to one in the second quarter and entered the major interval with a seven point buffer, it appeared that the Buds had fired all of their shots and simply needed to hang on.
Not only did the Buds hang on, they went on to win the match, 13.11 (89) to 13.7 (85).
In was an enthralling last quarter after just one point separated the sides at three quarter time.
On a couple of occasions Sorrento appeared as though it was going to hang on, however, like the week before against Hastings, Rosebud just kept coming and booted the final goal of the match. This time the final goal got Rosebud in front, not level.
The Buds needed to get some things right from last week and Jackson McRae coming into the side and playing a key defensive role on Nick Corp was a massive influence on the final result.
Midfielders in Sean Downie, Fletcher Hustwaite and Brenton Payne were able to hit the scoreboard on multiple occasions and Matt Baker joined Keegan Downie once again in attack and they booted two goals each. Seb Krumeich and Bart Wallace did outstanding jobs defensively too while Ben Dwyer was masterful in the ruck.
Leigh Poholke booted four goals for the Sharks to win yet another league goalkicking award, while Leigh Treeby and Marcus Gardner booted three majors each.
Rosebud coach Adrian McBean said it was a good finals-type game.
"It was a great finals atmosphere and they're the types of games you want to be involved in at this time, win lose or draw," McBean said.
"There were a numbers of factors in our win but more importantly we got our team defence right.
"I thought Hastings was really good the week before and we were lucky to get away with a draw.
"Before the Hastings game I think we got away with a lot of stuff and didn't get hurt on the scoreboard but Hastings proved last week that we can.
"We just got a few of those things right against Sorrento and we can't underestimate the job McRae did on Corp – it was sensational.
"We really wanted to win this one and it was good reward for effort," McBean said.
Red Hill needed to beat Tyabb by five goals more than Dromana beat Rye by on the weekend to sure up its place in the finals – it achieved its objective.
The Hillmen posted a massive 21.15 (141) to 2.4 (16) win against the Yabbies with 12 players hitting the scoreboard. Chris Irving was the major contributor with four goals while Sean Marchetti has found his best at the right time.
The win was enough to see the Hillmen finish six per cent clear of Dromana in fifth place.
Dromana did everything it could too though, beating Rye 21.17 (143) to 6.8 (48).
Rikki Johnston, in arguably his final game for the Tigers as a player (he is contracted to coach next season), booted eight goals in a best on ground performance.
The Demons, who have had a rebuilding season, blooding 10-plus new Under 19s, fielded one of their most inexperienced sides for the year.
There is a little doubt that after coming so close to finals, there will be a little fire burning inside of the Tigers in the pre-season in preparation for 2018.
Crib Point finished the season in the best way possible, smashing Somerville in its final game of the season.
The Magpies booted 10 goals to two in the second half to blow the home side away 14.9 (93) to 6.14 (50).
Mitchell Chopping, who played in the reserves last week, was one of the Pies' best yet again while experienced players Luke Herrington and Taylor Stratton were outstanding. It shows that if everything clicked for the Pies, they were capable.
Somerville President Andy Palmer announced he would be stepping down from the top job and coach Bevan Malloy cannot commit next season either for family reasons but will continue to run the bench on match days. It is believed Andrejs Everitt will step up to the senior coaching role next season.
The Eagles' nest will be an interesting place to keep an eye on in the pre-season.
In the final game, Frankston booted 19.14 (128) to 9.6 (60) to get the win against Pearcedale.
Sam Fox and Zac Longham booted four majors each and Alex Harnett starred for the Bombers.
It's been a long season for the Panthers. Leigh Stewart selected his 49th player on Saturday to play in the seniors – we all think that's got to be some kind of a record with the average being somewhere around 35 players for a team not playing finals.
The positive is the entire list is now aware of what it takes to play senior football.
Finals next week:
Elimination Finals at Tyabb on Sunday
Seniors: Hastings v Red Hill
Reserves: Frankston v Hastings
Under 19s:
Qualifying Final at Frankston Park on Saturday
Seniors: Rosebud v Frankston
Reserves: Sorrento v Red Hill
Under 19s: Red Hill v Frankston