SOCCER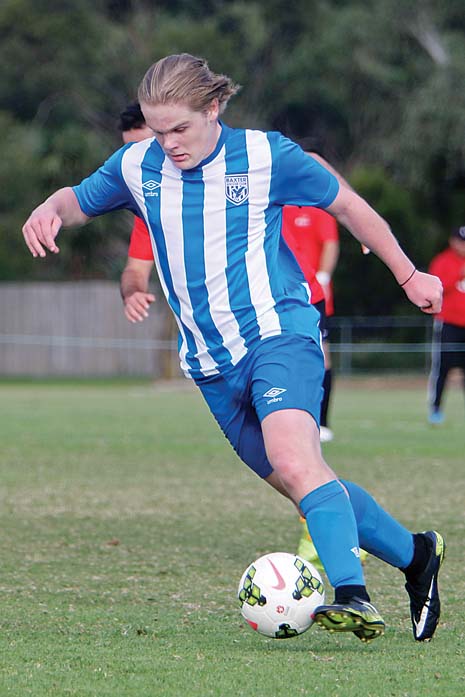 By Craig MacKenzie
THE race for the State 1 South-East title and a spot in the 2018 NPL is on in earnest after Mornington's 4-2 win over Langwarrin at Lawton Park on Saturday.
The result cuts Langwarrin's lead at the top of the table to just two points but Gus Macleod's men still have their fate in their own hands while second-placed Mornington has to win its last two matches and hope that Langy slips up in the process.
Langy is at home to Clifton Hill then finishes the season away to Malvern City while Mornington is at home to Malvern City then away to Morwell Pegasus.
A team of volunteers worked for hours on Saturday to get Lawton Park playable for the big derby.
Armed with brushes, squeegees and pitchforks they eventually won the battle against the elements and although the reserves match was called off referee James Morgan gave the thumbs up for the senior game just 30 minutes before kick-off.
Mornington struck the opening blow when Aaron Root was at the back post to head home Ryan Paczkowski's cross from the right in the 30th minute.
The visitors went further ahead a minute into first-half injury time when Langy defender Andy McIntyre slid down trying to cut out Sammy Orritt's cross and could only deflect the ball past Langy keeper Robbie Acs.
Within a minute McIntyre almost redeemed himself with a near post header that was cleared off the Mornington goal line.
In the 57th minute Mornington went further ahead after McIntyre gave the ball away allowing Paczkowski to charge into the left of the area and his cutback was diverted past Acs by Langy defender Nick Thorogood for another own goal.
Langy hit back a minute later when Mat Luak passed to Aaran Currie who turned and struck the ball past Mornington keeper Kris McEvoy from the right of the area.
Currie's back post header from Connor Belger's corner in the 69th minute made it 3-2 but that was all the joy Langy would get from this contest and Currie was substituted a few minutes later.
The tireless Paczkowski missed a chance to settle the issue in the 85th minute but dinked his shot past Acs and wide of the far post.
Then a long ball downfield by Paczkowski in the 89th minute was misjudged by Langy substitute Navin Velupillay allowing Wayne Gordon to race into the area and square the ball for a tap-in by Orritt to make it 4-2.
The State 2 South-East ladder tells a sorry tale of local sides with Seaford United now relegated and Peninsula Strikers staring down the barrel in second-bottom spot.
Seaford lost 6-2 at home to Old Scotch last weekend while Strikers lost 3-0 away to Heatherton United on Saturday night.
Second half goals to Ali Sanad, Meldin Klehic and Owen Walker accounted for Strikers whose night was made worse when Scott Buchanan was sent off the bench in the 79th minute.
Another local State 2 outfit Frankston Pines went down 4-2 at home to Beaumaris on Saturday but enjoys a five-point buffer over Strikers.
Pines' goals came from Matty Davis and CJ Hodgson while Beaumaris' scorers were Gianni Allebi (2), Kieron Kennedy and Zach Lemke.
Despite last weekend's 2-1 home loss which gave Knox City the title, Skye United still is in the hunt for promotion from State 3 South-East.
Billy Armour's men are now third on goal difference behind Stan Webster's Brandon Park which drew 2-2 with relegation-threatened Dingley Stars and Brandon Park travels to Skye in the final round of the season.
Skye opened the scoring on Saturday in the 32nd minute when striker Daniel Attard controlled the ball from a throw-in on the left of the area then turned and casually volleyed it into the top far corner.
Mathew Hames almost levelled five minutes later but his left-foot shot struck the far post then Nehemiah Verscharen's curled shot a minute later was spectacularly tipped over by Skye keeper Jonathon Crook.
Wide midfielder Jordan Avraham levelled in the 54th minute with a neat first-time strike after Grant Lane's low ball from the right into the near post.
A looping Marcus Collier header in the 66th minute forced Knox keeper Joel Becker to punch clear then a bizarre goal in the 85th minute decided the issue.
Lane curled a shot toward goal from the left of the area and Crook was well positioned but the spin on the ball and the blinding glare of the sun combined to send it past his grasp and into goal to make it 2-1.
Skye's last good chance came a minute later but substitute Lawrence Komba shot wide from close range.
Baxter smashed Harrisfield Hurricanes 6-1 in their State 4 South fixture at Baxter Park on Saturday.
Louis Griffiths started the rout in the 8th minute then teenage dynamo Travis Ernsdoerfer made it 2-0 in the 13th minute.
Alan Lipsett chimed in with goals in the 17th and 23rd minutes and big Dan Disseldorp added his name to the scoresheet in the 35th minute as the Hurricanes were swept away by a five-goal first-half tsunami.
Harrisfield's sole reply came from Nick Tsantlogiannis three minutes into the second half but Baxter substitute Justin Brown joined in festivities two minutes from time to round out the scoreline.
Rosebud Heart twice came from behind to record a gutsy 3-2 home win over Hampton Park United in their State 4 South clash on Saturday.
Adrian Miranta caught Heart on the break and finished well to make it 1-0 in the 29th minute.
A superb finish by Cory Osorio in the 53rd minute made it 1-1 but straight from the restart a long ball from Hampton Park and a defensive mixup by James Liddle and Matthew Pearce allowed Mitchel Hawkins to lob Heart keeper Sean Skelly and restore the visitors' lead.
Heart pressed hard for an equaliser which eventually came in the 77th minute via a superb corner from man-of-the-match Blake Hicks which saw Daniel Hodge head home to make it 2-2.
Three minutes later a Hampton Park short corner was well read by Tony Orr who intercepted and passed to Dave Greening who was well inside his defensive half.
Greening turned and charged toward goal going past three defenders before finishing superbly for a dramatic winner.
Somerville Eagles recorded their fourth win of the State 5 South season and skipped four points clear of the relegation zone with a 2-1 victory over second-bottom White Star Dandenong at Dallas Brooks Park on Saturday.
A Cormac Doherty header from Eric Manhanong's free kick in the 8th minute opened the scoring and Doherty made it 2-0 from the penalty spot following a handball inside the area in the 31st minute.
Aldin Pjevo's penalty in the 54th minute made it 2-1 but the Eagles held on for an important win.
Southern United beat the senior NTC side 4-1 at Monterey Reserve on Sunday.
Southern captain Candy Ferreyra-Bas opened the scoring in the 8th minute and a lightning-quick break in the 25th minute engineered by wide left player Elizabeth Robers and finished by Savanna Anastopoulos gave the home side a two-goal cushion at the interval.
Southern's US import Courtney Hueston scored twice in the second half while NTC could only muster a solitary response.
Powerhouse Southern central defender Mikhaila Bowden was impressive.
Southern's under-15s lost 2-0 to NTC in an earlier match with a low shot from just outside the area by NTC's Gemma Leo in the 33rd minute opening the scoring.
Leo completed her double in the second half but Southern made the elite youngsters work hard for their win.
Southern used five under-13s in its matchday squad.
Southern's under-18s have struggled this season following a massive turnover of players in the off-season and NTC accounted for George Perpina's side 6-0.
Paige Zois and Olivia Suarez both scored twice and other scorers were Nia Stamatopoulos (penalty) and Kiara Hronopoulos.
Most local sides are inactive during this weekend's catch-up round but not Southern which has an opportunity to clinch the NPLW under-13s championship.
This weekend's games:
SATURDAY 3pm: Southern Utd v Geelong Galaxy Utd (Monterey Reserve, U13s 10am, U15s 11.30am, U18s 1pm), Somerville Eagles v Pakenham Utd (Barber Reserve).