PENINSULA LEAGUE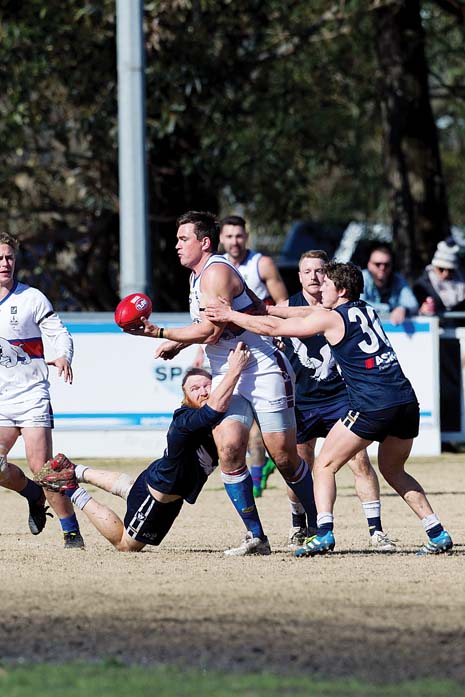 BONBEACH put an end to Seaford's season on Saturday, knocking them out of the finals' race with a convincing 47 point victory.
It was a key game for both teams, Bonbeach needing to win to maintain its place in the top three and getting the double chance, while Seaford needed to win to have any chance of playing finals.
However, as one very good footy judge said at the Mornington v Mt Eliza game a week ago, even if Seaford had beaten Bonbeach (and Mt Eliza had lost to Mornington), they still would have missed out on the finals.
Mt Eliza thumped Langwarrin on Saturday and given its supreme percentage, would have finished in fifth place. As it turned out, the difference in the end was four points and percentage.
It was a good warm up finals-type game for the Sharks, who found the going tough in the first half despite leading at the major interval.
Things were still tight at three quarter time (13 points) before the home side booted six goals to one in the final term to record a 14.15 (99) to 7.10 (52) victory.
Trent Dennis-Lane booted four majors to win the league goal kicking award while their stars in Jackson Casey, Shane McDonald and Dylan Jones really took control of the match, especially in the end.
Aaron Walton played a lone hand for the Tigers with five goals.
The Sharks can now look forward to what will be a cracking Qualifying Final against neighbour Edithvale-Aspendale this Sunday at Frankston Park.
For Seaford, it's time for reflection on what turned out to be a wasted season. The Tigers copped injuries to key players at the wrong time but they did lose their way for a six week block, which hurt them in the end. They learn from that and the desire should be there for a big pre-season.
Edithvale warmed up to the big final with a monster win against Mornington, 16.20 (116) to 5.8 (38).
In what many considered to be a 'danger game', the Eagles blew the Dogs away in the second quarter and went on to boot 6.10 to three behinds in the second half.
Mick Meehan booted four goals and Matt Clark three for the Eagles while Mark Mullins was at his best in defence, along with Stevey Mannix.
With the resignation of Chris Holcombe as coach, it is now believed that the Doggies will pour all of their attention in getting back favourite son and current Cranbourne coach Simon Goosey back at the helm. The club needs Goosey!
Mt Eliza carried over its last quarter heroics against Mornington last Sunday and put Langwarrin to the sword in front of a home crowd on Saturday.
The Redlegs booted six unanswered goals in the opening quarter and led by 54 points at half time. It then booted 10 goals to four in the second half with Shaun Knott and Karl Lombardozzi booting five goals each. 'Lomba' played forward last week too which raised a few eyebrows but with Justin Van Unen out of the team for the year, as well as ruckman Grant Goodall with a knee, the Redlegs needed to try something different. It worked.
Jordan Capkin has also found form at the right time, booting four majors.
Teenager Zac Foot was outstanding for the Kangas, as was Gerard Brown and Blake Harkness.
It will be very interesting to see how the Langwarrin Football Club reacts to finishing on the bottom of the ladder in season 2017. One thing is for sure, if nothing changes, nothing changes.
Pines warmed up for its Elimination Final showdown against Mt Eliza at Chelsea on Saturday with a solid 13.12 (90) to 4.5 (29) victory against Karingal.
Sixteen-year-old Liam Cox was at it again for the Pythons with a couple of goals. Cox is the teenage son of former Python assistant Paul and was coached in the juniors by premiership player Glenn Cornell – a superb Pines connection.
Luke Potts and Paul Scanlon dominated through the middle and Corey Ash was up to his old trucks of shutting down opponents also.
Karingal star of the future Darcy Hope was outstanding for the Bulls.
Karingal will announce their new coach on the RPP Footy Show (98.7FM or livestream on RPP – The Voice of the Peninsula) this Saturday after Andrew Sharp would not commit to the job in 2018.
Frankston YCW was very unconvincing but did what it had to do to win the game against Chelsea on Saturday.
Once again, like it has done on many occasions this season, the Stonecats left it until the last quarter to shift up a gear and get the job done.
The home side trailed by one point at three quarter time after being held to three goals in three quarters, however, booted five goals to one in the last to win 8.12 (60) to 5.6 (36).
Finals next week:
Elimination Finals at Chelsea on Saturday:
Seniors: Pines v Mt Eliza
Reserves: Pines v Frankston YCW
Under 19s: Edithvale-Aspendale v Mornington
Qualifying Final at Frankston Park on Saturday:
Seniors: Bonbeach v Edithvale-ASpendale
Reserves: Seaford v Bonbeach
Under 19s: Frankston YCW v Langwarrin