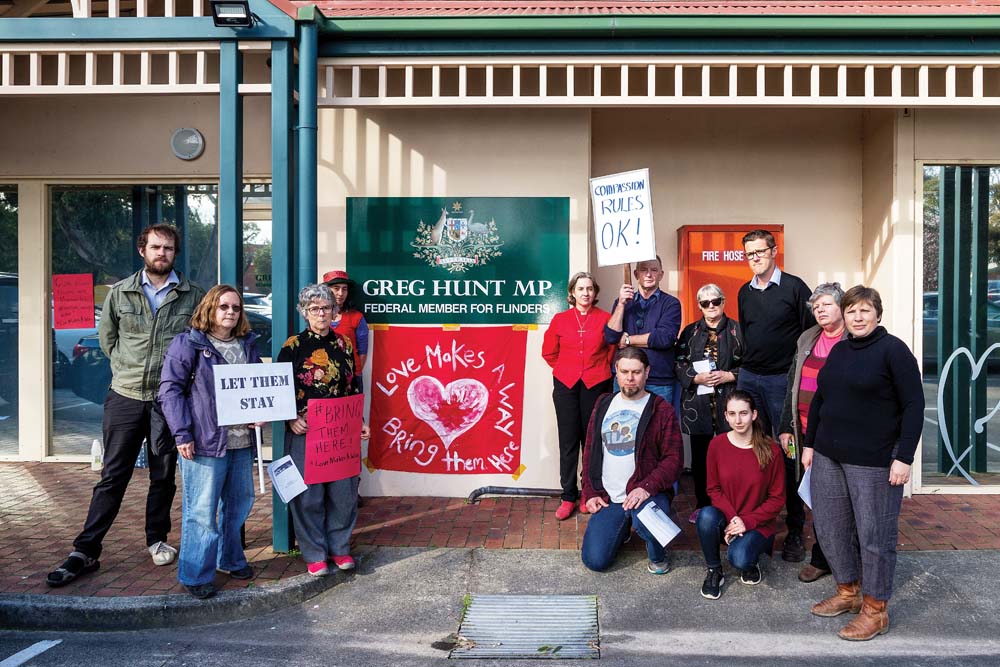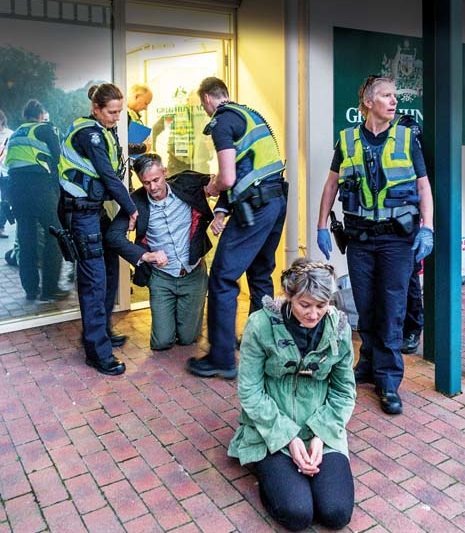 POLICE carried six members of the Love Makes A Way refugee advocacy group out of the Hastings office of Flinders MP Greg Hunt after a four-hour sit-in.
No charges were laid against members of the group, which included Uniting Church minister the Rev Alex Sangster and church members Kristen Furneaux and Jake Doleschal, after they refused a police request to leave the reception area about 6pm. They did not resist when being evicted.
"The police were fantastic and very respectful and all the relationships were very cordial and polite," Ms Sangster said after last Tuesday's protest.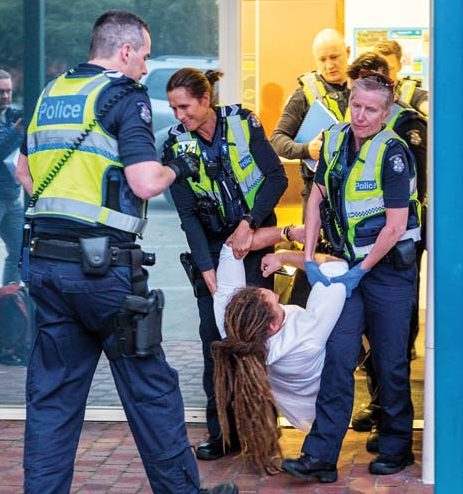 The Love Makes a Way group also held a vigil inside Mr Hunt's office in 2015 which led to charges and an appearance at Frankston Magistrates' Court. No penalties were recorded and the protesters, although admitting their trespass, were not fined and had no criminal convictions recorded.
One of the 2015 protesters, Baptist minister Simon Reeves, refused the offer of a good behaviour bond and was fined $500 after admitting to three previous court appearances for trespass.
Last week protesters lay on the ground every half hour to form an SOS sign as a plea to help asylum seekers detained on Manus Island and Nauru.
They wanted Mr Hunt to follow the lead of fellow Liberal MP Russell Broadbent by calling for asylum seekers detained on Manus Island and Nauru to be brought to Australia.
Mr Hunt later said the group could make an appointment to meet with him "at any time".
"I respect their views and their right to a peaceful protest," he said. "They have not made any attempt to meet with me formally and chose to arrive on a day I wasn't in the office. I have happily met with other groups who have sought official meetings."
Mr Hunt said the Coalition had closed 17 detention centres "and all children have been removed from detention". The government had also "struck a resettlement agreement with the United States".
Mr Hunt did not respond when asked by The News for details of the US "resettlement agreement", including how many and when would the refugees be going to America and what would happen to those left behind.
The sit-in coincided with the 22nd day of protests by asylum seekers on Manus Island, who gather at 2pm each day in response to their imminent forced removal to East Lorengau Transit Centre.
In a video made during the Hastings sit-in, Ms Sangster said the Love Makes a Way action was being conducted in solidarity with the men on Manus Island. "Every day they've been gathering and making a stand against the cruel and inhumane way they've been treated by our government," Ms Sangster said.
"The camp at Manus is about to be shut down and the men are being deprived of food and water and they fear desperately for their safety.
"We call upon Mr Hunt [who is also health minister] to look after the health of these men and bring them here.
"And we also recognise there are 42 children still on Nauru – that's 42 children who should be here."
The Flinders branch of Grandmothers Against the Detention of Children is holding a rally in support of refugees at 11.30am today (Tuesday 29 August) outside Mr Hunt's office. The office has been informed of the rally, although Mr Hunt will be in parliament at the time. The group will leave a letter for him at the office.