PENINSULA LEAGUE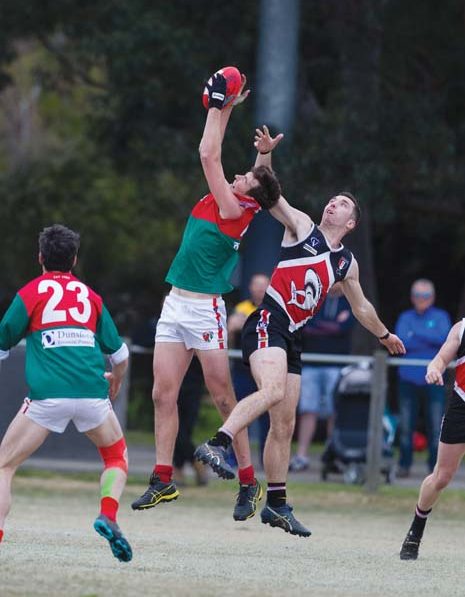 PINES Football Club appointed sacked Sorrento coach Nick Jewell as its senior coach on the night that it bowed out of the 2017 Peninsula Division finals race against Bonbeach.
Jewell was sounded out for the job after Pines lost four games in a row after Aaron Edwards went down with a knee injury.
He was informed of his appointment in writing following Pines' loss to Bonbeach on Saturday night and it was confirmed with him on Sunday.
However, coach Pat Swayne was not aware of his sacking until he arrived at the football to call on RPP FM on Sunday afternoon.
In a shocking turn of events, yours truly inadvertently told Swayne of his sacking when he arrived at the ground. A great supporter and admirer of Swayne's work over many years, I simply wanted to console him on a day he was committing to do special comments on radio.
On hearing the news, Swayne contacted club president Jeff Svigos immediately, only to be told again that the decision was not final.
However, Jewell confirmed later on Sunday afternoon that he had been given and signed a contract and that his appointment was "definite".
Jewell was strongly rumoured to be coaching Karingal next season and this was a fact, with an announcement organised for the RPP Footy Show.
However, Pines' swooped with an offer and Karingal president Troy Callahan was notified via text message by Jewell on Sunday morning that he had accepted the role with Pines.
But back to the footy and Bonbeach beat Pines for the first time in three years.
Since Sharks' coach Steve Hughes arrived at the club at the beginning of the 2015 season, his side had never been able to beat the Pythons.
However, on Saturday at Chelsea, the Sharks were able to boot the final three goals of the game to record a narrow and tough nine-point victory, 11.10 (76) to 9.13 (67).
It was a game of two halves with 17 of the 20 goals coming from one end of the ground, such was the wind advantage.
Bonbeach could only manage one goal against the breeze in the opening quarter while the Pythons booted two against it in the second quarter. There wasn't a goal kicked against the wind in the second half.
Pines led by 14 points at quarter time and by 12 points at three quarter time.
A seven-goal second quarter saw Bonbeach lead by a game-high 18 points at the major interval, while they managed three goals to a point in the final term.
Shane McDonald starred for the Sharks with four goals while Dylan Jones, who lowered his colors the last time the sides met, was outstanding.
Gavin Vassallo also showed his class and experience in big games with a flawless display and Jackson Casey was also at his best.
Steve Hughes said before the game on the RPP Footy Show that his side needed to bounce back this week after a 'poor showing' against Edithvale the week before.
"I went through the tapes and I found only five players who did what they should have last week. That means there were 17 that didn't," Hughes said. I had plenty of text messages after last week apologising for their performance. I didn't want any more apologies," Hughes said.
Swayne said prior results had little to do with determining the result of a final.
"We hadn't been able to beat Mt Eliza for years either and knocked them out last week," Swayne said. It makes little difference what our previous results were against Bonbeach, we started the match nil-all.
"We were beaten by a better side today," Swayne said.
Nick Boswell capped off an outstanding season for the Pythons with another dominant display while Dylan Smilie was superb in the ruck against Jones. Shane Waterstone booted three goals.
On Sunday, Frankston YCW advanced the Grand Final after beating Edithvale-Aspendale by 17 points.
The Stonecats set up the win with a five goal to two first quarter. Edithvale trailed by 28 points at three quarter time and kicked the first five points of the last quarter, before finishing with 1.6 to a point in the last.
The Eagles will play Bonbeach on Sunday at Frankston Park in the Preliminary Final.