SOCCER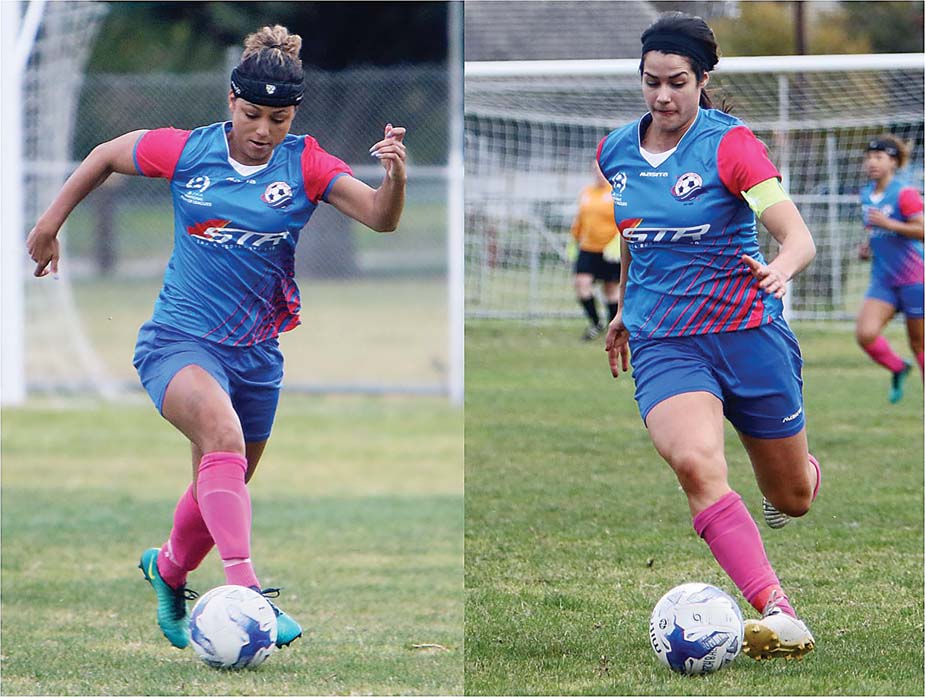 CANDELA Ferreyra-Bas is the toast of local soccer after winning the 2017 NPLW Gold Medal at a gala awards night last week.
Southern United's captain and leading scorer was a runaway winner of the award which recognises the recipient as the premier performer in Victoria's elite women's competition.
The 21-year-old polled 39 referees votes to street the field, 10 votes ahead of runner-up Cindy Lay of Calder United.
It was a night of great celebration for the local club as senior coach Rob Giabardo was named NPLW Coach of the Year.
Giabardo wasted little time in calling for co-coach Bill Mihaloudis to join him on stage during the presentation acknowledging their partnership which has steered Southern to the verge of finals participation after its last-placed finish in 2016, its inaugural year of competition.
Mihaloudis is a former State junior coach and Ferreyra-Bas was in his Victorian squad at the 2010 national championships.
"This is the best football I've seen Candy play since then and I knew halfway through the season if she continued in the way she was playing that she would be right up there. She was sensational," said Mihaloudis.
"She's a true leader and an exceptional girl and this award will put the spotlight on her as far as W-league clubs are concerned."
Another Southern star in the spotlight is US import Mikhaila Bowden who is in the midst of a three-week trial with Melbourne Victory.
However Southern's championship-winning under-13s suffered a setback last Saturday when they lost their qualifying final against Calder United 1-0 at Monterey Reserve.
Calder pressured Southern early and Sofia Cheng found space on the right of the Southern area but shot straight at Southern keeper Cadence Vakacavu.
Southern's gun strikers Rhys McKenna and Candy Kilderry had chances in the space of a minute but couldn't convert then Cheng struck a low inviting ball across the face of the Southern goal but there were no takers.
Southern fans were dumbfounded in the 13th minute when Kilderry surged into the Calder area and was tripped but referee Jordan Vacouftsis waved play on.
Southern's best chance of the half was fashioned a minute later after a surging run down the left and a back post cross from Talia Palmer but Kilderry slid down in the soggy conditions and shot wide.
In the 18th minute Vakacavu played the ball out to Taylah Hennekam who was robbed by Calder striker Olivia De La Plaza-Sanchez whose shot flashed wide of the target with Vakacavu out of position.
The pivotal moment in a gripping contest came 10 minutes into the second half.
De La Plaza-Sanchez made a surging solo run then won a tackle which took her to just outside the Southern box before unleashing a high looping shot over Vakacavu and into the back of the net to break the deadlock.
Slick interpassing between Kilderry, Alessandra Davis and Brianna Watson opened up the Calder defence in the 42nd minute but Watson shot wide.
Three minutes from time McKenna sent a superb ball from the right in behind the Calder defence and although Kilderry was steaming in at the far post she couldn't make effective contact and another chance went begging.
The loss pitches Southern into a cut-throat preliminary final next weekend against local rival Bayside United which downed South Melbourne 3-1 in their elimination final.
As we went to press Southern was waiting for confirmation from FFV that the match would take place at Monterey Reserve on Saturday morning.
The winner will face Calder in the Grand Final on Sunday 1 October at a venue to be decided.
Altona Magic made it back-to-back Victorian State 1 titles when it defeated Langwarrin 3-0 at J.L. Murphy Reserve in Port Melbourne on Saturday.
The match pitted the champion teams from State 1 South-East and State 1 North-West against each other.
Langy central defender George Whiteoak made an early impression on Magic keeper Sebastien Bechaud when the big Englishman landed on Bechaud's back and the keeper's teammate Jon McShane did even more damage at the 20-minute mark when defending a corner and Bechaud had to be replaced by substitute Michael Stark.
Magic had put the Langy defence under pressure before the enforced substitution with right-sided striker Jason Hayne shooting over from 10 metres in the 14th minute and young Langy keeper James Foster getting down bravely at the feet of Hayne in the 18th minute to smother well.
Magic eventually prized open the Langy defence in the 29th minute when James McGarry headed home from point blank range.
Two minutes later ace Langy striker Liam Baxter had a golden opportunity to level after Magic lost possession at the back but curled his shot just over the bar.
A defensive blunder in the 35th minute gifted possession to McShane who blasted over from the left side of the area and three minutes later a superb solo run by attacking midfielder Amadu Koroma ended with a shot straight at Foster who gathered cleanly.
A brilliant long ball from Aaran Currie in the 42nd minute put Connor Belger through on a one-on-one with Stark but the Langy star couldn't finish on his favoured left foot and Stark was able to parry.
Belger returned the favour three minutes into the second half with a pinpoint cross from the left which Currie blasted over at the back post.
Belger then sent Currie through in the 51st minute but the young Scot slammed a low shot against the upright and the ball was scrambled clear.
Two minutes later Foster made a fine smother to deny McShane but was helpless as Magic went further ahead in the 56th minute.
Hayne motored clear on the right and his low cross was met first time by the incoming Melvin Becket at the near post for a tap-in to make it 2-0.
A minute later Belger set up Langy midfielder John Guthrie whose shot was blocked and Foster effected a fine save to deny Ben Clarke shortly after.
A defensive blunder in the 65th minute sent Magic substitute Adamson Ajayi clear but his shot was deflected for a corner and shortly after Langy subtitute Sergio Yanez shot over after Stark failed to gather a Belger cross.
Magic substitute Festin Elmazi completed the scoreline in the 77th minute and six minutes into time added Belger passed to Baxter whose cheeky backheel set up Yanez but his close range shot sailed well over.
It was the final attacking act of an open, flowing contest dominated by Magic which ran out a deserved victor.
There were moments in the contest where Langy gave as good as it got and defender Nick Thorogood was superb.
It also was the last match for a number of Langy players as the promoted club is only allowed two visa players in the NPL and senior coach Gus Macleod will have some tough decisions to make in coming weeks as he assembles his squad.
The Lawton Park outfit's preparations for its elevation to NPL status are in full swing and last week the club announced the appointment of former junior coach Stephen Fisher as technical director.
Fisher has completed an AFC B licence coaching course and has been working in the NPL for the past few seasons.
He is overseeing applications for suitably qualified coaches for the club's junior teams from under-12 level to under-20s and trials for those teams will start next month as will pre-season training for the seniors.
In other news Peninsula Strikers have received five applications for their senior coaching position after advertising the post last week.
Former player and ex-English professional Willie Raynes, who only took over as coach in the back half of the recently completed season, is one of the applicants.
President Trevor Johnston will seek re-election at the club's AGM.
Johnston has retired from senior football along with veteran defender Troy Williams.
This weekend:
SATURDAY 10am: Southern Utd v Bayside Utd, NPLW Under-13 preliminary final at Monterey Reserve (to be confirmed).