PENINSULA LEA

GUE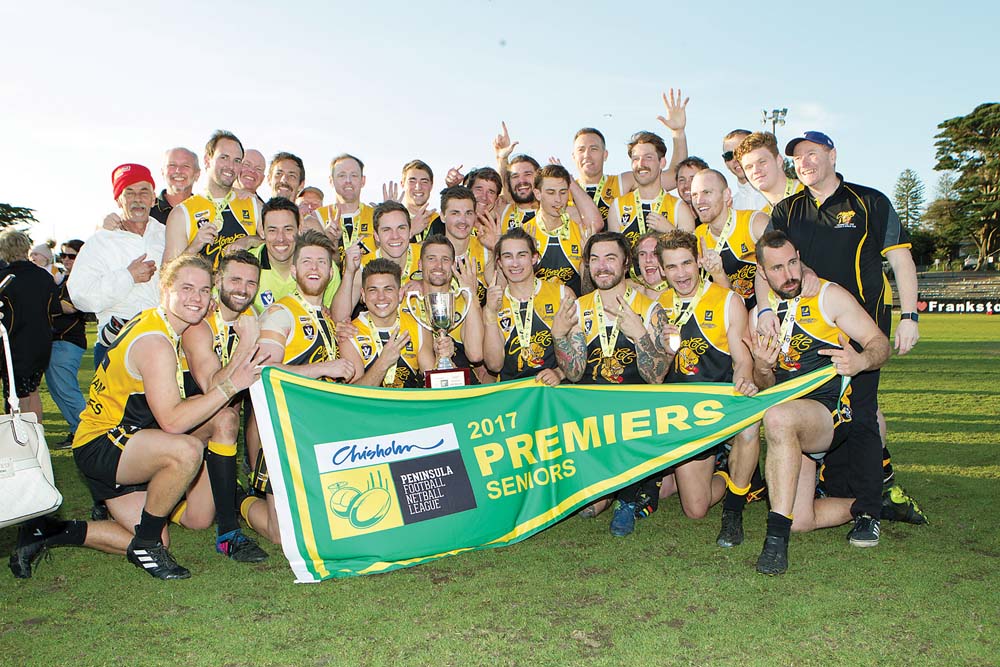 FRANKSTON YCW became the first team in more than 100 years of peninsula football to win four consecutive premierships on Sunday.
The Stonecats totally outclassed Bonbeach, booting eight goals to one in the second quarter and 10 unanswered goals in the last quarter to win by more than 100 points, 21.11 (137) to 5.5 (35).
Bonbeach led at quarter time, 2.0 (12) to 1.2 (8) and in fact outscored the opposition in two of the first three quarters. The problem was, Frankston YCW booted 18.8 to the Kars St end of Frankston Park in the second and last terms.
Frankston YCW went into the match with the best defence in the competition, averaging just 9.2 goals per game against them. They smashed that in the big dance.
Christian Ongarello blanketed Trent Dennis-Lane (three goals), while Byron Barry, Kevin Lylak, Anthony Barry, BJ Credlin and Craig Nankervis were absolutely dominant in the defensive end of the ground. Nankervis broke the league record last season with seven premierships. On Sunday he celebrated his eighth senior premiership and tenth overall at YCW, given he won an Under 18 and Reserves flag also.
In the middle, 38-year-old man-mountain Ash Eames needed to beat in-form Bonbeach ruckman Dylan Jones to give YCW the upper hand – Eames dominated Jones and anyone else who went in the middle and was awarded the RPPFM Player of the Match. Macklin Raine, in his first season, made sure the ruck ascendancy wasn't loss when Eames had a spell.
This gave the likes of Scott McLeod, Tony Lester, Kyle Hutchison and Lachy Wallace first use of the footy – they executed perfectly whenever they got their hands on it.
The only change to the second semi final team was Lachlan Williams replacing Angus Wright. Williams booted two majors and was terrific. Wright played in the Under 19s premiership and was awarded the BOG medal.
On the outside, Matt LaFontaine was one of the best players on the ground and together with Jai Coghlan, Michael Debenham and Ryan Santon, they thrust the ball forward with consistent ease.
Once in attack, the Stonecats looked unstoppable.
Josh Butland booted five goals to make it 51 for the season, Anthony Bruhn finished with four majors and Paul Minchington and Luke Paynter finished with a couple each. Riley Hodson made sure when the ball got inside the attacking arc, it wasn't coming out – his pressure was enormous.
Wayne Capp became a premiership coach in his debut season as the man at the helm. His job this season, given the VFL-listed players in the team (11), cannot be underestimated. It's nice to have them available, but rarely were they consistently.
On the field, and off the field, Frankston YCW has been the benchmark for two decades – there was little reason to suggest on Sunday that that was going to change any time soon.