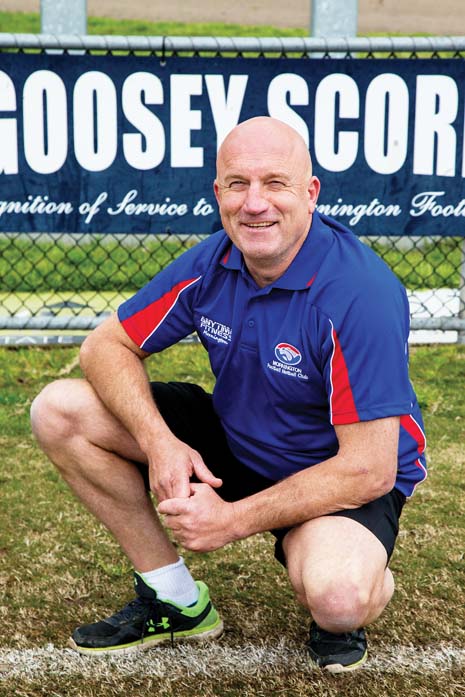 AFTER almost a decade, Mornington Football Club's favourite son Simon Goosey (pictured right) has returned to the kennel.
Goosey, who coached the Doggies to eight grand finals and four premierships in the 1990's and 2000's, said the move back to the Dogs "feels right".
"I've always loved the Mornington footy club and my son (Will) still plays there, so it seemed like the right time to go back" Goosey said.
'The Goose' left the Dogs to "better himself" as a coach and moved to Frankston Dolphins in the VFL, where he also had a very successful career as a coach.
"I didn't leave Mornington because I didn't want to be there, I moved because I wanted to become a better coach at a higher level," Goosey said.
"I always watched Mornington when I could and I've always taken a keen interest in the club, even in the past 10 years when I haven't been involved.
For the past three years, Goosey has coached in the SEFNL at Cranbourne, where he guided the club to the 2016 premiership. Cranbourne was bundled out in the Preliminary Final and the official announcement of his departure and appointment at Mornington was made last Wednesday.
Goosey, who booted almost 2000 goals in his career at Richmond in the Under 19s, Geelong in the Reserves, Frankston Dolphins, Mornington and Dromana, will bring relevance back to the Mornington Football Club.
Club Football Manager Paul Garrett agreed.
"There is a real buzz around the club with Simon's return, which will help with the players, club officials, supporters and even the business community," Garrett said.
"We're all very excited to have Simon back at Mornington," Garrett said.
Goosey believes that with a strong base of junior talent and a core group of top end talent, Mornington can be featuring in the finals again very soon.
Dunne heads to Bulls
In other coaching news, former Chelsea coach Brett Dunne has been appointed at Karingal Football Club for the next three years.
Dunne was instrumental in rebuilding the Chelsea Football Club. When he became senior coach, he had less than half a dozen players attend early pre-season sessions.
A student and teacher of the game, Dunne has an amazing network of relationships throughout the football community and is the ideal fit for the Bulls.
Dunne was also interviewed for the Red Hill and Langwarrin jobs but accepted the Karingal offer immediately.
Crib Point has also announced that it is on the look-out for a senior coach, while Red Hill is tipped to make an announcement early this week.
Langwarrin has been busy interviewing with a former MPNFL coach right in the mix, Nepean premiers Sorrento will now begin to work hard to find a coach, while Tyabb is also looking for a man to lead the charge.