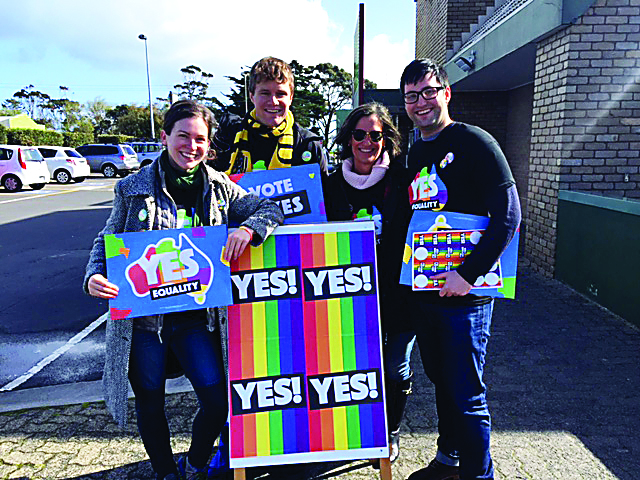 AN informal Peninsula Action Day on marriage equality got off to a vibrant start last week when up to 30 volunteers put their case for a 'Yes' vote at shopping centres from Blairgowrie to Dromana.
Organiser Bryce Paterson said there was a "huge amount of enthusiasm up and down the coast" for the group's message, Saturday 16 September, with most of those approached in favour of the same-sex marriage proposal.
"We engaged with prospective voters and were very pleased with the level of support," he said.
"We reminded them about the postal ballot and inquired about whether they had received and returned their vote.
"It was incredible. About 50-60 per cent had received and returned it in support of the 'Yes' campaign. Of those who said they hadn't received their ballot paper about half were not supportive."
Mr Paterson admitted engaging busy shoppers and others on their way to sporting events was "not easy".
During their campaign the group had printed up t-shirts and signs – including an A-frame sign – as well as launching an online campaign and "engaging in conversations".
"We were amazed at how well versed people were; most said they had voted 'Yes' and most had replied within a week."
Many asked for stickers and posters to take home or to their workplace.
"All the heavy lifting for the campaign was done last week and, this week, we will concentrate on phoning people to remind them about the campaign. "Complacency is a big problem," Mr Paterson said. "We have got to make sure people put their ballots in."
The deadline is 26 October.
First published in the Southern Peninsula News – 26 September 2017