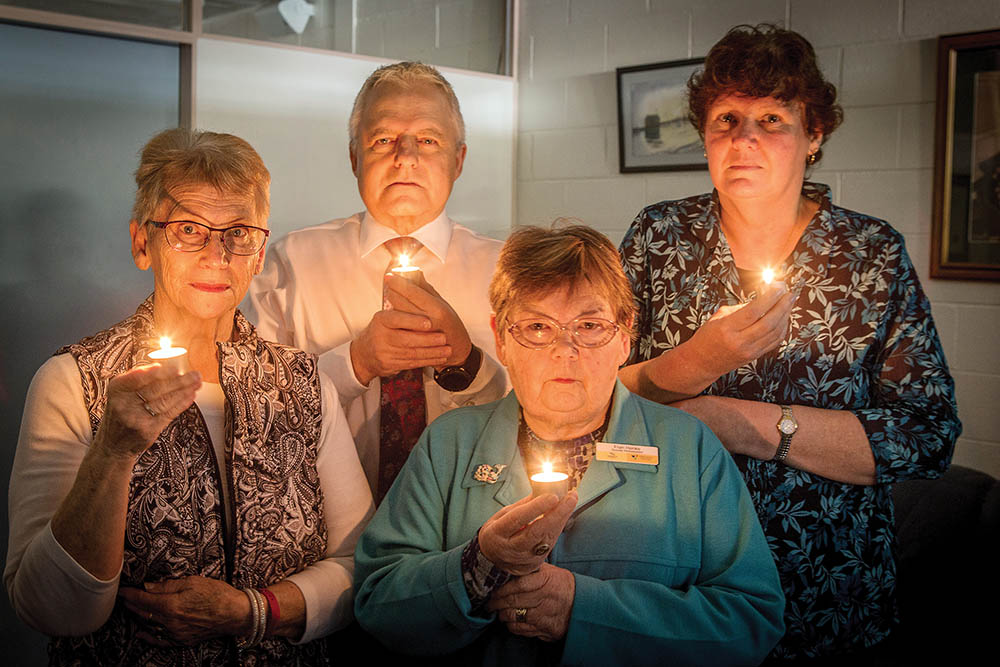 A GROUP of Western Port residents took their concerns over potential power outages in the hectic summer period to Hastings MP Neale Burgess last week.
"We put to him our personal concerns about the effect of power outages which we anticipate this summer with the closure of the Hazelwood power station," Hastings resident Fran Henke said.
"While outages will affect businesses big and small, we wanted him to understand what could happen to people dependent on electricity for their survival and wellbeing."
Ms Henke said Mr Burgess had promised to raise concerns about power outages in parliament "as soon as possible".
Mary Campagnolo cares for her husband who is paralysed down one side after a stroke. He requires an electric bed to raise his head, shoulders and feet because Mary, 76, cannot lift his head on her own to prevent choking.
Financial adviser Jenny McGowan has concerns about the soaring cost of power through her work at Cranbourne Information and Support Centre. When one of her clients on life support couldn't pay an $18,000 power bill her power was switched off. Ms McGowan, who worked with the woman for two years to bring her bills into credit, says many clients depend on electricity for their survival.
As a polio survivor, Ms Henke told Mr Burgess that the virus destroyed her body's "thermostat", making her heat-and-cold intolerant. "Air-conditioning is essential for [polio sufferers] in summer," she said.
"Many also use electric wheelchairs and mobility scooters, as well as breathing machines for respiratory support day and night."
The group discussed the idea of offering cash incentives to those who reduced their power use – which older people might be tempted to do – but at the risk of harming themselves; also, of older people staying in bed for warmth rather than using power for heating. Others may be tempted to go without food so as to be able to afford power.
"We discussed the need for a campaign to help younger people with their gadgets appreciate the need to conserve power, such as turning off lights and putting their equipment on standby," Ms Henke said.
"Power outages for older people also bring the risk of more falls at night, which cause a high percentage of nursing home admissions."
The large number of aged care and nursing homes on the peninsula, especially around Frankston, are especially vulnerable to power outages, Ms Henke said.
"Ten people died in Florida during Cyclone Irma when nursing homes had generators for lighting but not for air conditioning. Temperatures were over 100 degrees [37 degrees centigrade] there."
The MePACS personal alarm service, common on the peninsula, has planned for possible power outages. Operations manager Michel Nelson told Ms Henke that discussions with the NBN contractors aimed to ensure that, when phones were connected via modems – rather than phone lines – the 48-hour back-up batteries would maintain a connection with clients.
People needed to keep their mobile phones charged for emergency calls, rather than relying on landlines, once NBN is connected, he said.
First published in the Western Port News – 26 September 2017