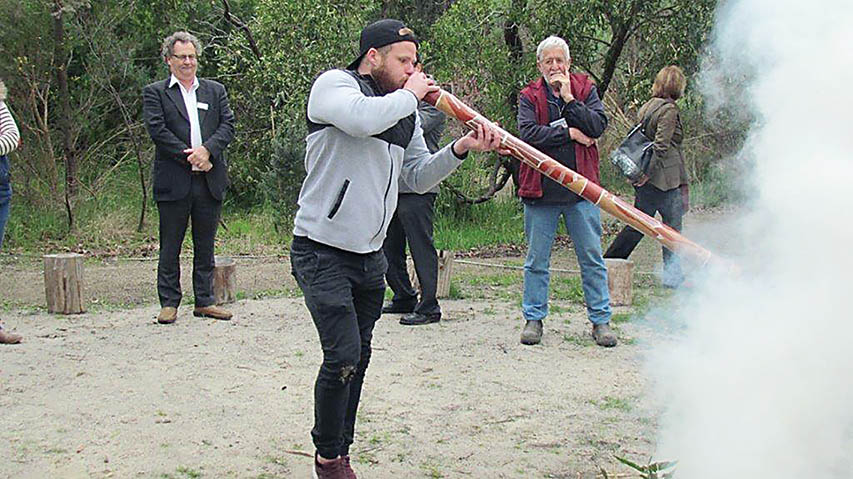 THE Hastings-based Willum Warrain Aboriginal Association has been given $36,864 from the state government to build a men's shed.
The shed's focus will be on creating such cultural artefacts as boomerangs, woomeras and didgeridoos, as well as totem sculptures for a bush trail.
The grant will be jointly administered by Department of Health and Human Services, Mornington Peninsula Shire and the association.
Secretary to the Treasurer Daniel Murlino, Eastern Division MLC, last week made the announcement at the Willum Warrain Gathering Place in Pound Rd, Hastings. He was accompanied by Phil Kiely from the Men's Shed Organisation of Victoria and Crs Kate Roper and David Gill.
"For us, bringing back cultural practice is very, very important," Willum Warrain president Peter Aldenhoven said.
"Having a building to do this cultural rejuvenation work in all year round, no matter what the weather, will make a significant difference.
"We want to make our culture visible to visitors to the Gathering Place because sharing our culture fills us with pride."
This is the first time in the region that dedicated funding has been provided for Aboriginal men to gather and connect with a particular focus on cultural practice.
Mr Aldenhoven said Victoria has about 350 men's sheds with benefits that include social interaction, physical activity and learning new skills.
First published in the Western Port News – 26 September 2017