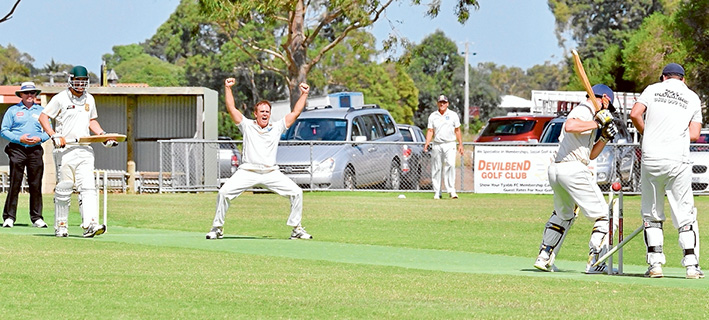 THE new-look Mornington Peninsula Cricket Association season will launch this Saturday with four divisions set for 2017-18.
The MPCA announced its new  structure in May this year, however, a Presidents' extraordinary meeting held a couple of weeks ago saw the names of the new four divisions changed.
In May, the launched divisions were Premier, Provincial, District and Sub District.
However, they were changed only last week to Provincial, Peninsula, District and Sub-District, in order of division one to division four.
Peninsula Old Boys president Adam Jones was behind the name changes, which make sense.
Jones branded the names of the new competition "stupid'' and made moves to protect the history on the association.
Jones wrote to the MPCA requesting the special general meeting which resulted in the name changes. He called 27 clubs, 25 of which supported his stance.
In the 2017-18 season, cricket will be played on every weekend in October, November, December, January and March; with the exception of two weeks in December for the Christmas break, as well as a weekend over Easter.
Promotion-relegation will remain the same with the premiers being elevated in the following season and wooden-spooners dropping down.
The major change to the competition is the number of one-day matches in the fixture. The first three rounds of the season are one-day fixtures and there are four more for the season. This is complemented with seven two-day matches.
The grand finals will also be reduced to 80 overs to ensure the match is completed over one weekend.
Bowlers will be restricted to eight overs in one-day games.
The clubs in each division and some news coming into the first match of the day this Saturday:
Provincial
Peninsula Old Boys
Crib Point
Baxter
Mornington
Pearcedale
Sorrento
Langwarrin
Mt Eliza
At Crib Point, Matt Blake is coaching the club and league legend Brad Glenn has taken the reigns as director of coaching.
Sam Weisse has returned to Mornington from Frankston-Peninsula, while Langwarrin has seen the return of Andy Johnson and the recruitment of former Heatherhill and Flinders middle-order bat Simon Parrott.
Pearcedale is looking at some improvement from talented youngsters Declan Scully and Riley Bradshaw, while Kaine Smith and Chris Dew remain in charge.
Bobby Wilson remains in charge at Sorrento and they have landed Sri Lankan fast bowler and middle order bat Chathupama Gunasinghe (45 first class wickets).
Lyle House and Justin Grant are in charge again at Mt Eliza and Baxter has a mate of Chamika Sattambi joining the club who will be a handy acquisition.
Peninsula
Red Hill
Somerville
Delacombe Park
Flinders
Long Island
Moorooduc
Pines
Main Ridge
The recruitment of Jayde Herrick to Somerville is the biggest get in the off-season.
Riley Shaw has returned from Mt Martha to Red Hill, which is a handy get, Ricky Ramsdale will be hoping to go one better with Delacombe Park, Aaron Paxton is the club skipper at Long Island and Adrian Mack returns to where it all began at Pines, replacing Craig Entwhistle.
Nick Jewell will play and coach at Main Ridge and Shamith Kannangara is the skipper at Moorooduc, which will see a number of Sri Lankans land at the club this season.
District
Baden Powell
Mt Martha
Hastings
Long Island
Seaford
Seaford Tigers
Heatherhill
Rosebud
Rye
Grant Hanrahan is senior coach at Mt Martha while Riley Shaw returns to Red Hill.
Hastings will be without an injured Luke Hewitt (knee reconstruction), Tommy Baron continues to lead Rye.
Rosebud will welcome an opening quick from Sri Lanka and Seaford Tigers' Corey Hand has returned to Carrum.
Sub District
Dromana
Balnarring
Carrum
Carrum Downs
Skye
Tyabb
Tootgarook
YCW
Ballam Park
Boneo
Jack Fowler and Keiran Voelkl will continue to run the show at Dromana.
Mal Coutts has left Langwarrin for a coaching stint at Balnarring, Corey Hand returns to Carrum, Mark Snelling remains in charge at Carrum Downs, and Scott Blaycock is coaching Skye.
Tyabb welcomes the return of Brodie Bennett, Ballam Park is looking for improvement from Luke Janssen and Boneo has picked up Corey Peterson from Traralgon, while an English keeper-batsman is expected to land soon.