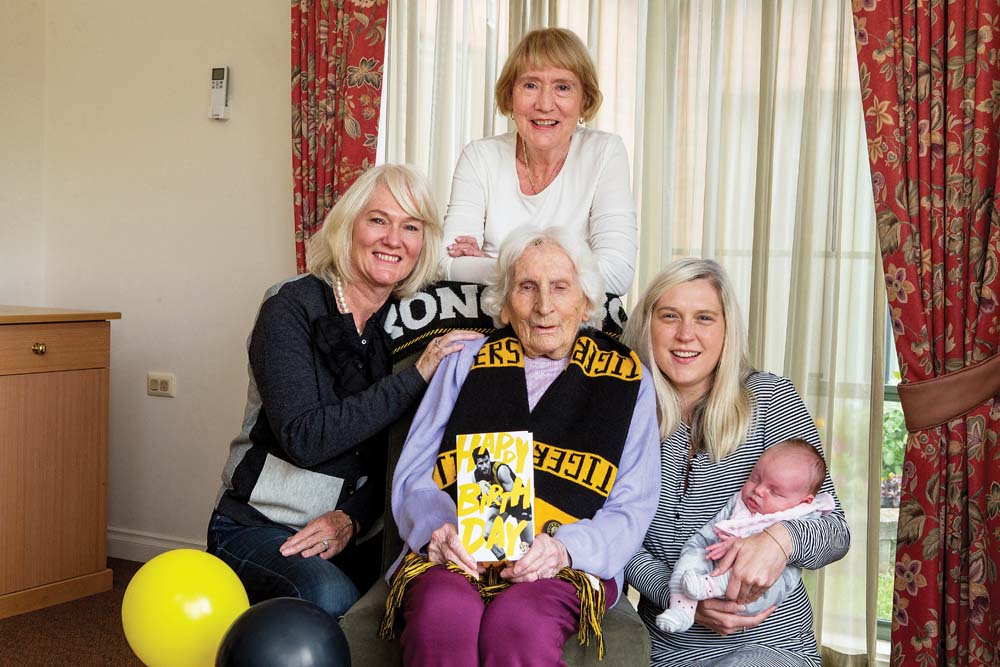 ONE extended Mornington Peninsula "pride" was awaiting the grand final siren with more than a little trepidation on Saturday.
Five generations of the one family, led by great-great grandmother Molly Flaherty, had gathered at the Elm Mount Martha Valley aged care home, Safety Beach, in the lead-up to a longed-for Tiger triumph.
Matriarch Mrs Flaherty, 100, can trace her clan's Tiger allegiance back to 1933 when her older brother, Bob Gislingham, played a single VFL game for Richmond. That was enough: Mrs Flaherty drummed a sense of Tiger loyalty into her children and they into theirs – making the weekend's flag tilt after 35 years a real test of nerves.
Mrs Flaherty "treasures the letter she received from the team to congratulate her on her 100th birthday more than the one from the Queen," grand-daughter, 57-year-old Kathryn Finemore, said.
"The Queen's letter is in the cupboard while the one from the team sits next to her bed."
As the clan gathered to watch the win, the sounds of We're from Tigerland were never far away.
First published in the Southern Peninsula News – 3 October 2017