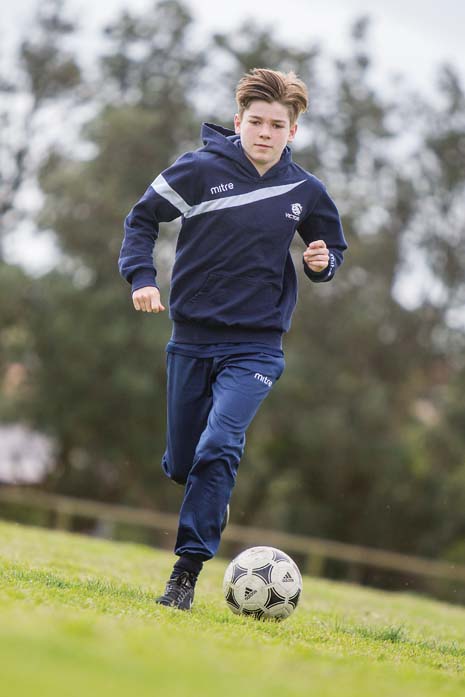 IT HAS been a massive year for up and coming 14-year-old soccer player, Patrick Hogan, whose endless hours of training has taken him to the peak of junior soccer in Australia.
The Padua College student returned from Coffs Harbour on Sunday 1 October after taking out the National Youth Championships title with the Victorian under-14s side.
Starting the trials in January with 200 other young soccer players, Hogan made his way through to the final cut for the Victorian side and was picked to represent the state in the final squad of 16.
Hogan, who played this season with the Mornington Soccer Club, came out firing with the Victorian team to defeat Canberra in the opening round 8-1.
The side then suffered their first and only loss in their second round to NSW, going down 3-0.
Following their loss, the Victorian side regained momentum and went on a scoring frenzy to defeat Queensland 3-1, South Australia 4-1, Western Australia 3-1 and Northern NSW 1-0 to take home the national title.
Hogan said all the hard-work throughout the year had definitely paid off when Victoria was awarded the title.
"It was pretty amazing. You spend the whole year with a bit of stress and then you finally get the email telling you that you've made it," he said. "It's a pretty good feeling."
"Playing on the International Stadium and walking out through the tunnels was amazing and the grass was perfect."
During the trials, Hogan was scouted by Melbourne Victory's Academy Director, Paulo Cardoso, who offered him the chance to join Victory's under-15s side next year.
"The Coffs Harbour team still hadn't been chosen and after one of the training sessions he ran after me when I left the change rooms to tell me that Victory wanted to offer me a spot," Hogan said.
"It's pretty amazing to be asked. They'll be a really strong side to play with."
Hogan went to AAMI Park on Monday for a meeting and will likely start pre-season training with the team in the next few weeks.
Hogan was also scouted by Melbourne City at the Youth Championships to join their under-18s side but has chosen to sign a scholarship with Victory, his favourite A-League team.